Rugby, Watts, and the Call of God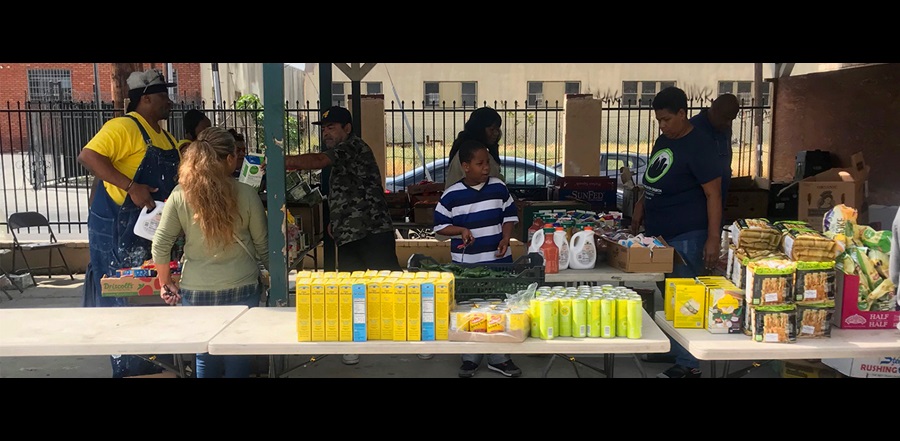 Don't miss any stories. Follow AG News!
For decades, the neighborhood of Watts — made up of a surprisingly small two-square miles — in southern Los Angeles, has been associated with violence and crime. Poverty stricken, poorly educated (less than 50 percent of adults have graduated from high school), a crime rate 60 percent higher than Los Angeles, and drug infested, few people ever wake up in the morning wanting to move their family there.
Onisivoro Malo and his wife, Meri, are two of those "few people."
The Malos, who have five children (ages 9 to 23) — four still living at home — were living a good life in northern California as the associate pastors of New Hope Worldwide AG in Newark, about 100 miles southwest of Sacramento.
But God had been reminding Onisivoro Malo of a call He had placed on his life back in 2009 — a call he had been ignoring.
"I went to San Diego to watch a rugby match [in 2009]," Malo recalls, "and as I was returning, I drove by LA and Watts. God told me then I was to plant a church there . . . I've been fighting that call ever since. But in 2016, I told Meri that we'd better go as otherwise God can close all the doors that are open right now."
When Malo mentoned to his senior pastor, Inoke Balenauluvatu, the possibility of planting a church in the LA area and ministering to the people of Watts, he didn't realize how serious Malo was.
"When he approached me again, while we were feeding the hungry in downtown San Jose, that he wanted to go to LA to plant a church, the Lord confirmed it in my heart," recalls Balenauluvatu. "I said, 'Okay. You will go. Be ready.'"
New Hope Worldwide AG Church, under Balenauluvatu's leadership, committed to pray for the Malos, and support them with their resources. The church committed to help support the family financially for a year, allowing them time to establish themselves and their ministry.
In LA, the Malos partnered with Pastor Loren Hicks and Faith Tabernacle Church (FTC) to launch CityReach Church Inglewood, which serves the neighborhood of Watts. Hicks says FTC is excited about parenting the new church plant as there are few AG churches in the area.
Malo says he's also been blessed with four ministers who were a part of his launch team and have remained an active part of the church — Paul Tulua, Nelson Wainiqolo, James Southey, and Michael Raj. "They have been a great blessing, working alongside at the food bank, in services, and in other outreaches," Malo states.
The transition to inner-city Los Angeles in September 2017 was not easy for the Malo family. Culture shock, trusting God for every need, struggling to make ends meet, and some might even say bringing their family into harm's way all carried emotional baggage.
But the Malos are seeing signs of the Holy Spirit doing remarkable work in the lives of those some might see as expendable.
"In February, we started feeding the homeless with a food bank every other week, and now 100 to 110 families show up," says Malo, who notes he needs a larger vehicle now in order to pick up all the food. However, he purposely gives the food away on Saturday, while holding services on Sunday. "I don't want to use food as 'bait' to come to church," he says. "I want to use it to show people God's love."
Hicks has been impressed by the commitment the Malos have shown to the church and community. "The Malo's serve this community out of a deep sense of calling," he says. "They do ministry as a family. Their children are involved in leading worship, kid's ministry, and the food bank."
Balenauluvatu echoes Hicks' sentiments. "He cares for people, he has a compassion for people. But not only him, but his wife and family — that's what the family does. They are always helping in some way or form. They have a compassion for souls . . . they are doing a tremendous work for the Lord."
The Malo's efforts have begun to reap rewards, as 30 to 40 people attend each Sunday. Malo says he doesn't mind that some who attend are drunk, high, passed out, or snoring during the service because God's love can break every chain.
"There's a man, Marcos, from day one, he's been coming," Malo says. "But he was a drug addict and an alcoholic. He had three houses and lost them all and was now living on the street. He came to church drunk, but God started working in his life and he accepted Jesus as his Savior. He's now been sober for more than two months, he helps with our food bank, and his extended family has started coming to help with the food bank and other outreach efforts."
Malo lists two more men who have also recently accepted Christ and turned their backs on drugs and alcohol as God works faithfully through the Malo's ministry and obedience.
Balenauluvatu believes the church will continue to see souls transformed by Christ because the church is being supported by the prayer of others, the Malos are a praying family, and the church itself is a praying church. Prayer, he says, will defeat the enemy and move the church forward.
"God is using them to connect with people who are on the fringes of society — people who are broken by sin, addictions, poverty," Hicks says. "This church needs our prayers . . . It is a lighthouse in the darkness."
The Malos, despite many challenges, are living in prayerful expectation of God continuing to open hearts and redeem lives — for it's the reason He called them to Watts in the first place.