Rural First Responders Benefit from Pastor's Prayer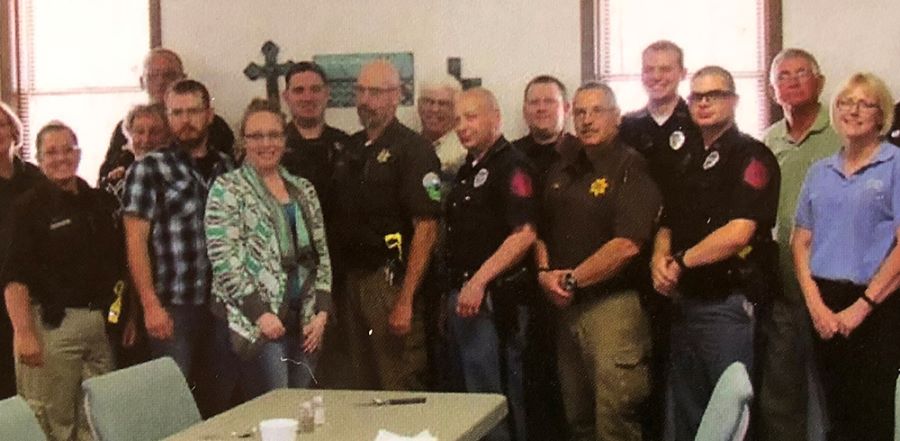 Don't miss any stories. Follow AG News!
While completing his Master of Arts in Rural Ministry at Trinity Bible College and Graduate School in Ellendale, North Dakota, last fall, Pastor Ron Masten turned to God in prayer during a Community Connection and Evangelism class — what could he do reach his rural community with the gospel?

For the past eight years, Masten, 57, has pastored Bethel Assembly in Thedford, Nebraska, with his wife, Cindy. The small town is pretty much the definition of "rural" with a bank, a hotel, a restaurant, and two convenience stores to serve its population of 218. Bethel Assembly, which runs about 60 people, represents about 10 percent of its county's population.

In response to Masten's prayer for guidance, the Holy Spirit planted an inspirational idea — to provide Bibles to those serving Thedford and other towns and surrounding counties through law enforcement, firefighting, and emergency medical services as well as veterans.

With the support of Nebraska's Light for the Lost Director Don Masten, Ron Masten procured 1,000 Bibles. But these were not just any Bibles. These Bibles featured customized covers and presentation pages for EMS, firefighters, law enforcement, and medical personnel, as well as four different military versions. Each Bible also provided a devotional section along with the plan of salvation.

One of the first groups to receive a Bible was Sandhills law enforcement, which included Nebraska State Patrol, region 26 911 dispatch, and five counties' Sheriff's departments. Working with local ranchers and Sheriff Gary Eng, who provided the beef, Masten and Bethel Assembly treated the officers to a steak dinner and then presented with the custom law enforcement Bibles.

The distribution of the Bibles will include an outreach to Thedford firefighters and EMS. Another special meal is planned to honor and recognize these guests, with custom Bibles also being presented to the firefighters and medics.

"When I purchased the Bibles," Masten explains, "I also purchased certificates for local first responders to be able to take their Bibles to the Bible Supplies bookstore in North Platte and have their name and/or badge number imprinted on the cover."

Since the distribution of the Bibles began in spring, Masten says he's given away nearly 700 Bibles through attending first responders' training events, through other churches, and by hosting their own events.

In May, Masten, who's president of the Nebraska HonorBound Motorcycle Ministries chapter, participated as the captain of the hydration team during the annual Run for the Wall motorcycle ride that begins in Ontario, California, and goes to Washington, D.C. He provided military Bibles to the HonorBound chaplains participating in the ride. At each stop they distributed to Bibles to riders who were veterans.

The Bible distribution effort has resulted in changed lives. Among other examples, Masten shares a story about a sheriff in a nearby county who had not attended church for many years. He was so touched by receiving the Bible that he started attending a church in his community and is now trying to convince his family to attend.

"To see pastors in our churches using Light for the Lost funds to minister to those people who desperately need Christ is an amazing gift to the Kingdom," states Rick Allen, national director of Light for the Lost. "Thanks so much, Pastor Ron. God bless you!"

For Masten, the purpose behind giving the Bibles — community connection and evangelism —has already been clearly realized.

"The response has been phenomenal," he says. "Everybody appreciates it so much!"

But God isn't just doing a work in the lives of first responders, He's also working in Bethel Assembly.

"The impact on the church has been dramatic," Masten says. "They are catching the vision to be proactive in sharing and serving our community and service people… the Word will not return void!"
As for the remaining Bibles, plans are already underway for fall events. Masten's desire is to continue getting God's Word and its message of salvation into the hands of the area men and women who are the first to respond when danger flares or tragedy strikes.