SEU Loves Lexi, Certified Therapy Dog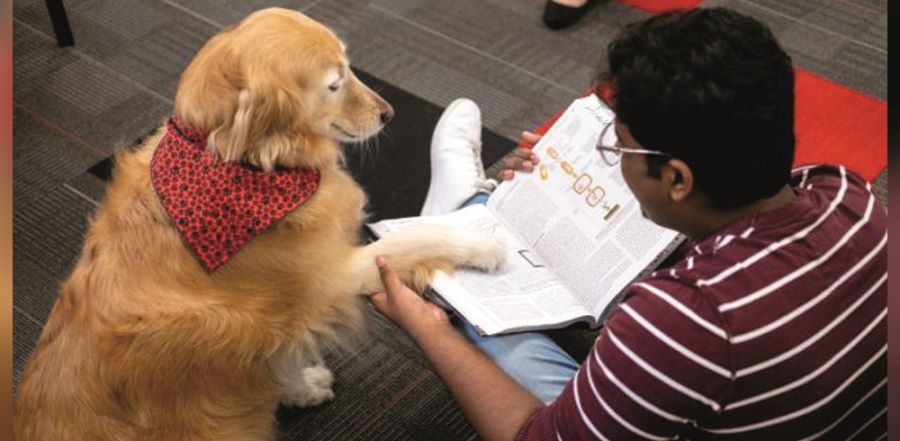 Don't miss any stories. Follow AG News!
LAKELAND, Fla. – At
Southeastern University
(SEU), faculty and staff aren't the only ones eager to see students return to campus later this week — so is Lexi — a certified therapy dog who is available for visits full time during the academic year.
Lexi is a golden retriever who resides primarily in the Academic Center for Enrichment (ACE), Southeastern's learning and tutoring center, where her owner Carolyn Burnett works as an academic success coordinator. Burnett and Lexi have been at the university for over two years now, working from 8 a.m. to 4:30 p.m., Monday through Friday. Lexi is available for faculty, staff, and students with no appointment necessary.
"I knew that Lexi would be an asset, but I had no idea what an awesome difference she would make at Southeastern," remarked Burnett. "I had prayed for just the right way for Lexi to make a difference. SEU has really been an avenue for her to have a daily impact on the lives of so many students, staff, and faculty. She is truly a gift that God is using to bring comfort and joy every day."
Over the last few years, it has become increasingly common for universities and colleges across the country to bring therapy dogs on campus for students during final exam week, as well as having the dogs available by appointment in the school's counseling center. However, it is very rare to see a therapy dog accessible to students to visit at will on a full-time basis during the week.
While in ACE, Lexi keeps students company while they work, study, and when they just need a break to decompress.
"It is not uncommon to see a student sitting on the floor or at a table petting her while they do their work. It is amazing to see the stress and anxiety drain from students as they spend time with her," Burnett said. "Some students have said that they miss their own pets and just enjoy having the opportunity to place hand-to-fur while they are away from home."
"The first time I met Lexi was during my interview for my first job as a tutor at ACE," commented Erin Callahan, Southeastern student and lead ACE tutor. "Lexi was there during the interview, laying down next to me. Her presence was comforting and a source of encouragement amid my uncertainty. Now, I see Lexi every day that I work at ACE, and her presence always brightens my day. People can truly flourish when they have a space where they feel safe and loved. Lexi is that space for me and many other students."
Lexi also attends the courses that Burnett teaches as an adjunct, as long as the students are comfortable having her there. "When Lexi is with me when I'm teaching, I just notice a calmness come over the whole class," she said.
In addition, Lexi has attended seminars for prospective students, and tour guides make sure that they introduce Lexi to visiting students and families during their stop in ACE. Although Lexi's presence is not advertised, her calming and happy demeanor has been something that has become known through word of mouth and social media.
"I have been told by students that knowing that Lexi is here has made a big impact in their decision to attend Southeastern," said Burnett.
Jennifer Weekly, Southeastern's executive director for student success, also attested to Lexi's impact, "Lexi has such a peaceful, calming, and welcoming presence. She is able to break down barriers held by many of our students and allows them to be vulnerable. They connect with her instantly. She is a source of support and a companion for many students encountering various types of difficulties."