Serving God and Touching Lives in the Midst of Loss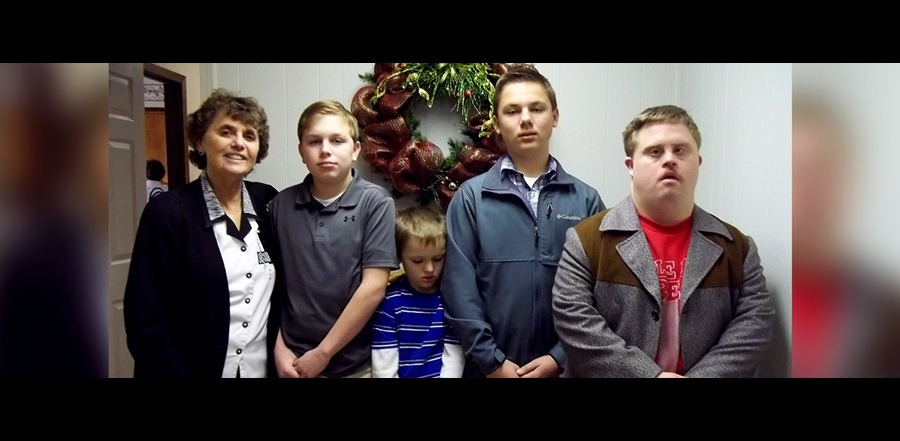 Don't miss any stories. Follow AG News!
When someone first meets Kay Bynum, a long-time volunteer at Trinity Assembly of God in Meridian, Mississippi, the joyful, kindheartedness of 71-year-old "Grandma" Kay quickly melts barriers and creates an atmosphere of love and acceptance.
Over the past 34 years, Bynum — whose family helped start Trinity Assembly of God — has been a fixture there. She's served as a janitor, Women's Ministries director, Sunday School teacher, missions coordinator, nursery coordinator, children's church worker, and, for the past 21 years, as the BGMC (Boys and Girls Missionary Challenge) coordinator. Her joy and willingness to give of herself has endeared herself to all ages at the church and to those she encounters outside of its walls.
"My pastor's wife gave me a couple of books to read when I was a young mother." Bynum says, "The books were about the Buntains [missionaries to India] and Lillian Trasher [missionary to orphans in Egypt]. From that point on, I wanted to serve the Lord through missions."
One would never imagine that this woman of joy and giving has experienced personal loss, tragedy, and hardship to the degree that it would have shaken, if not destroyed, the faith of many.
She has lost a son to suicide, a daughter to cancer, has a 30-year-old Down syndrome son who requires supervision, has been raising her daughter's three boys since her death in 2015, and then this past April, she lost her "rock," when John, her husband of nearly 52 years, passed away.
Bynum accepted Christ as her Lord and Savior in 1972 as a young mother when a minister stopped by her home and led her to the Lord on her front porch. The following year, she was baptized in water. And in 1974, she was baptized in the Holy Spirit.
Things seemed to be go well for Kay and John. They had two healthy children and were involved in their church. But then in 1987, their son Joshua was born with a host of physical and mental challenges.
"When Josh arrived," says Kay, pausing for a moment, "it was hard. The first two years were filled with surgeries and incredible expenses. His first major surgery was done when he was two weeks old. At three months, he had heart surgery." Josh was also diagnosed with Down syndrome.
God helped the Bynums through those early years with Josh, who Kay now refers to as the joy of her life. But the road of life once again took a gut-wrenching turn when, Mark, their second child, committed suicide. He was just 22 years old.
"That was so unexpected . . . it's the worse thing for a parent," Kay says quietly. "I learned to hang onto the Lord really tightly during that time."
But Kay and John persevered. In 1996, Kay, who was volunteering in the children's area for Trinity Assembly, became the BGMC coordinator. "I figured that I probably wasn't going to be able to be a missionary," she says, "but maybe I could be a part of one of these children one day becoming a minister or missionary while also supporting missions."
Over the next two decades, the small church of under 50 that typically only had a handful of children attending, gave to missions through BGMC. "The first year, we gave $250," Kay recalls. "In later years, we gave as much as $2,400, which I thought was excellent for our little group."
Kay devoted herself to her family at home and church. Joshua became a fixture in the front pew of the church, where tears regularly streamed down his cheeks as the Holy Spirit touched his tender heart through the preaching of the Word of God. And when she became a grandma, when her daughter, Brenda Thomas, had three boys (now 14, 13, and 8) of her own, Kay's life was full — God used her over and over again to touch the hearts of all ages.
"Volunteers at smaller churches deserve our recognition and appreciation as they often wear many hats, simply because the volunteer pool is so limited," observes Mark Entzminger, AG Children's Ministries senior director. "Kay is an excellent example of a selfless small-church volunteer who, despite adversity, continues to give her best to God, her family, and her church."
"I see children I taught 20 years ago, grown, married, serving the Lord and some serving in ministry positions," Kay says. "I know I've touched some lives and I give thanks to the Lord for that."
Heartache, however, continued to target Kay. In 2013, Brenda was diagnosed with cancer. She died in 2015. As the father of Brenda's children was no longer in the picture, Kay and John suddenly found themselves with three children to raise while still caring for Josh.
"It's been hard, but God has been so good to me — He's met my every need," Kay says. "The night I came home from the hospital when my daughter died, He promised me everything would work together for good."
Over the next two years, Kay and John worked hard to bring the boys up right, having daily devotions and getting them involved in church. "This past summer, Colby, the middle boy, was filled with the Holy Spirit at church camp and was called into ministry," Kay says, with joy ringing in her voice.
"I have to credit my daughter with planting some major seeds in their little hearts," Kay adds. "They all know how to pray . . . their prayers touch me."
But becoming the parents of three children, two of them diagnosed with ADHD and one who is dyslexic, is a handful for parents of any age. "It's not easy some days, especially when there's sibling rivalry," Kay admits. "I just know God is there for me and with me."
But then in April 2017, Kay suffered yet another tragic loss when John died. "He was my rock," Kay says, her voice cracking. "I could depend on him totally."
The losses in Kay's life along with the new and continuing responsibilities she now has, are numbing. Yet, instead of withdrawing, turning to self-pity, or becoming consumed by her losses, she continues to place her trust in God and be an inspiration to others.
"Sister Kay has been a personal encouragement and helper in my life and ministry," says Destin Morris, pastor of Trinity Assembly for the last two years. "She is a shining example of the love and compassion of our Lord."
As Kay reflects on the whys of life, she says that Pastor Morris mentioned to her that none of the children in the church, outside of his own, were being raised by their parents.
"Maybe the children can see what I've been through, and know that God can see them through difficult situations as well," Kay says. "I pray that I've been an influence even more than I know."
Morris, who is a great admirer of Grandma Kay, referring to her as humble, but one who wants to give God the glory for every victory, says on Dec. 10, Kay felt released to take a small step back, and resign her duties as BGMC coordinator.
The church went all out in honoring her – presenting her with a plaque and framed notes of appreciation from the district and national AG offices along with a new Fire Bible.
"Kay certainly deserves the recognition and honor she received," says David Boyd, national BGMC director. "Year after year she has continued her ministry, never announcing, 'I have done my part!' Instead her baskets of souls have gathered year after year as she faithfully fulfilled God's calling on her life. Her true reward will only be fully realized when the day comes that God welcomes her and reveals what her sacrifices and perseverance has done for the Kingdom!"
As for Kay, she admits she could use some rest. "But I'm not one to sit down for long," she says with a laugh.
And before the phone conversation ended, Kay was already making plans: "I'm going to regroup and then see what else I can do, though my first priority are these boys . . . , but I'd still like to be involved in missions coordination, and I would love to be an outreach person for the church, and then there's possibly getting back involved in nursing home ministry . . ."
"If only we all had the faith, perseverance, vision, and joy of a Grandma Kay," Entzminger says. "She's a role model for us all."