Set Free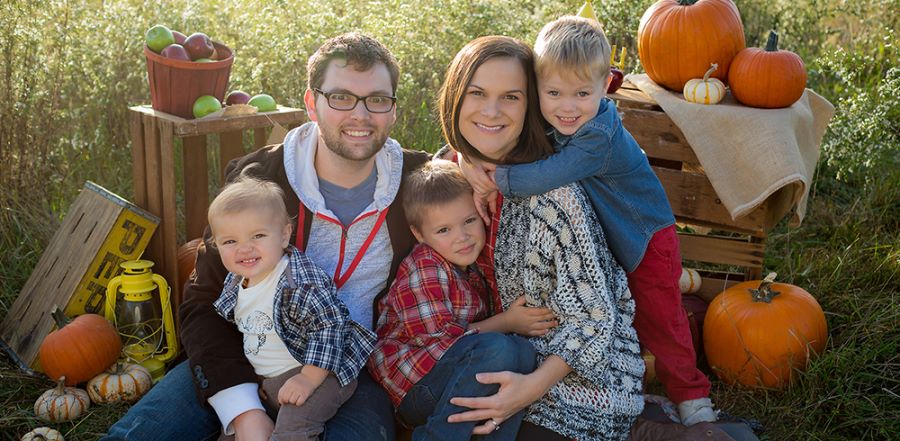 Don't miss any stories. Follow AG News!
Christian Fauth of Springfield, Missouri, knows God can use personal testimonies to help others in need. A friend's story led her to continue praying for her own healing, and now Fauth's story is touching the lives of others.
Shortly after being released from a mental health facility for depression, Fauth met up with a friend from high school for a play date between their children. She found herself pouring her heart out to her friend about her lengthy struggle with depression. Fauth's friend told her about her own story of depression, and how her story ended with a supernatural healing.
Fauth had prayed in the past for healing but began wondering again if God could heal her, she says.  
"Did God heal mental illness?" she journeled. "Over the next few months, I wrestled with this. I prayed."
Soon antidepressants began making her sick, she says. She told her husband Carl she thought God was healing her. Doctors gave her the go ahead to stop taking her medicine.
After a decade on antidepressents and several more years just battling the illness, she was finally free. Fauth, daughter of Don E. Miller, superintendent of the Southern Missouri District of the Assemblies of God, remembers his daughter's struggles plagued her growing up even before she was officially diagnosed with depression during the first year of college. Fauth says although she grew up in a loving Christian home, something didn't feel right inside her.
"Somehow I felt off," she says. "I can't remember a time growing up that I didn't feel different, lonely. Yes, I had accepted Jesus as my Savior. I had a relationship with Him, but I was sick and I didn't know it."
But now the wife and mother of three boys -- ages 6, 5, and 2 -- has been enjoying life without depression for a year and a half. She laughs more. It's made her more confident in her parenting. She has a stronger marriage.
Fauth knew she needed to share her story but she wasn't sure how.
"I wanted my healing to be complete," she says. "God has done a work in me and I wanted to proclaim that."
She decided to write out her testimony and share it on Facebook. She knew it would be a way to encourage a lot of people. The post has received incredible response. Several friends and even strangers who also struggled with depression contacted Fauth.
"It's been encouraging to see I haven't been alone in my struggles," she says.  
But it was also troubling because she realizes by mutually sharing a secret she and others might have found relief sooner.   
"We were going through the same thing," Fauth says. "We could so easily just reach across the table and hold each other. But we didn't say anything about it."
Sharing her story has challenged Fauth and her family to be aware of others and reach out to those in need, she says.
Miller advises those struggling with depression to find someone they can trust and can confide in.
"The enemy can cause us to think we're the only one going through it," says Miller.  
Carl Fauth says it's important for family members of those battling depression to also seek support from family, friends or a counselor. He knows the experience of trying to go through the challenges on his own, he says.
"I felt extremely lonely at times," says Carl. "I felt like I couldn't talk to anyone about what we were going through just because of the stigma that was wrongfully attached to mental illness."
Let God also be there in the midst of your struggles, says Carl.
"It's not a battle you can fight by yourself or even as a couple," he says. "I wasn't doing it in my own strength and I knew that God was helping me."
There are organizations and ministries that specialize in helping in such situations. Depression and mental illnesses are sicknesses just as much as cancer or diabetes, Miller says. Church leaders and members need to exercise caution in giving advice if the illness is severe.
"Sometimes if we're not careful we think someone can just pick themselves up and move on but if there is clinical depression involved, it's not always possible for them to pick themselves up," Miller says.
Remember the person is sick so often their outbursts or withdrawals are a result of their sickness and not something you've done, says Carl.