Soccer Star Shines for Top-Ranked SEU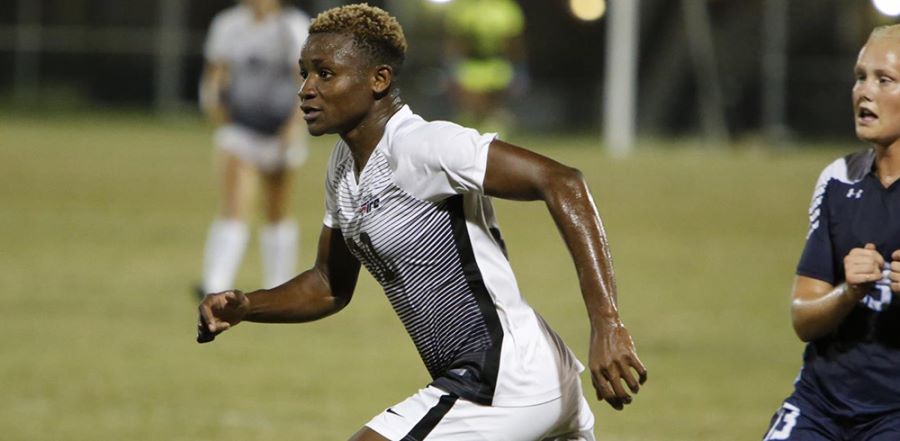 Don't miss any stories. Follow AG News!
Junior Uchenna Kanu, a 21-year-old forward on the
Southeastern University
(SEU) women's soccer team — currently the top-ranked NAIA team in the nation — is turning heads with her feet and making herself even more popular with her heart.
Kanu, who came to the Lakeland, Florida, school three years ago from Nigeria to play soccer and pursue a degree in Sports Management, is leading the nation at all collegiate levels in scoring. Including the team's 10-3 opening round win in The Sun Conference tournament, Kanu has now recorded 50 goals this season for the 17-1-1 SEU Fire. No other collegiate player, male or female, has recorded that many goals this season.
With so many goals, it might appear that Kanu is only focused on herself and scoring, but that would be the wrong assumption.
"On the field, Uchenna is extremely unselfish," says Andrew Tew, assistant director of Athletic Communication at SEU. "As good and as talented as she is, she could let that go to her head, but she hasn't. If she sees a teammate in a better position to score, she gives the ball up."
Tew isn't sugar-coating Kanu's unselfish "team-first" approach. Currently Kanu and Gabriella Didio are leading the team in assists with 17 each — the previous single season record for the program was 14 assists. The team also leads the NAIA in goals scored, tallying 104 so far this year.
Kanu believes that God has been directing her footsteps throughout her life, from her days in Nigeria where she was born into a Christian family and played soccer on a national team for a Christian coach to being connected to SEU and soccer coach Randy Belli and being drawn even closer to God through her years at Southeastern.
"God is doing great things in my life — He's been there for me and I put Him first in everything I do," Kanu says. "It's also really cool to be surrounded by people of God who love you, accept you for who you are, and have your back."
In the summers, Kanu participates in the Women's Premier Soccer League (WPSL), honing her skills. She also uses her skills to help teach kids the sport in camps and promote "Cool to Be Kind," an anti-bullying campaign being used in local schools. During the year, she volunteers with her teammates and other SEU athletes at the Dream Center in Lakeland.
"Uchenna has been a tremendous blessing to our team on and off the field," Belli states. "We love getting to see her score goals, but, more importantly, love seeing the work that God is doing both in and through her life. She is the first to give God the glory for her successes and she uses that tremendous platform to bring His name praise."
Kanu, who expresses deep appreciation for Belli's guidance in her growth as an athlete as well as a Christian, wants to play professional soccer once she graduates from Southeastern. But for now, her immediate goal is to help SEU win its conference tournament and possibly even a national championship.
"I believe my team is capable of doing that [winning the national championship]," Kanu says, "and I want to support them and be a part of the success."