Stepping Up to Impact Lives for Christ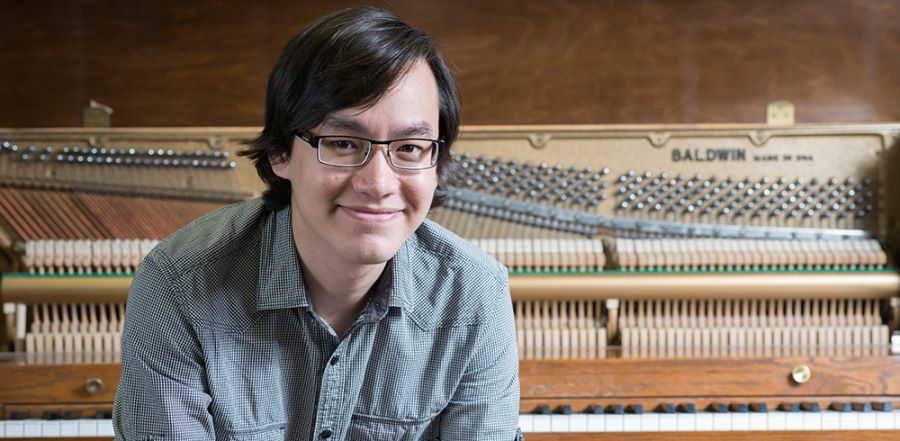 Don't miss any stories. Follow AG News!
He's a 23-year-old classical pianist from Vietnam who speaks English with a southernized Vietnamese accent, ministers to the homeless, and plays the keyboard in an Assemblies of God Latino church service in Arkansas by way of Minneapolis.
An improbable journey -- but true.
Joseph Duong is an exceptionally gifted young man who lives his life centered on Christ and focused on revealing Christ to others. Growing up at Bab Assembly of God in Ho Chi Minh City and the son of Samuel Duong, the general superintendent of the Vietnam Assemblies of God, Joseph started playing the piano when he was 9 years old.
He was blessed with exceptional ability on the keyboard, and was accepted at a conservatory. However, his passion was serving Christ and the Church, so he also invested himself heavily in his home church, including serving as the Bab AG worship leader.
In Vietnam, there are no formal schools to train worship leaders or music pastors. Seeing the need, and understanding the important role music can play in ministry, Duong decided to attend college and pursue a double degree in Music Pastor and Music Performance so he could one day fill that void. The twist was, God was leading him to attend North Central University (NCU) in Minneapolis, Minnesota.
This was no small decision. NCU is more than 9,000 miles from home for Duong, he knew his verbal English skills were barely "passable," he was unfamiliar with the culture, and he was even more unfamiliar with the climate! But God continued to open doors and guide Duong to the U.S.
After a 20-hour flight, Duong arrived at NCU for the 2011 spring semester -- "spring" being a misnomer for "bitterly-cold-winter" semester in Minneapolis.
"It was the first time I ever saw snow -- it was really cool to see and so beautiful," Duong says. "But it was so cold and the winters last so long . . . the snow is beautiful, but in May?"
Despite the many challenges facing Duong, the Holy Spirit was his constant companion. Instead of hiding behind the language barrier, Duong embraced his new surroundings and involved himself in music ministry at River Valley Church (AG) where Rob Ketterling is senior pastor.
"I have never met someone so talented or who genuinely cares about people more than Joseph Duong," says Brittney Kinsey, worship leader. "I was blessed to have Joseph on my worship team for about two years here at the Minnetrista campus of River Valley Church. In that time I came to find that you can't help but be challenged to be a better person after being in Joseph's presence. No matter where he is or what he is doing, Joseph will succeed because he is following the guidance of The Holy Spirit." 
Duong graduated from NCU with a double major, but he says it wasn't easy being away from home, having only been back once to visit since he arrived in 2011. "I can't imagine what it would be like without Skype or FaceTime [live online video conversations]. That would be really tough," he admits. "But every time I talk to them, which is about once a week, I get to hear what God is doing in Vietnam. That makes me more excited to learn here, let God make me what He wants me to be, and go back to Vietnam to do what He wants me to do."
In the summer of 2014, Duong did an internship at North Little Rock (Arkansas) First Assembly of God, which is under the leadership of Pastor Rod Loy. After graduating, Duong was invited back to be a part of the staff and he received a full-ride scholarship from the University of Central Arkansas -- just 30 minutes from the church -- to attain his masters in Music Performance.
Duong says his experience at First Assembly has been life changing, and not just because he had to become accustomed to the Southern accent.
"It took some time for me to understand their accent," Duong says, laughing. "But working under healthy leadership really challenged me to be a better follower of Jesus and a better leader."
Duong, who plays keyboard in the regular services as well as the monthly Hispanic service as an assistant to Worship Pastor Brad Russell, explains that what many people don't realize is that in Vietnam, churches are mainly house churches. Only recently has the government allowed churches to even rent facilities.
In fact, Bab Assembly is a house church that has two services and a total attendance of 150 people. Duong issues a bit of an understatement: "It's pretty crowded."
But the pendulum of influence swings both ways. Russell says that Duong has had a huge impact on his life and the lives of those he touches.
"He's just wonderful," Russell says with conviction. "He lived with us while he was an intern and really became a part of the family. As I got to know him, I noticed the difference in the way he embraces life. He brightens up the atmosphere wherever he goes -- it's just really refreshing to be around him every day."
Russell says that in addition to the responsibilities he's assigned to Duong, he has voluntary picked up many other things as well, including volunteering with the church's homeless ministry and teaching teens how to become better musicians.
And as far as Duong's musical talents, Russell is impressed. "He's helped us improve what we do in so many ways," he says. "It's amazing how adept and versatile he is -- he can play classical Chopin and then jump right into Planet Shakers."
Duong is simply soaking it in. The sacrifice of leaving family, friends, and familiar ministry behind for years is eased by investing himself in God's work in the U.S. and the knowledge that God is preparing him for the future. He fully believes the ministries and activities he's involved with today will one day enable him to more fully impact the lives and ministries of Vietnamese Christians and worship leaders of tomorrow.
"Being here is a learning experience," Duong says. "Through working at the church, I get a close look at how a church functions differently in the U.S. and how different ministries are used to reach many different groups of people. The churches in Vietnam and the U.S. may function differently, but we have the same goal!"
However, Duong may have one challenge he wasn't expecting when he returns to Vietnam to begin his ministry -- communication. With a warm laugh, Russell explains: "His friends are saying that he has already picked up a bit of a Southern accent since being down here!"