Super Bowl Tickets Transformed into Scholarships for Kids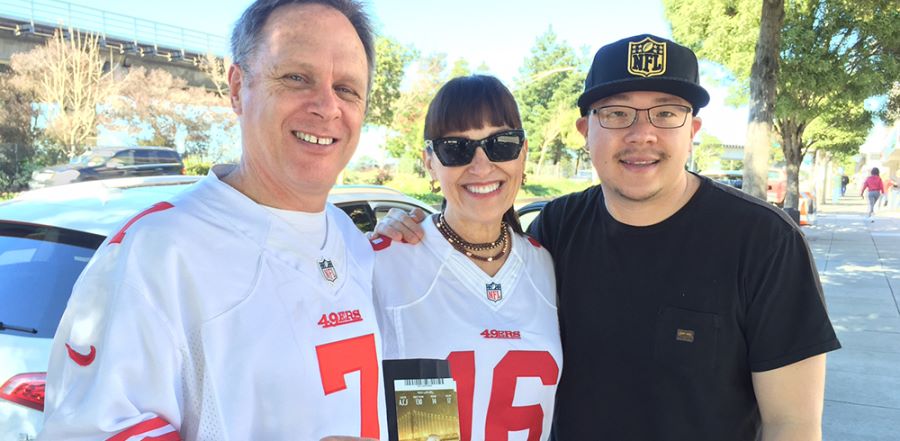 Don't miss any stories. Follow AG News!
Just three days before Super Bowl 50 was set to kickoff in San Francisco, Christian Huang, the lead pastor of City Impact Church (AG) in the Tenderloin District of San Francisco, found himself accidentally in possession of two Super Bowl tickets.
Huang — who works with his father, Roger, an AG U.S. missionary, who founded City Impact Ministries 32 years ago — and his wife, Cori, were being interviewed about the ministry at the Moscone Center West during Super Bowl Media Day.
Mark Forrester, AG Communications director, who toured City Impact Ministries, explains that it's not surprising that the Huangs were being interviewed. "City Impact is well known for its intensive ministry to the 37,000 people who live in San Francisco's high-crime, drug-infested, and poverty-stricken Tenderloin District (which is less than one square mile)," he says. "The conditions many people live in I can only compare to what I've seen in third world countries, but Christian is joining in his father's vision in reaching this area for Christ. City Impact Ministries includes a rescue mission, health clinic, volunteer center, food bank, thrift store, Bible college, church, and an academy."
Completing their interview at the Moscone Center, the couple decided to purchase a Super Bowl T-shirt at a store in the center. After waiting in the long lines, they finally got to a counter.
"Someone had mentioned that they were giving away Levi's discount coupons," Christian Huang says. "So, when I got to the counter, there was an envelop sitting there and I thought it was the coupons the store was giving away, so I picked up the envelope and put it in my folder to use later."
Huang didn't think anything about the envelope until after leaving the store. "The envelope was unmarked," he recalls, "so I opened it up, but these weren't jeans coupons — they were two Super Bowl tickets!"
Huang was stunned. Not only were they Super Bowl tickets, these were tickets just 14 rows from the field with a face value of $1,800 each. In fact, unknown to Huang at the time, some premium Super Bowl tickets were reportedly being resold for as much as $27,000 a piece!
With the envelope unmarked and no indication of whom the tickets belonged to, Huang admits that at first the temptation to just use the tickets was very strong. "I had been praying for Super Bowl tickets so I could take my dad to the game — he has never been to a football game," he says. "But then Cori confirmed what I already knew in my heart — I had to find the original owner and return them."
Huang began by contacting the store where he found the tickets and then the police. Then he contacted a friend of his at the local ABC affiliate — the next thing he knew, he was on the local news sharing his story and asking the owner of the tickets to contact him. The local NBC station would follow-up the next day with its own interview of Huang about the found Super Bowl tickets. No response.
"I did get a Tweet from someone who just said they were his tickets, but the person never followed-up or gave me any additional information or identification, so I figured that was just someone playing around," Huang says.
As the game drew nearer and no one claimed the tickets, Huang began to make plans to attend the game with his father after all.
"But then I got to thinking about why God would allow me to find these tickets — what purpose could He have? Was there someone I was supposed to encounter at the Super Bowl?" Huang says. Taking a step back and allowing God more time to work things according to His purposes, Huang decided maybe he was supposed to offer the tickets to people connected to the ministry, such as donors and key workers. Strangely, no one wanted them.
"I decided that I would make one last effort, since no one was claiming the tickets, I would post them to my Facebook page and offer to sell the tickets for the price of a year's tuition for a child to our academy — $8,500," Huang says. "Within 20 minutes, the tickets were sold."
According to Huang, a pastor friend of his saw the post on his Facebook page and either contacted a church couple or shared the post on his Facebook page. Minutes later, the couple from his friend's church bought the tickets — at a relative bargain price (Stub Hub listed the value at $8,000 for the pair; Huang accepted $6,000).
"I told them upfront that I would refund them their money if the original owners of the tickets showed up, the tickets were fake, or somehow the NFL had rescinded the tickets," Huang says, "but none of those things happened — they had a great time."
Huang says that the $6,000 will either be used to scholarship an individual child or assist several children in paying for their tuition to their Christian school next year. "Our board will evaluate needs and determine what child or children will receive the scholarship."
As far as missing out on going to the game, Christian has no regrets. "Christ is going to honor this decision," he states. "Perhaps this whole situation took place in order for one child to be able to attend the academy, get grounded in his or her faith, and then, who knows? Maybe God has plans to one day use that boy or girl to transform the Tenderloin or even the world!"