Texas Church Has a Heart for Kids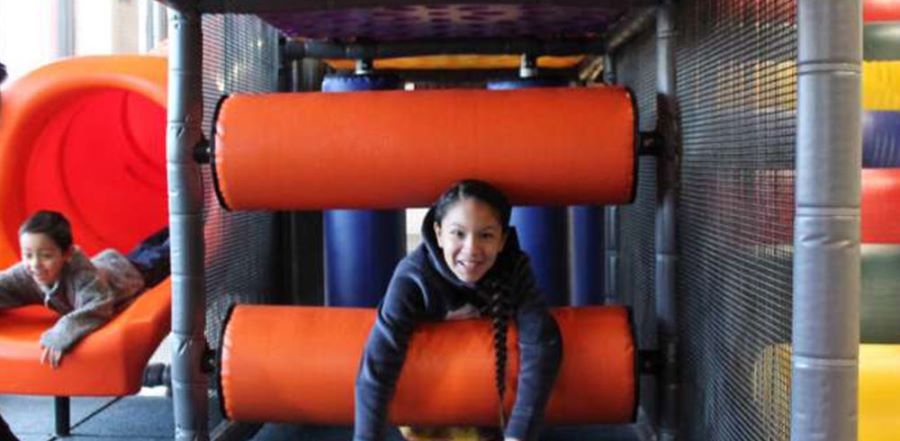 Don't miss any stories. Follow AG News!
When
Plainview (Texas) First Assembly of God
held its ribbon-cutting ceremony on Jan. 5 for its new $2 million, 14,000-square-foot kids center, it wasn't the pastor or board cutting the ribbon. Instead, it was the pastor's young granddaughter, Camryn Sattesahn, who did the honors, symbolizing the focus and ministry intent of the new building.
Pastor Nelson Gonzalez says that from the time he and his wife, Regina, arrived in Plainview in 2010 to lead the church, they felt the Lord directing them to emphasize ministry to children. As the church has grown from 350 to now more than 800 and two campuses, Gonzalez says the church followed through on that calling and in late 2017, it broke ground on the new center, Plainview First Kids.
"Even then at our groundbreaking ceremony, we had children digging up the first shovels of dirt with the board standing behind them," Gonzalez says.
The new center, which took just a little more than a year to complete, provides three classrooms for toddlers to kindergarten, four classrooms for elementary students, a 250-seat auditorium, and the Adventure Zone area, which features an impressive indoor, multi-level playground with a wide variety of energy-burning activities, including an age-appropriate rock climbing wall and miniature basketball court.
"We had the people who do the playground areas for Chick-fil-A® and McDonald's® come in and help us design the Adventure Zone," Gonzalez says. "We've come to recognize things about kids — one is they're drawn to fun places. So, we're going to teach them about Jesus and help them learn the Word of God in a way that's exciting to them and in an environment that they will look forward to coming back to."
Plainview has a population of about 22,000, but according to demographics, a large percentage of that population is children. "We have to be the generation to raise up and reach the children," Gonzalez states. "We are deliberately diverse, not just in ethnicities, but in generations as well."
Although the multimillion-dollar price tag may seem a lot to invest in a children's area, Gonzalez feels God has confirmed the effort. Through the generosity and efforts of congregants and community, the church only had to take out a loan for less than one-third of the cost.
The new children's center also has drawn the attention of the community as the Chamber of Commerce invited the community to the ribbon-cutting ceremony, a local blogger shared the news with the city, and the Plainview First Kids center is now the largest indoor playground in the city. Better yet, the opening of the new center coincided with the arrival of the church's new children's pastors — Josh and Natalie Pineyro.
"Even though the center has only been open a few weeks, we've already seen an uptick in the number of children attending," Gonzalez observes. "There could be multiple reasons for the increase, but the children really love the center."
His granddaughter, Camryn, who is 10, agrees. "I like all the space in the classrooms and the Adventure Zone," she says. "My friends love the big auditorium, the Adventure Zone, and the adventure theme."
However, what really brought joy to Gonzalez's heart was a story relayed to him from a church member. "When his son got home from school on a Wednesday afternoon, the first question he asked was, 'Dad, we're going to church tonight, right?'" Gonzalez relates. "And that's the key. Through this center, we believe it will help kids fall in love with the family of God and the God of the family of God."