Thanksgiving -- With a Few Twists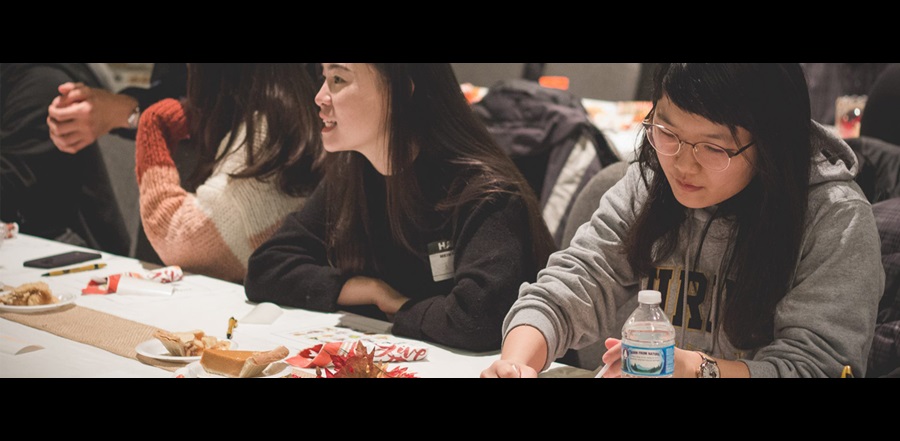 Don't miss any stories. Follow AG News!
Over Thanksgiving Break, most college students head home for a week of down time and a Thanksgiving feast (and days of leftovers). The same is true for the students attending Purdue University, in West Lafayette, Indiana . . . , with one large exception.
Purdue, which regularly ranks in the top five for international student enrollment, has approximately 9,000 international graduate and undergraduate students. Most don't return to their homelands for Thanksgiving. What's more, many have never celebrated Thanksgiving or had the opportunity to experience an American Thanksgiving meal.
However, the Chi Alpha Campus Ministry at Purdue along with the help of
Connection Point Church
and
River City Church
in West Lafayette, worked together to help international students experience a Thanksgiving to remember.
According to Tiffany Patterson, U.S. missionary associate and the Chi Alpha interim director at Purdue, every year the Chi Alpha group of about 100 students works to invite international students to a large-scale Thanksgiving dinner. This year the meal was held on Saturday, Nov. 17.
Originally the event was held on campus on a much smaller scale. But as years past, the event grew as more and more international students chose to participate. For the last three years, the meal has been held in the expansive lobby/foyer of Connection Point Church.
"We had between 300 and 350 international students and volunteers attend the dinner this year — the most we've ever had," Patterson says, herself a former AGWM missionary to Spain, but having served the last three years with
Chi Alpha Campus Ministry, U.S.A.
, a
U.S. Missions
ministry.
The selection of Saturday for Thanksgiving may seem odd at first glance, but it's beneficial in two ways. The first being that more volunteers are available to work; the second benefit is a practical blessing to the students.
"During the week of Thanksgiving, the school's cafeteria is closed," Patterson explains. "So we not only prepare a Thanksgiving meal, we purposely make extra and supply carryout containers. We then encourage the students to take home as much food as they want to help get them through the week."
Zach Maddox, pastor of Connection Point Church, explains that he and his wife, Shellie, were missionaries in the Sudan and in Israel for 10 years prior to coming to Indiana.
"We have a heart for international students," he says. "We do all that we can to team with Chi Alpha to help reach international students for Christ."
The church's involvement goes beyond hosting the meal, it also helps purchase the food, provide volunteers, and even make the food. Between Connection Point Church and River City Church, led by Robby Bradford — also a former missionary — they combine to bake 20 turkeys and the sides for the event.
The menu, in addition to more turkey than anyone could possibly eat, also includes mashed potatoes, gravy, green beans, cranberry sauce, sweet potatoes, and either pumpkin or apple pie.
"We open the doors at 6 p.m. and offer the students a variety of games and activities to be involved in, including a photo booth," Patterson says. "We offer bread and oil on the tables to snack on prior to the meal, then we start serving at 7:30."
Every table includes at least one Chi Alpha leader to help create discussion and forge friendships. Also, as many internationals are unfamiliar with traditional Thanksgiving foods, each dish is presented and explained as to what it is.
International students attending the event expressed their appreciation for the meal, with a number stating that the event made them feel like they were with family and that the "food was amazing."
Maddox and Patterson believe that the connections formed during events, such as the Thanksgiving dinner, is a first step toward friendships.
"No students are going to get saved by coming to the dinner," Patterson states. "They are going to get saved because they meet a student at the dinner who becomes their friend, who then invites him or her to Chi Alpha meetings where they hear about Jesus and choose to follow Him."
With the strong international presence at Purdue, Maddox recognizes the significance.
"America has incredible opportunities to reach the unreached right at our doorstep," he observes. "There are students here from Saudi Arabia and a lot places that would be difficult to go in as a missionary — it is important to take advantage of the opportunity [to reach them for Christ] while they're here."
Patterson expresses her appreciation for the financial support ($200) Purdue University has given to help with the cost, but saves her greatest appreciation for the churches.
"There's no way we could even begin to do something like this without the support of the local churches," she says. "If it wasn't for these AG pastors and churches believing in us, it wouldn't happen."