The Blind Can Lead the Blind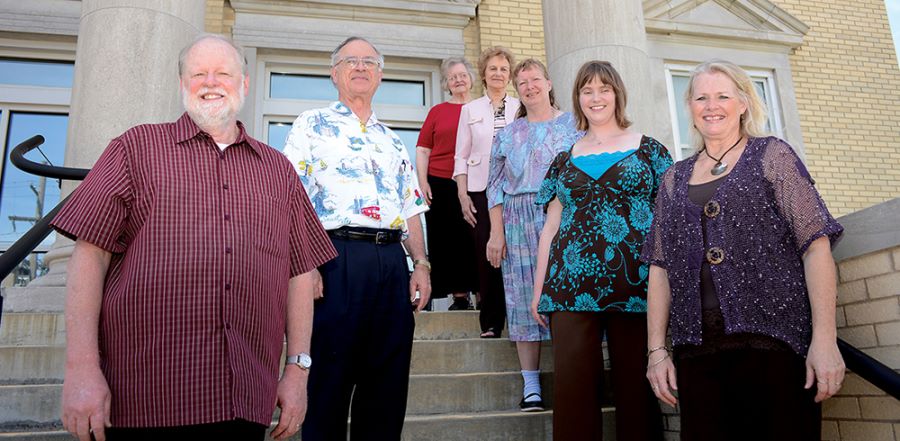 Don't miss any stories. Follow AG News!
Editor's note: Sunday is Disability Awareness Day in the Assemblies of God. This is an edited and updated version of an article that originally appeared in the Aug. 18, 2013, edition of the Pentecostal Evangel.

To talk to the ever-smiling Paul Weingartner, one would never know his life has been limited by poverty, discrimination and visual impairment.

Whenever he suffers a setback, the congenial and gentle director of the Assemblies of God Center for the Blind (CftB) takes it in stride.

Certainly life has been full of disappointments for Weingartner. Yet rather than sink mired in defeat, the unassuming and even-tempered Weingartner rises to the occasion.

Weingartner has been legally blind since birth. He also is colorblind. In first grade, he couldn't decipher any of the words the teacher wrote on the green chalkboard with white chalk. The teacher informed Weingartner's parents their child had a vision problem.

A series of eye doctors couldn't detect anything medically wrong with Weingartner's vision. Finally, a retina specialist diagnosed the boy's eyes as lacking necessary rods and cones, resulting in limited light sensitivity plus trouble distinguishing blacks and whites. The problem couldn't be corrected with eyeglasses.

"My challenge was not trying to answer questions, but trying to read the exam," Weingartner recalls.

School proved to be discouraging, year after year. Some cruel classmates -- as well as a few teachers -- thought Weingartner should be in special education classes because he couldn't decipher the basics. Various instructors mocked him in front of the other students.

Growing up in New Jersey, Weingartner developed coping skills to survive in school. He hung out with other social misfits.

Weingartner's parents really didn't know how to handle their second oldest of eight children. Paul didn't complain. He knew his father, a self-employed construction worker, had his hands full just trying to feed the family.

In addition to his visual limitations, Weingartner endured the ridicule of classmates because of the family's poverty. The eight children barely had enough clothes to wear and slept in a house with less than 800 square feet.

A turning point came for Weingartner at age 9 when he sat in a Sunday School class. Weingartner says the Lord made himself known by searing John 15:16 into his brain: "You did not choose me, but I chose you to go and bear fruit -- fruit that will last."

"I knew my life no longer belonged to me; it belonged to Him," Weingartner recalls. "That verse stuck with me through all the hardships and challenges."

Life didn't necessarily get easier. However, Weingartner realized God had a better future for him than he himself could foresee.

"I wasn't always on a spiritual cloud," Weingartner says. "But God kept me from many wrong choices in life."

By God's grace, he received a full-ride scholarship to an interdenominational Christian school in Texas. After graduating with a degree in Bible and missions, Weingartner found work as caretaker for lakes and buildings at a 3,600-acre Christian camp for boys. Despite his blindness, he managed the property for nearly a decade.

Later, Weingartner worked as a houseparent at an orphanage for boys in Tijuana, Mexico. From there he moved to San Diego and befriended a missions pastor at a church. He wound up marrying the pastor's daughter, who had been raised in Mexico, 32 years ago.

Caryl Weingartner says God prepared her heart to love Paul even before she met him. She had heard accounts about his courage protecting abused kids in the Mexican orphanage from relatives who tried to retrieve them by force.

Surprisingly, when they met, Caryl found herself attracted to Paul because of his eyes.

"The twinkle in his eyes captured my heart," Caryl says. "I didn't know he was legally blind for quite a while."

As they grew to know each other better, Caryl admired Paul's passion for ministry, his visual constraints notwithstanding.

"He always tries to find a way to serve others," Caryl says. "The Center for the Blind is so close to his struggles because of what he has had to deal with in his life."

In California, Paul and Caryl worked as Assemblies of God lay ministers for 10 years. Then their church changed leadership, and the Weingartners -- by now the parents of five children -- found themselves not only jobless, but homeless as well.

That's when an opportunity to serve as U.S. Mission America Placement Service missionary associates opened up in Springfield, Missouri. Weingartner began to direct the Center for the Blind in 1994 under the auspices of Intercultural Ministries.

In the early days, the Weingartners brought their children to work to help with tasks such as duplicating tapes. Now, Caryl, is in the office twice a week. She still serves as a missionary associate, doing everything from financial paperwork to beefing up the volunteer reader program.

"Caryl is my eyes," Weingartner says. "I've learned to trust her sound judgment on so many things."

Sarah Sykes is a certified Braille transcriber in the office. Sykes started volunteering at CftB while a Central Bible College student because she saw the unique Christian ministry contributions being made on behalf of the visually impaired.

"Paul and Caryl really took me in as part of their family and invested in me," says Sykes, who in 2006 joined Weingartner as the only other full-time CftB staff member. Sykes oversees the process of putting Braille books into the center's library. She also is in charge of ensuring books are recorded digitally.

Sykes was born nearly three months prematurely, which resulted in a raft of health complications. She says the Lord healed her of all of them -- except a condition called retinopathy of prematurity. Detached retinas left her with 20/300 vision in her right eye, while she can't distinguish details with her left eye. Sykes uses a white cane to get around.

"I have come to terms with the fact that I can't do certain things like drive, but blindness doesn't limit my potential as others might believe," says Sykes, who earlier this month got engaged to Joe Weingartner, Paul and Caryl's oldest son. "Blindness is a physical characteristic, just like being short or bald. It doesn't define my abilities."

The CftB is a national lending library offering a variety of formats, including Braille, audiocassettes and emailed text files. Everything is loaned and returned without cost because of the U.S. Postal Service's "Free matter for the blind" provision. Global University courses are available for free.
Light for the Lost, Speed the Light, and Boys and Girls Missionary Challenge all help finance the ministry.
"It's imperative we get more materials in a variety of digital technologies," Weingartner says. "We must motivate the blind to reach the blind."

In evangelical circles, the Assemblies of God is alone in offering substantial resources to the blind.

"Nobody is doing anything like we are doing," Weingartner says. "Most denominations have cut this type of ministry out."

Around 1,200 people are on the CftB mailing list to receive materials regularly. People hear about the CftB through Google searches, word of mouth, and the Library of Congress. Just one in four CftB patrons is affiliated with the Assemblies of God. Fully 60 percent of CftB borrowers have no church membership.
Photo credit: Lane Simmons