The Breaking and Making of a Minister: The Ross Wiseman Story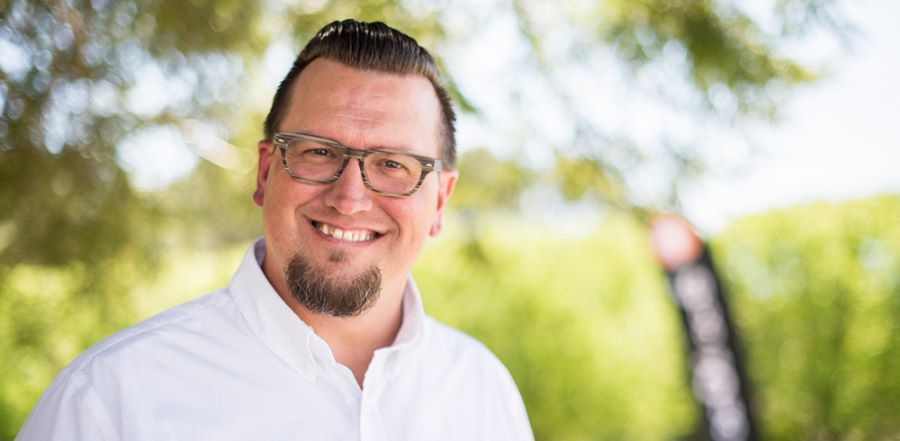 Don't miss any stories. Follow AG News!
Ross Wiseman and his wife, Amie were two years into planting Momentum Church (AG) in Woodstock, Georgia, a suburb of Atlanta — and it was nothing like he imagined.
"When I ministered in Ohio, it seemed everything we put our hand to, God increased," Wiseman says. "I was expecting that surely within three years of planting this church, we'd be running 500 people and 1,000 within 10 years. But everything we put our hands to failed."
With every set back, Wiseman's frustrations grew. He was sowing seed for God, but there didn't appear to be a harvest. Although the church was now seeing attendance around 150 to 175, most were unchurched and few tithed, leaving the church on a shoestring budget and struggling to survive.
"I grew bitter, not better," Wiseman admits. "Instead of seeing it as an attack from Satan, I saw it as God's fault and began to blame Him."
Although Wiseman had been serving in churches since the age of 19, when he volunteered to help with a church plant, he had never faced ongoing adversity in ministry. "I was in my mid-30s, having served in the church in some way, including as assistant pastor, most all of my life," Wiseman says. "Even though I didn't realize it at the time, I was an immature Christian."
God was about to make Wiseman a mature Christian — a man after His own heart — but it wouldn't be easy.
Three years into the plant, Wiseman started having trouble with his left ear, feeling like it was plugged with water, only it wouldn't release.
He went to a doctor, expecting to be told that it was nothing more than congestion and subsequent swelling. Wiseman was stunned by the doctor's words. "He told me that I was permanently deaf in my left ear, and there was a strong possibility that I could also go deaf in my right ear," he says.
Finances were tight and health insurance was out of reach. An operation to alleviate the hearing loss was possible, but the cost would be between $30,000 and $40,000 — money the couple couldn't even dream of.
"At the time, I couldn't understand it," Wiseman says. "I had given my life to God's work, and now I was out here and He wasn't blessing me the way I thought He should. I was mad at God."
And when the phone call came that informed him that not only was his hearing loss permanent, but the doctor who had "promised" to take care of things for him, now wouldn't even see him until after he had health insurance for a year, Wiseman broke.
"I was so mad, so hurt, so frustrated, for the first time in my life I went into a tirade, I began to throw and smash things," Wiseman says, his voice breaking with the painful memory. "Amie came in from doing her devotions, and asked what was wrong. I told her the news and when she said that God understands and would take care of us, I told her that He doesn't care!"
For the next three months, Wiseman gave God the silent treatment. "It was a horrible time," he says quietly. "Preparing sermons and preaching while not talking to God is not a good thing . . . , but I was like, 'I don't trust You, God!'"
Wiseman says the signs of his spiritual immaturity were evident and he realized he had become an "entitled punk," but slowly he began to get over this and emerge from his isolation as God started to get through to him.
"I remembered how my pastor (in Ohio) told me that God can't build a church until He builds a pastor," Wiseman says. "From ages 19 to 33 I was so blessed, that I didn't develop the spiritual bandwidth to carry what God had for me in the future."
Then while reading a devotional with Amie, he read, "Unless the heart goes through the dark night of the soul, your virtues become vices."
"Then I understood," Wiseman says. "All my life I have claimed that God can do big things. I realized that if God would have continued to bless me without pause, my claim would have turned to God can do big things through me — leading to a sense of entitlement that could have led to all sorts of negative things in life and ministry!"
With this awakening, Wiseman began his journey toward spiritual maturity. One might expect that God would clear the obstacles, but that would have ended the journey. In some ways, Wiseman's path became even more difficult, only his attitude and relationship with Christ had changed.
By September 2011, the church was growing again, seeing 225 to 250 in attendance on a regular basis. They added a highly regarded youth and music minister to the staff, and Wiseman expected the church to really take off.
"Instead, we started going backwards," he says. "I started missing paychecks in order for our new minister, who had younger children at the time, to get paid."
One Sunday night, after another missed paycheck, Amie broke down crying — they didn't have any food to feed their kids [they had four at the time] in the morning. Suddenly Wiseman recalled a documentary he had seen on TV and left, not telling Amie where he was going.
The documentary was about people, who, in order to survive, scavenged food out of store dumpsters. Wiseman would return that night with a table full of all kinds of produce and food items. For the next seven months, 80 percent of what the family ate was taken from what stores put out into their dumpsters each night.
"I also got a full-time job carpet cleaning, which meant I wasn't available to the church for visitation, counseling sessions, and the like as I was working up to 95 hours a week between the two positions," Wiseman says. "Predictably, the church declined and attendance fell to about 200."
Yet through it all, Wiseman says the joy of the Lord was with him. Whether he was "dumpster diving" or cleaning carpets, the blessing and provision of God seemed to be ever evident to him — the bitterness was gone and the purity of the Lord settled into his soul.
For six months Wiseman worked the long shifts before buying his own carpet cleaning equipment and going into business for himself for the next 14 months. Owning his business greatly reduced his extra work hours while maintaining similar income or better.
Although Wiseman could have never envisioned this path for himself, God now had a seasoned, humble, and joyous leader at His disposal. And now, in His timing, God proved Himself faithful.
Wiseman was invited to speak at a church on evangelism. When the love offering was tallied, the church treasurer was beyond astonished — $15,000 had been given — the exact amount Wiseman had forfeited in missed paychecks.
Then at his church's business meeting, where Wiseman led in making the decision that 10 percent of all money that comes in needs to be earmarked for missions, it was revealed to members for the first time about the Wisemans' financial sacrifice. Following the meeting, a member stepped forward and fully covered the salary loss.
That same person a year later felt God leading him to cover unpaid bills for the Wisemans. "I told him we were doing fine and all I had was a school loan of $15,000 and $2,500 in medical expenses," Wiseman says. "A few days later, he gives me an envelope. I open it up and it's $18,000 with a note explaining the extra $500 is to go out and celebrate someone giving you $18,000!"
And things kept getting better! The Georgia District contacted Wiseman. Knowing the difficulties he had weathered, and recognizing how his experiences would prove incredibly valuable to any church planter, they asked him to become the district's church planting representative — a paid part-time position.
"I sold my carpet cleaning business and, with the church's approval, started to work 10 to 15 hours for the district in helping church planters," Wiseman says.
Initiating a new approach to church by engaging 40 volunteers in church planting training, Wiseman started to see strong growth in the church; the church board, despite his repeated objections, gave Wiseman a 19 percent salary increase, and then through a 2015 giving challenge, the church raised $200,000 to buy a new building (a former Baptist church).
Blessings seemed to be pouring from heaven. But where did this all start?
For nine years now, Wiseman had remained deaf in his left ear. It had been his breaking point. But now, one of the church's small groups decided to secretly raise money to pay for an operation that would enable Wiseman to hear sound from his left side once again, with a doctor offering to do the procedure for half price ($15,000). The small group raised $5,800; the church in Ohio Wiseman originally came from donated $2,000.
Still short nearly $7,500 for the operation, the small group connected with the local Christian radio station (The Fish FM), who invited Wiseman on air. Thinking he was there to help honor a station employee, the radio station flipped it on Wiseman — who wept openly once he realized what was going on. The station dedicated the Christmas 2015 season to raising the rest of the money for his operation, which they did!
On March 28, 2016, Wiseman's surgery was complete. A titanium abutment had been inserted into his skull with a bone attached hearing device that enables him to hear sound from all sides — a miraculous answer to prayer!
As for the church, from 2014 through the first quarter of 2016, it has grown to an average of 425 in weekly attendance, with 726 attending this Easter's services. Wiseman says they are already planning on building a 500-seat sanctuary, but have no plans to become a centralized mega-church. Instead, once the new sanctuary reaches 65 percent capacity in two services, they will look to plant a second campus, possibly in west Woodstock.
. . . is there any wonder then, when Wiseman shares this story of his struggles and God's faithfulness, his voice cracks and tears course down his face in humble gratitude?