The Death -- and Life -- of a 15-Year-Old Missionary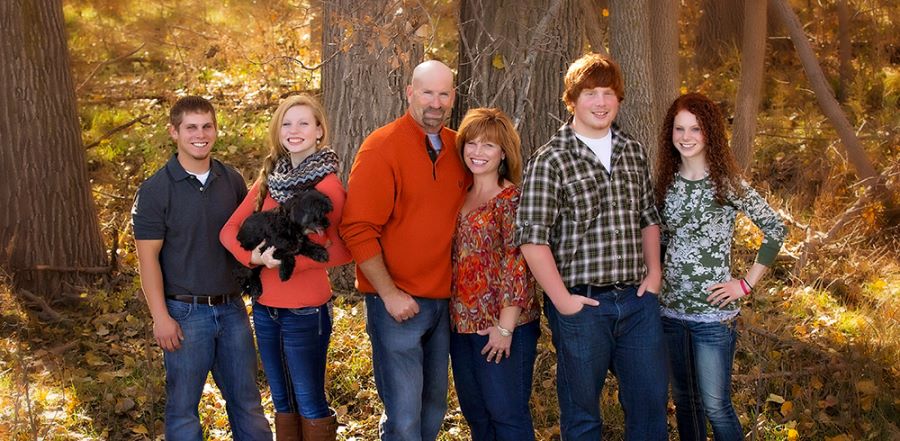 Don't miss any stories. Follow AG News!
Smiling and upbeat, her blue eyes dancing and her wild curly blonde hair pretty much everywhere, 15-year-old Courtney Faith Miller was looking forward to heading out after school for a 3-hour road trip with her mom to Manhattan, Kansas, where her brother Jacob lives and her sister, Elly, is a sophomore at Kansas State University.
Besides anticipating the trip, Feb. 27, 2015, was a typical Friday morning for Courtney. She ate breakfast and conversed with her dad, Tim, who spends much of his time caring for their 2,000-acre farm. Her mom, Denise, a teacher at Thunder Ridge High School in nearby Kensington, Kansas, was already at school preparing for the day.
As school had a late start that Friday, Courtney was in no particular rush as she jumped into the family's 2001 GMC Sonoma pickup* and headed down the rural road towards school.
Courtney, known for her ability to brighten any room with her smile, may have already been thinking about taking the road trip, visiting her sister and brother, and how she would be telling her mom, as she did on a regular basis (and meant it), that "Today was the best day of my life!"
Three minutes later, time stopped. Courtney Faith Miller, a young woman blessed with seemingly unending cheerfulness and a bubbling personality, was dead. She wasn't texting, talking on her cell phone, or speeding. She was wearing her seatbelt. Kansas Highway Patrol determined that the truck's front right tire had slipped off the edge of the road, Courtney overcorrected sending the truck across the road and into the far ditch, where it rolled.
Soon afterwards, classmates making their way to school came upon the wreck and called 9-1-1. Word quickly made it to Denise. When she arrived, she knew things were grim - there seemed to be little urgency on the behalf of the EMTs to pull Courtney from the wreck.
When people speak about "legacy" it's rarely associated with a 15-year-old. But rare describes Courtney perfectly.
Courtney's life was one filled with appreciation for even the smallest of things and overflowed with laughter, light, love, and joy - all of which seemed to naturally bubble from her.
Denise describes Courtney as "A breath of fresh air." And although her siblings had red hair, "Courtney was born blonde as they can be," Denise says. "She had the sunniest personality from day one!"
SOCIAL MEDIA: Courtney's last tweet continued to share the gospel.
God knows what He's doing, even when you don't. Learn to trust him

- WWJD! (@mill_faith) February 16, 2015
She had her own style, with an effervescence that was noticeable. Friends, teachers, and leaders at her church, Heartland Worship Center (AG), frequently observed that she was her own person.
"Nothing ever got her down," Tim says. "Laughing, full of life, she found something good in every situation."
And that wasn't just a father talking. Repeatedly, friends and classmates said they never heard Courtney be anything but positive, always encouraging people, always smiling, and either talking about a book she was reading or about church and God.
"From the time I first met Courtney, I noted a vibrancy that isn't typical in most teenagers," her English teacher, Karen Madorin, stated. "It didn't take a week to realize that this special energy was that of the Holy Spirit manifesting himself in a freshman girl."
Her former youth pastor, Daniel Beilfuss, who transitioned to another church just a few weeks before Courtney's death, says, "She was loved by everybody and willing to be friends with anybody. I would describe her life as an example of Christ and how to live it."
Denise recalls Courtney's love for missionaries, always making pledges for BGMC (Boys and Girls Missionary Challenge) and STL (Speed the Light) projects - even though she didn't have a job. "We knew that if we set change down on the counter or anywhere in the house, it would end up in Courtney's pledge bank," she says, with a smile in her voice. "She always met her pledge."
When asked about Courtney, her best friends talked about how she was able to turn tears into smiles, her love of God, and her passion for missions - sharing how her dream was to be a missionary one day, having already gone on some missions trips and donated her time every year for missions Christmas projects.
"She had a real heart for missions and was definitely contemplating missions work and becoming a missionary," confirmed Senior Pastor Jonathan Gibson, who has pastored the 180-member church for the past year and a half.
"Courtney was one of those people who you just instinctively knew was a Christian," says Karli Bauman, the church's youth pastor and long-time member. "It was obvious in the way she talked, in the way she lived her life, but it was most obvious in the way she treated other people . . . she made everyone feel welcome and loved."
But words can be cheap. However, dozens of her classmates, teachers and even the high school principal validated that Courtney was far more than a few "kind words."
Brittany shared how Courtney would step in if someone was being treated badly, while Heidi said Courtney taught her how to live her faith. A teacher shared that she believed Courtney lived her life helping others find God. Brianna said that Courtney showed her the greatness that comes from following God and the happiness that follows. Shaylin told how Courtney inspires her even now to be a better person and to help others. Principal Jeff Yoxall states that he knew Courtney loved her church through all her involvement there and was a person who would willingly help anyone. Tristan recalls how it was Courtney who chose to sit next to him when he was the new kid in school - every day for a week until the table he sat at was full of new friends. She was also the one to invite him to church, and to sit with her family. Austin told how Courtney made him feel like a "somebody" and not a "nobody." Even her brother, Logan, a senior, shared that he looked up to her as she was never afraid to share her faith.
The list goes on and on, students sharing how Courtney's middle name, "Faith" was so perfect for her and the impact she had on their lives. Many of them viewed her as a best friend - and without exception viewed her love for God and her caring spirit as genuine.
Paula Haskett, a children's leader at the church, who also had Courtney in her Girls Ministries Friends class, says, "I think her faith is what is helping us all get though this. We know she is in heaven and we know she is having a great time laughing with Jesus. When I go to church there are times I still see her bent down helping kids stand still on the risers, running with the spray whip cream with the nozzle in her mouth and laughing, or kneeling with a child in prayer."
Bauman says that because of the way Courtney lived her life for Christ, her death has brought a revival to the youth group. Five teens have given their lives to God and several others have rededicated their lives to Christ, with five later being baptized.
Tim and Denise, although still shedding tears over the loss of Courtney, continue to be youth sponsors at the church, and hosting youth events at their home. They explain that just as much as the youth group needs them at this time, they need the youth group as they heal together. "We have all become like one big family," Tim says.
Darin Stroud, the Kansas District youth director (DYD) says, "What set Courtney apart is that she lived out her faith every day in front of the world to see instead of just at church and in spiritual settings. She made her faith public on a regular basis."
Perhaps nothing is more telling of how Courtney lived her life than the response by the community. Tim and Denise requested that in lieu of flowers, donations could be made to Courtney's favorite ministry - Speed the Light - as she so wanted to be a missionary. So far, more than $8,000 has been given to Speed the Light and Kansas Youth Ministries. An impressive total when Kensington has fewer than 500 people and nearby Agra, less than 300. The high school, grades 9-12, has 70 students.
Gimmie Jo Jansonius, a teacher at Thunder Ridge High, says, "When Courtney did the One Shirt challenge in January, wearing The Human Right T-shirt for 30 consecutive days [in an effort to create opportunities to witness], I told my husband, in my heart of hearts, I knew that Courtney was already a missionary and God had big plans for her life because, in reality, Courtney's mission field was wherever Courtney was."
On Courtney's bedroom mirror, she had taped 1 Timothy 4:12: "Don't let anyone look down on you because you are young, but set an example for the believers in speech, in conduct, in love, in faith and in purity. (NIV)." That verse has been engraved on her headstone as well.
. . . and now, knowing that her young "missionary" life has made such a profound impact on the lives of so many, that the legacy she has left - and will continue to leave - are souls impacted and changed for Christ, it wouldn't be too hard to imagine Courtney, wearing her brilliant smile, running up to Jesus, giving Him a high five, and yelling out once again in excitement, "Today is the best day of my life!"
*Kansas state law provides a "Kansas Farm License" that allows students, who have completed the appropriate tests and training, to drive to and from a job, farm-related work, or school beginning at age 15.