The Little-Known Story of the Queen of Katwe — and More!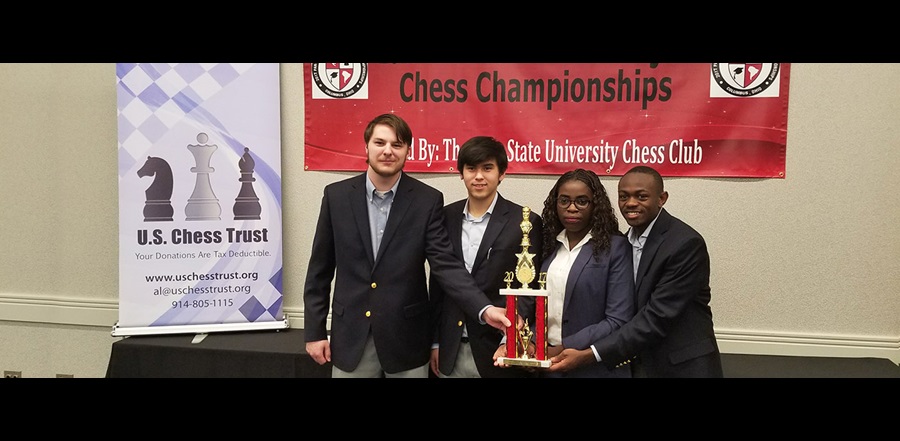 Don't miss any stories. Follow AG News!
When Phiona Mutesi, 21, and Benjamin Mukumbya, 19, first stepped on Northwest University's campus in Kirkland, Washington, as college freshmen in September, some students may not have known God had orchestrated such miraculous things in their lives that a book could be written about them — which it was — or a movie produced about them — which Disney released in 2016.
Mutesi and Mukumbya are from the slums of Katwe in Kampala, Uganda. They grew up knowing what it meant to never have enough food, to go without food for days, to live in dirt-floor shacks, and to be considered by those outside of the slum as less than human. As far as computers, cell phones, refrigeration, electricity, showers, indoor plumbing, or even beds? Luxuries only to be imagined.
But it was a missionary, Robert Katende, a man with a passion for sharing Christ with slum children, who was the catalyst for transforming Mutesi and Mukumbya's lives.
Katende himself is a former slum child. However, he used his incredible soccer skills to escape the slums and fund his college education, earning an engineering degree. But unlike most who manage to get out of the slums, he was drawn back. Sports Outreach Ministries (SOM) gave him the opportunity to return to the slums, using his own story and soccer skills to draw the slum children's interest. Now, part of each day he teaches children how to play soccer. The remainder of the day, Katende focuses on character lessons and introducing them to the gospel. Another huge draw to many of the children is that Katende also provides them with a meal.
In time, Katende realized that some kids simply weren't cut out to be soccer players. But then God gave him an idea — teach those children to play, of all things, chess. It's a game that requires judgment and strategy, not just memorization. According to National (chess) Master Elliott Neff, coach of the Northwest University chess team, just three moves into a game, there are nine million possible positions; four moves in, there are over 280 billion!
Mukumbya says that when he first started going to SOM, he went to play soccer. However, when his aunt noticed that children who played chess seemed to be better behaved, she let him know that he would now be playing chess instead!
"My family did not know about God at all," Mukumbya says, who grew up a virtual orphan in Katwe. "But after joining with Coach Robert, in the evening we would gather together, share testimonies, read Bible Scriptures, and he would tell us about the gospel. One day, when I was 11 or 12, I decided to give my life to Jesus — it felt so good."
Mutesi's story was a little different. Although she was from a Christian family, her mother being a firm believer despite their circumstances, Mutesi first attended SOM Chess Academy simply because hunger drove her. She didn't like chess initially, but if she wanted the free meal, she needed to participate.
Mukumbya and Mutesi first crossed paths when Gloria Mukumbya, Benjamin's 5-year-old sister, taught then 9-year-old Mutesi the basics of playing chess at the church that was home to SOM Chess Academy. Like any inexperienced player, Mutesi struggled at first. But then she started understanding the game's strategy . . . and she began to win.
In the Ugandan culture, girls did not compete against boys in any arena as it was "understood" that boys were far superior. So, when Mutesi began beating boys at chess, culture was shocked. It also began to open the eyes of Mutesi to what she was capable of, not to mention the eyes of the boys seated across from her.
But what began the launch of Mutesi and Mukumbya into legitimate legends throughout Uganda was when Katende began to enter a team of his best SOM Chess Academy "slum students," including Mutesi and Mukumbya, into chess tournaments outside of the slum . . . and they began beating well-educated, well-fed, and momentarily confident-in-their-superiority city school teams!
"I remember the first time we got to go to Sudan — me, Phiona, and (fellow teammate) Ivan," Mukumbya says. "It was my first time to stay at a hotel, sleep in a bed — which even had sheets! First time to use a shower — it was very great."
Mutesi and Mukumbya and some of their teammates became so good that they began to play in chess tournaments representing the country of Uganda in the African Championships.
Eventually, Mutesi qualified and competed in the World Chess Olympiad held in Russia in 2010, and followed that up by qualifying and representing her country on the three succeeding Chess Olympiads which are held every two years. By the time Mutesi was 11, she was the Ugandan junior female champion; at age 15, she had already won the Ugandan Women's Junior Championships three times! The next year, she became the first female player to win the open category of the National Junior Chess Championship in Uganda. Ironically, the trophy reads "Best in Boys" as no woman had ever won the title before! She currently has earned the chess title of "woman candidate master."
In time, their unbelievable story caught the attention of a former Sports Illustrated writer, Tim Crothers, who turned it into a book, Queen of Katwe. Disney then bought the film rights and produced a film with the same title in 2016.
The movie, which Neff, the founder of Chess4Life, calls 96 percent accurate, falls short in bringing into focus how much the hand of God played — and continues to play — in this still unfolding saga.
Mutesi says that her faith in God was initially generated from her mother's faith. But when her mother stepped back and said she was old enough to make her own decision about serving God, it didn't take her long to realize how much difference a relationship with Christ made in her life.
Neff and Northwest University President Joseph Castleberry agree that so many "little decisions" that were seemingly unimportant at one time, all now point to God's orchestration. Dozens of "coincidences" (miracles!) have taken place — and continue to take place — that have led Mutesi and Mukumbya to attend college halfway around the world.
Neff, whose Chess4Life program has many similarities to Katende's SOM Chess Academy as it has a focus on teaching chess while building character through biblical principles, recalls how he and his brother decided to help finance a small film about chess being done on the East Coast. The connection led to them being introduced to Katende and Mutesi when they were in the U.S. on a tour to promote the Queen of Katwe book.
As Neff and Katende's relationship grew, he provided Katende with Chess4Life curriculum and resources for his academy in Uganda as the purpose of their programs were nearly identical. He also began periodically helping Mutesi prepare for significant championships and the Olympiad, once even flying over to Uganda to help her with a four-day intensive training session.
"That's when I got to know Benjamin," Neff said. "To help Phiona, I needed someone for her to play against to apply what she was learning. Robert (Katende) recommended Benjamin."
Over the course of time, Disney began and completed work on the Queen of Katwe movie, while Mutesi and Mukumbya continued on in their impressive and ever-improving chess careers.
Neff learned that Mutesi would someday like to attend college in the U.S., so he reached out to some schools in the Northwest to see what might be possible. Due to his solid relationship with Castleberry, his first call was to Northwest University. The opportunity struck a chord in Castleberry and a full tuition scholarship was immediately offered to her.
Neff then offered to host Mukumbya for six months beginning in January to help him develop his chess game while Mutesi finished high school. He accepted and as Neff recalls, spent up to 10 hours a day honing his chess skills and took his ability to a new level, that of nearly the master title. In fact, his skills advanced to the point that he finished tied for second in the Washington Open Chess Championships, including defeating the Oregon state champion.
While Mukumbya was still training with Neff, Katende and Mutesi came to tour Northwest University and visit with Castleberry. Mukumbya, excited for his friend, agreed to come along.
"During the course of our conversation," Castleberry recalls, "I asked Ben if he was planning to go to college, and he replied that he wanted to become a neurosurgeon. Knowing his background as a virtual orphan in the slums, I asked if anyone had offered him a scholarship. When he replied that no one had, I instantly felt the Holy Spirit urging me to help him."
When Castleberry unexpectedly offered Mukumbya the same scholarship given to Mutesi, the surprise was complete.
"Receiving a scholarship wasn't even in my mind," Mukumbya says. "When I was given a scholarship, I was so overwhelmed and astonished, I couldn't even speak . . . it was all very unbelievable."
Castleberry then had the realization that he had two highly talented chess players coming to Northwest — they needed to start a chess team! The problem was, he couldn't recall any students ever playing chess at Northwest . . . how could they field a team?
Meanwhile, Mutesi and Mukumbya had funds to raise for although tuition was covered, books, room, and board were not. And unlike the popular theory back in Uganda that the two were rich, that was far from the truth. The two would only receive money from Disney if the movie made money — it did not.
However, Neff got involved again and helped the pair, through fund raisers and sponsorships, raise enough money to cover their first year's expenses.
Although Castleberry felt sure that offering the scholarships to Mutesi and Mukumbya was inspired by God, it wasn't too long before God confirmed it. How? Mukumbya's randomly assigned roommate at NU was Walter Borbridge, a young man who played chess blindfolded and had tournament experience. Then Mukumbya's randomly assigned lab partner in biology turned out to be Scott Childress, another freshman with tournament experience.
"When I first came to school, the first thing that came to mind was to study chess and start a chess club, but I resisted," Mukumbya says. "But every single day, the pressure inside of me increased to use the chess tools to help solve life problems. Then I realized that was the one thing that God had put on my heart to do!"
Mukumbya started the club and soon other players materialized. Castleberry then approached Neff to be the coach of a Northwest University chess team. He agreed.
Mutesi, who is still exploring her options as to what she wants to major in, wasn't sure if she would have time for chess. She shared just one of many challenges she and Mukumbya faced – such as being totally unfamiliar with a keyboard. "What took others maybe two hours to type, took me days — essays were really hard for me, though I'm doing much better now," she says.
However, as Mutesi and Mukumbya became accustomed to college life, Neff prepared them and the rest of the Northwest Chess team to participate in the Pan-Am Intercollegiate Chess Championships hosted by The Ohio State University in Columbus, Dec. 27-30. Known as the foremost intercollegiate team chess championship in the U.S., it drew teams from North and South America.
Mukumbya, the top-ranked Northwest player, drew opponents' top-ranked players. Mutesi, the number-two player on the squad drew opponents' second-ranked players. Followed by Borbridge at number three and Andrew Uptain at number four. The result? The team claimed the small college (under 5,000) championship trophy, and in the process downed the defending, four-time small-school champion, Oberlin College, 4-0!
Castleberry and Katende remain in close communication. They have agreed to ongoing opportunities for outstanding chess players from the SOM Chess Academy to attend Northwest on a chess scholarship. This agreement will help the Northwest chess program remain strong for years to come while providing hope and a way out of the slums for children and teens.
Neff, who admires Mutesi and Mukumbya for their desire to use the opportunities they have to make a difference in others' lives, says that he is also impressed by their grit — their never-give-up attitude.
"Both of them are the type of chess players — and the type of people — who never think that all is lost; they strive to find a way to fight as long as possible," Neff says. "I believe that stems from the environment they grew up in as well how their coach and mentor, Robert Katende, helped shape and influence their values and character. Robert, Phiona, and Benjamin simply never give up."
And the one thing that is clearly evident? God has never given up on them, either!
IMAGE - Northwest University's chess team at Pan-American chess championships.