The MRI Said He Was Paralyzed, God Said He Wasn't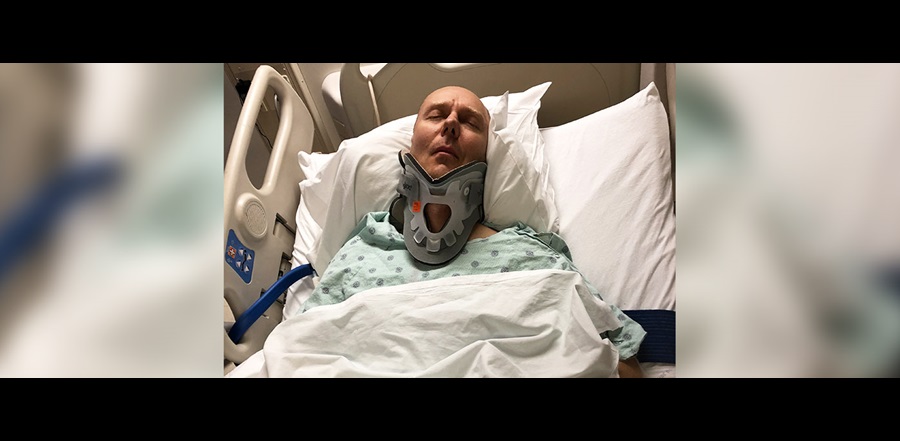 Don't miss any stories. Follow AG News!
The neurosurgeon entered the room, examining the MRI images. He glanced over at Pastor Steve Lebsack lying on the hospital bed and shook his head, then studied the MRI images again. A puzzled look crossed the surgeon's face — this couldn't be right, something was wrong . . . impossibly wrong!
The MRI told the neurosurgeon that Lebsack was . . ., well, at least should be, paralyzed. The problem? He wasn't! It didn't make any sense . . .
The Miracle — Part I
On Monday, Jan. 15, Lebsack, 45, his son, Jaden, 11, and friend Gary McCoy, 44, decided to spend some time riding their dirt bikes and four-wheelers on the La Grange (California) ATV and Motorcyle Park. Lebsack, a bivocational minister who leads Community Family Worship Center in Modesto, and McCoy are neighbors, with McCoy being the church's bass player.
As the trio was wrapping up their ride, Lebsack hit a large rock hidden under some sand. The impact caused his handlebars to jerk to the right and sent him up over the edge of an embankment and he fell head first down the other side — a 7-foot drop.
"I must have blacked out for a second or two, but when I came to, I immediately took my helmet off as it was full of dirt and mud," Lebsack says. "The bike was on top of me and I felt weird from the waist down. I reached over and touched my left leg, and it felt like touching a mushy sack of potatoes, and I had no feeling or strength in it."
Fearing he might be paralyzed, Lebsack tried to move his right leg which was trapped under the bike — he couldn't move it. He used his hands to get the bike off his leg and the leg just flopped over. It too had no feeling.
Thoughts of what being paralyzed meant to him and his family instantly flooded his mind.
"I laid my head down on the dirt and just prayed, 'Jesus, I need a miracle,'" Lebsack says. "I said that maybe two times, and then suddenly I felt a tingling in my toes. I started wiggling my toes. Then the tingling went to my feet, ankles, and all the way up to my waist — I could move my legs back and forth!"
McCoy and Jaden found him shortly afterward, his waving hand just barely visible above a stand of scrub brush near where the trail wrapped around the embankment. Although they realized that Lebsack had injured his back, they didn't realize just how miraculous it was that he was able to move his legs at all, much less stand.
"When I was lying there, and the feeling came back into my legs, I just felt the Holy Spirit telling me that what He's given me, He was not going to take away, the healing was mine," Lebsack says. "And that's why I did everything I did."
According to conventional wisdom, when someone suffers a spinal injury, movement is not only dangerous, it can be deadly. Lebsack got up and road the four-wheeler with McCoy to the truck, and he road in the truck's passenger seat for an hour, bent over and with his feet on the dashboard to ease the growing pain in his back. Then they stopped by his chiropractor who immediately sent him to the ER. A multitude of things could have happened on that trip that could have led to permanent disability or death, but Lebsack claimed the promise God gave him.
At the ER, Lebsack had three MRIs and three CT scans taken. The neurosurgeon came in with the scans, not fully comprehending what he was seeing. He explained that when vertebrae are compressed and crushed like Lebsack's were, and when a broken vertebrae pushes up into the nerve, like Lebsack's had, there was no question — that person is paralyzed. He couldn't explain why Lebsack wasn't.
"He told me I was one lucky person," Lebsack says. "I corrected him and said, 'No, I'm one blessed person,' and I told him what happened when I prayed."
Despite the use of his legs being restored, the neurosurgeon explained to Lebsack and his wife of 25 years, Cristie, that they were still going to have to fuse four of his vertebrae together with titanium rods and screws — a six-hour surgery that required detaching muscle tissue, inserting the titanium hardware, and reattaching muscle tissue . . . and it was as painful as it sounds.
The Miracle — Part II
God continued to work miracles in Pastor Steve Lebsack's body, as his recovery following surgery progressed much faster than expected and he needed fewer pain killers than anticipated.
But in a family, a debilitating injury and surgery doesn't just impact the injured. Cristie, whose life was already filled with being the co-pastor and worship pastor at the church, working in her own health and wellness business, caring for their two children, Jaden and Maci, 14, and taking care of countless other household and life tasks, now also became Steve's full-time caretaker as he required her constant care until the muscles healed from the surgery. He needed assistance in everything — getting in and out of bed, using the bathroom, taking a shower, brushing his teeth, dressing, eating — everything.
"It's been difficult – the most difficult thing in my life," she admits. "It changes your perspective on what really matters. The kids were impacted as well as our family, our household, and our church was impacted."
As Cristie faced the daunting task of caring for Steve, knowing his condition was fragile, God answered her tears, fears, prayers, and pleas for His help.
As McCoy puts it, the church — which averages only 50 on Sundays — stepped up in an incredible way — even beyond his hopes. Meals were provided, yard work was taken care of, cleaning was done, rides were provided, and many needs were met as the church family rallied around their pastor and his family.
It was just what Cristie needed as she admits the only way she made it through was living by the slogan, "One Day at a Time." She also credits her mother-in-law for being a part of answered prayers.
But even in the Lebsacks' darkest hours, the church was inspired by their faith and dependence upon God. "You have to understand, they are an amazing couple," McCoy says. "They're the type of people that when you're around them it makes you want to be a better person."
The Miracle – Part III
Although Steve is still in the process of recovering, he was able to remove his neck brace after only a month instead of three months, and his back brace came off after just two months instead of the original time frame of three to six months.
Steve has also shared his miracle testimony countless times with doctors, nurses, his hospital roommate and his roommate's family and guests, and wherever he goes, planting seeds of faith into the lives of anyone who provides him an opportunity to share.
But it's not just strangers who have been blessed. Through this entire experience, the church family, including the Lebsack family, have experienced an awakening to the urgency of the gospel message and a sense of God preparing them for something special.
"We're still seeing what God is going to bring through this [in the church] as Steve has just been back preaching for about two weeks now," McCoy says, "but you can feel it — it's not business as usual anymore, it's time to move and let the Spirit get started — a lot of people in the church are excited about it."
And it seems that God is ready to reward that excitement — even more!