The Power of Men Mentoring Men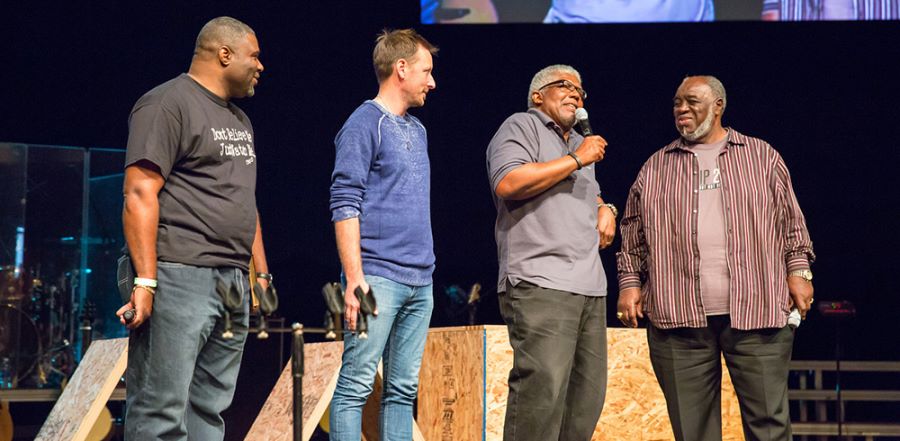 Don't miss any stories. Follow AG News!
Like any good father, Samuel Huddleston enjoys talking about his three grown children and 13 grandchildren. But he's quick to point out that he has other children as well -- sons who are not related by birth or legal adoption.
Huddleston, assistant district superintendent of the Northern California and Nevada district of the Assemblies of God, calls the two men he has mentored through the years his spiritual sons. One shares Huddleston's black heritage; the other does not. One is a full-time minister like Huddleston; the other lives out his faith in a secular workplace. But the differences don't seem to matter.
"They're my sons," Huddleston says. "We do life together. We've taken vacations together. Their children are my grandchildren."
Huddleston, who became a Christian while in prison as a young man, discovered the power of mentoring when an older pastor, Bishop Green, took an interest in his spiritual development "He got up in my face and told me things I did not want to hear," Huddleston says. "I realized that only one other man talked to me that way, and that was my father."
Huddleston still keeps in touch with the now-retired pastor and considers him his mentor and spiritual father.
"He calls and talks to me," Huddleston says. "He's not impressed with me or what I do. His concern is making sure I live right before Jesus and go to heaven."
Huddleston has the same simple goals in mind for his two mentees, Chris Harrell and Gregory Campbell.
Harrell serves as pastor of South Hills Church, an Assemblies of God congregation in Corona, California. He was a student at Bethany Bible College in Scotts Valley, California, when he met Huddleston, who served as dean of students. Harrell sought the respected leader's spiritual guidance, and it wasn't long before he had a permanent place around Huddleston's family table.
"He's different from my family -- he's a lot lighter," Huddleston says. "But he would come to the house and spend the night. My wife and children got to know him. My kids still call him their brother."
Campbell attended a church Huddleston pastored. When they met, Campbell's marriage was in trouble. Huddleston helped the young man turn around his life and repair his marriage, and Campbell eventually became the church's youth pastor. Campbell now serves as a special agent for the U.S. Postal Service in Washington, D.C. Like Harrell, he stays in touch with Huddleston.
"I'm on the phone with him like I am with Chris," Huddleston says. "I ask them both difficult and challenging questions. I tell them what they need to hear and not what they want to hear."
Huddleston encourages men to seek out mentors, as well as mentees. He believes these relationships are crucial to building the Church, especially as more young men grow up without fathers or Christian role models.
"Once you have a mentor, you'll understand the importance of becoming a mentor," Huddleston says. "We need each other to navigate this thing called life."