This Week in AG History -- March 19, 1921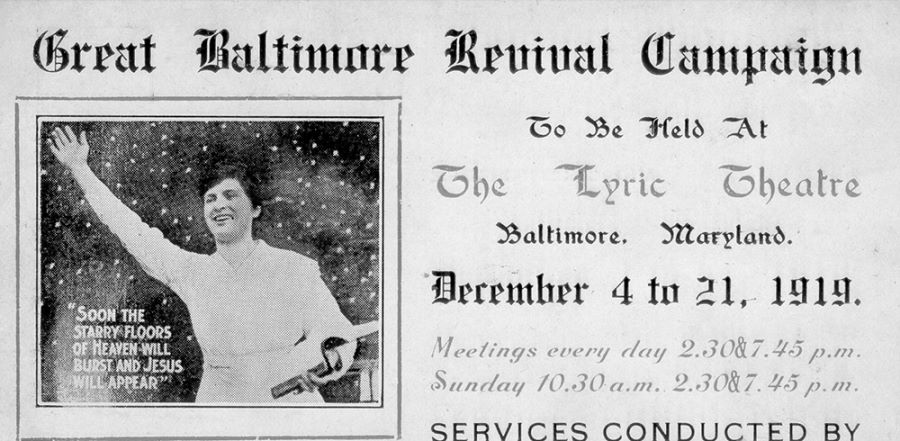 Don't miss any stories. Follow AG News!
Methodist and United Brethren congregations in Baltimore, Maryland, embraced a revival sparked by Pentecostal evangelist Aimee Semple McPherson in 1919. McPherson, the most widely-known Pentecostal evangelist of her era in the United States, was a gifted orator who built bridges between Pentecostals and evangelicals. Her messages, focusing primarily on salvation, healing, and the spiritual life, garnered the cooperation of churches of various denominations. She was a credentialed minister with the Assemblies of God for several years (1919-1922) prior to forming the International Church of the Foursquare Gospel.
McPherson's evangelistic efforts in Baltimore began with three weeks of daily services in the Lyric Theatre, December 4-21, 1919. Numerous healings attracted the attention of the secular press. She was invited to hold services in two Methodist and one United Brethren churches, where large audiences gathered to hear the female evangelist who preached that "Jesus Christ is the same yesterday, and today, and forever."
McPherson returned to Baltimore in January 1920, where she held meetings for several weeks at the Franklin Street Memorial United Brethren Church (pastored by Edward Leech). After she left, Leech and another staff pastor at the church continued to hold special prayer meetings and revival services. The Pentecostal Evangel reprinted a 1921 report of the ongoing revival, authored by Leech and originally published in the United Brethren Church's denominational periodical.
According to Leech, hundreds of people had accepted Christ and "a large number were instantaneously healed" in his church. In an era of religious skepticism, the healings provided proof of God's power. "Surely no one will be so skeptical," wrote Leech, "as to doubt the power of God to touch the sick with healing now as in that first century."
Leech was initially cautious about telling others in his denomination that he had embraced the Pentecostal revival. He remained quiet about it for about a year, he wrote, "to test out my own church and people." But in his 1921 article he proclaimed, "today I am fully persuaded as to the genuineness of the full gospel program." He spoke favorably of McPherson's ministry: "She preaches the whole truth, attracts the crowds, fills the altar with sinners and backsliders, prays down healing for the sick, and seeks to deepen the spiritual life of believers."
McPherson, like many other early Pentecostals, aimed to build the kingdom of God and not merely a denomination. Leech warmly embraced this aim, writing that he had never before seen such levels of "cooperation" and "Christian love and fellowship."
Read the article, "Big Revival in Baltimore" on page 6 of the March 19, 1921, issue of the Pentecostal Evangel .
Also featured in this issue:
• "Is the Holy Spirit in All Believers?" by J. T. Boddy
• "The Modern Church in Effigy," by W. V. Kneisley
• "The Coming Chinese Church"
 And many more!
Click here to read this issue now.
Pentecostal Evangel archived editions courtesy of the Flower Pentecostal Heritage Center.