This Week in AG History — December 22, 1917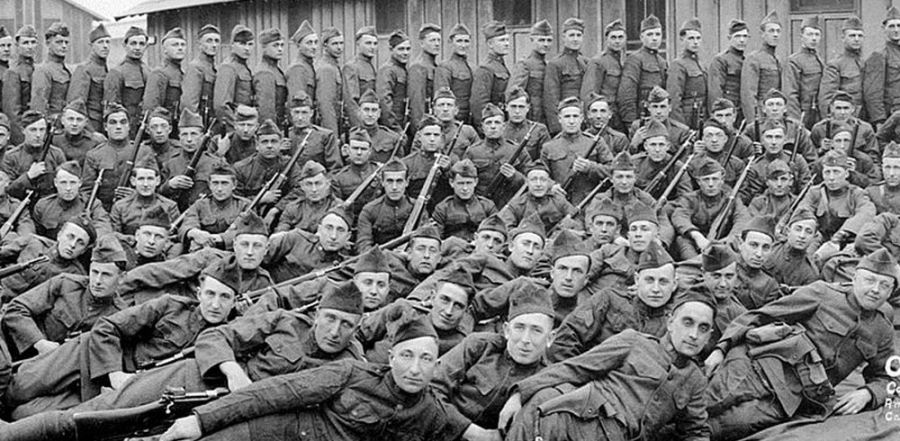 Don't miss any stories. Follow AG News!
Ministry to military servicemen has been promoted in the Assemblies of God almost from the beginning. Known for his patriotic red, white, and blue tent outreaches in World War II, Raymond T. Richey first began ministering to servicemen during World War I. Throughout his lifetime he ministered to thousands of military personnel and civilians in healing campaigns all across the globe.
In this edition of the Evangel, Richey reports on a big campaign scheduled to take place in Houston, Texas, on Dec. 23. In "Work Amongst the Soldiers," he reports that the building would by 80 x 150 feet and would seat more than 2,000 people.
"In every respect it is believed that it will be one of the truest evangelist efforts being put forth anywhere in the United States in behalf of the soldiers now in camp," Richey states. The article continues by saying that assisting Pastor Richey "will be a corps of workers, organized to do a real soul-saving work, before the men of Camp Logan are called to go to the trenches in France."
Richey was planning many more revival campaigns similar to this: "God's favor on the work will mean that at every point in Texas, New Mexico and Oklahoma, where troops from the Northern and Central Mississippi Valley States are located, that such Tabernacle meetings will be conducted by real Holy Ghost filled leaders."
Read the article, "Work Amongst the Soldiers" on page 10 of the Dec. 22, 1917, issue of The Weekly Evangel.
Also featured in this issue:
• "Christmas Worship"
• "The Supernatural," by F. A. Hale
• "Questions and Answers," by E. N. Bell
• "The Porto Rican Revival," by Frank Ortiz, Jr.
• "God's Redeeming Love," by Susan C. Easton
And many more!
Click here to read this issue now!  
Pentecostal Evangel archived editions courtesy of the Flower Pentecostal Heritage Center. For current editions of the Evangel, click here. 
Photo courtesy of the U.S. Government Archives.