This Week in AG History -- Oct. 29, 1949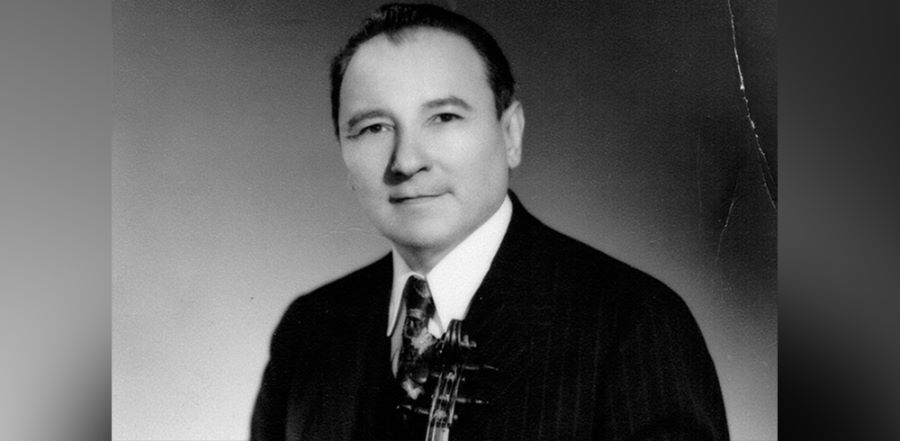 Don't miss any stories. Follow AG News!
As a young man, Joseph P. Wannenmacher (1895-1989) was a rising star in the Milwaukee musical scene. But a miraculous healing in a small storefront mission in 1917 forever changed his life, and he went on to become a well-loved Assemblies of God pioneer pastor. He shared his powerful testimony in the Oct. 29, 1949, issue of the
Pentecostal Evangel
.
Like many other Milwaukee residents, Wannenmacher was an immigrant. He was born in Buzias, Hungary, to a family that was ethnically German and Hungarian. The Wannenmachers moved to Milwaukee in 1903, but his father was unable to adapt to American ways so they returned to Hungary after 10 months. In 1909, they returned to Milwaukee to stay.
From an early age, music helped define Joseph Wannenmacher's life. In Hungary, he was surrounded by some of the nation's best musicians and became a noted violinist. In Milwaukee, at age 18 he organized and conducted the Hungarian Royal Gypsy Orchestra (named after a similar group in his homeland), which performed at many of the region's top entertainment venues.
Wannenmacher seemed to have it all. He could afford fashionable clothing, a gold watch, and diamond-studded jewelry. But underneath his successful veneer, Wannenmacher was haunted by his own human frailties.
Wannenmacher knew that he was dying a slow, painful death. His flesh would swell, develop blisters, and rot. Doctors diagnosed his condition as bone consumption. His sister had already died of the same malady. Anger boiled up in Wannenmacher as he grappled with the unfairness of life. He developed a sharp temper and, try as he might, he could not find peace.
Wannenmacher was raised in a devout Catholic home, so he turned to his faith to help him deal with his physical pain and bitterness. He frequently attended church and offered penance, but these practices did not seem to help.
He then turned to Luther's German translation of the Bible, which someone had given to him, and began reading it voraciously. In its pages he discovered things he had never heard before. He read about Christ's second coming, salvation by faith, and Christ's power to heal. Perhaps most importantly, he learned that God is love. Up until that point, he had conceived of God as "Someone away up there with a long beard and a big club just waiting to beat me up." But then, at age 18, he began to discover the gospel for himself.
In the midst of this spiritual awakening, Wannenmacher's health was weakening. He could barely hold his violin bow in his hand, and the pain was almost unbearable. Then one morning in 1917 he heard about a group of German-speaking Pentecostals who prayed for the sick. The next service was scheduled for that afternoon, and Wannenmacher made a beeline for it. He wrote, "It was a dilapidated place, but the sweet presence of God was there."
The small band of believers had been fasting and praying that God would send someone who was in need of salvation and healing. The service was unlike anything Wannenmacher had ever seen before. He watched the people get on their knees and cry out to God. Their outpouring of genuine faith moved Joseph's heart.
The pastor, Hugo Ulrich, preached that sinners could be saved simply by trusting in Christ. It seemed too good to be true, Wannenmacher thought. Faith then came into his heart, and he started laughing for joy. The pastor thought Wannenmacher was mocking him, but Wannenmacher didn't care. At the end of the service, Wannenmacher came forward to the altar and experienced a powerful encounter with God.
Wannenmacher described his time at the altar: "the power of God just struck me and shook for fully half an hour…the more His Spirit operated through my bones, through my muscles, through my being, the hotter I became. The more God's power surged through me, the more I perspired. The Lord simply operated on that poor, diseased body of mine."
He described this experience as being in the "operating room" of God. Later in the service, as he knelt at the altar rail in silent prayer, it seemed like heaven came down. He recalled, "As I waited there in God's presence … [God's] hands went down my body from head to toe, and every spirit of infirmity had to go. I got up, and I was a new man."
A few days later, Wannenmacher was baptized in the Holy Spirit. He soon launched into gospel ministry and shared his testimony wherever he went. He played his violin and sang gospel songs during the lunch hour at the Harley Davidson plant, where he sometimes worked. He testified about his healing in hospitals, street corners, and other places. Everywhere he went, he prayed with people, and many accepted Christ and were healed. Wannenmacher's family jokingly referred to his violin as the "healing violin," because numerous people experienced healing as he played songs such as "The Heavenly City."
In 1921 he married Helen Innes and started Full Gospel Church in Milwaukee. He went on to found six additional daughter churches in the area. He also served as the first superintendent of the Hungarian Branch of the Assemblies of God, which was organized in 1944 for Hungarian immigrants to America. After pastoring Full Gospel Church (renamed Calvary Assembly of God in 1944) for 39 years, he retired in 1960.
Throughout his ministry, Wannenmacher emphasized the importance of the Word of God. In his Pentecostal Evangel article, Wannenmacher compared reading the Bible to the mastery of music. "You have to practice and play music over and over again before you have mastered it," he wrote, "and you have to apply yourself to those wonderful teachings of our Lord and Savior Jesus Christ, too, in order to make them yours."
While Joseph Wannenmacher went to be with the Lord in 1989, his legacy lives on in the churches he founded and in the people whose lives he touched. Calvary AG is continuing to reach people in the Milwaukee area and was renamed
Honey Creek Church
in 2015. Joseph and Helen's three children, John, Philip, and Lois (Graber), were involved in Assemblies of God ministries. Philip served as pastor of
Central Assembly of God
(Springfield, Missouri) from 1970 to 1995. Philip's daughter, Beth Carroll, serves as director of Human Resources at the Assemblies of God National Leadership and Resource Center. On the floor just above Beth's office, Joseph's "healing violin" is on display in the Flower Pentecostal Heritage Center museum.
Joseph Wannenmacher's story reminds believers that history never really disappears. People, events, and themes from the past tend to resurface in the present, but it often takes discernment to see them. God radically transformed Joseph Wannenmacher's heart and healed his body, and the world has never been the same.
Read Joseph P. Wannenmacher's article, "When God's Love Came In," on pages 2-3 and 11-13 of the
Oct. 29, 1949, issue
of the
Pentecostal Evangel.
Also featured in this issue:
• "Life's Supreme Objective," by D. M. Carlson
• "Ministering to the Needy," by J. H. Boyce
And many more!
Click here to read this issue now
.
Pentecostal Evangel
archived editions courtesy of the
Flower Pentecostal Heritage Center
.