This Week in AG History -- April 27, 1975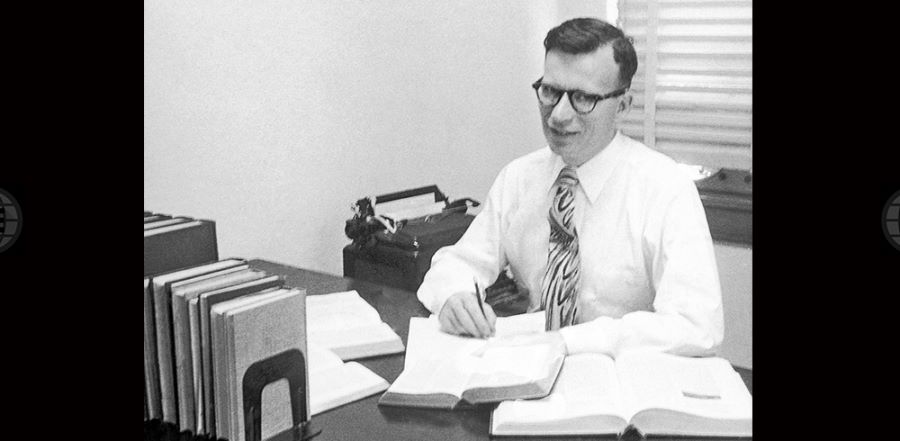 Don't miss any stories. Follow AG News!
Stanley M. Horton (1916-2014), the noted Pentecostal author and educator, was one of the most influential teachers of laypeople in the history of the Assemblies of God. He taught at the highest level in Assemblies of God institutions of higher education and authored the standard textbook on the Pentecostal understanding of the Holy Spirit, but it was through his "side job" as a writer of Sunday School material that he yielded his broadest influence.
Horton's Pentecostal background goes back to the Azusa Street revival of 1906-1909. His mother, Myrle Fisher, was baptized in the Holy Spirit at the meetings at Azusa Street. She later married Harry Horton, who followed Myrle's father, Elmer Fisher, as pastor of the Upper Room Mission, located just blocks from the Apostolic Faith Mission on Azusa Street.
The family often attended Angelus Temple, the home church of Evangelist Aimee Semple McPherson. One of Horton's childhood memories is being led to the Angelus Temple platform to lead in prayer for a children's meeting. He sat on Sister Aimee's lap until it was his turn to pray.
Exposure to some of the early leaders and ministries of the Pentecostal movement gave Horton an inside understanding of the relationship between the development of theological ideals and their practical application to Christian living.
From his youth, Horton exhibited unusual intellectual prowess. He graduated from high school in 1933 at age 16 and in 1937 received his undergraduate degree in science from University of California at Berkeley. He went on to earn a Master of Divinity from Gordon Divinity School, a Master of Sacred Theology from Harvard, and ultimately his doctorate from Central Baptist Theological Seminary in 1959.
In a day when Pentecostal scholarship was considered "an oxymoron," Horton was a rarity. While many of his peers considered higher education to be a hindrance to the Spirit's anointing, Horton felt that God had called him to develop his intellectual abilities. If he did not fulfill that calling, he reckoned, he would be disobeying God.
Horton went on to teach at the college and university level for 63 years and traveled the world as a lecturer until age 92. He authored dozens of books — many of which have been translated into multiple languages — and published more than 250 scholarly articles. His book, What the Bible Says About the Holy Spirit, still serves as the definitive text on the topic in seminaries and universities around the world.
However, it is possible that his broadest influence in the Pentecostal world came through the humblest of his writings. In the April 27, 1975, issue of The Pentecostal Evangel, Horton was honored for serving as author of the Adult Teacher Sunday School quarterly for 25 years. Students in churches of every size and teachers of every level of ability would open these quarterlies each Sunday to glean a deeper understanding of biblical principles from the same pen that was writing university textbooks.
Balancing a heavy teaching load and raising three children, the scholar would stay up late into the night, at the beginning rate of $1 per hour, to develop lessons that would take the deepest theological truths and convey them in a manner that applied to the daily lives of farmers, factory workers, and businessmen and women. Dr. Bob Cooley, past president of the Evangelical Theological Society, former president of Gordon-Conwell Theological Seminary, and a 1949 student of Dr. Horton, wrote, "If you read the adult quarterly, you can see that the lesson material grew out of an academic understanding of Scripture but was very practical . . . a technical understanding of the biblical text but a remarkable way of translating that into a body of applied theology."
Dr. Horton's sacrifice of time proved to be an investment in the lives of tens of thousands of Assemblies of God laypeople who would never attend one of his seminary classes, but who were still able to receive theological training from one of the greatest minds of the Pentecostal movement — just by attending Sunday School.
Read the article, "A/G Editors Honor Stanley Horton for 25 Years of Writing Ministry," on page 26 of the April 27, 1975, issue of the Pentecostal Evangel.
A biographical sketch of Horton, a bibliography of his writings, and video interviews are accessible on the Flower Pentecostal Heritage Center website.
Also featured in this issue:
• "Unveiling the Man of Sin," by Ian McPherson
• "Build A Bridge of Friendship," by Marjorie Stewart
• "Navajo Trails Assembly Outgrows Its Building," by Ruth Lyon
And many more!
Click here to read this issue now.
Pentecostal Evangel archived editions courtesy of the Flower Pentecostal Heritage Center.