This Week in AG History -- August 12, 1951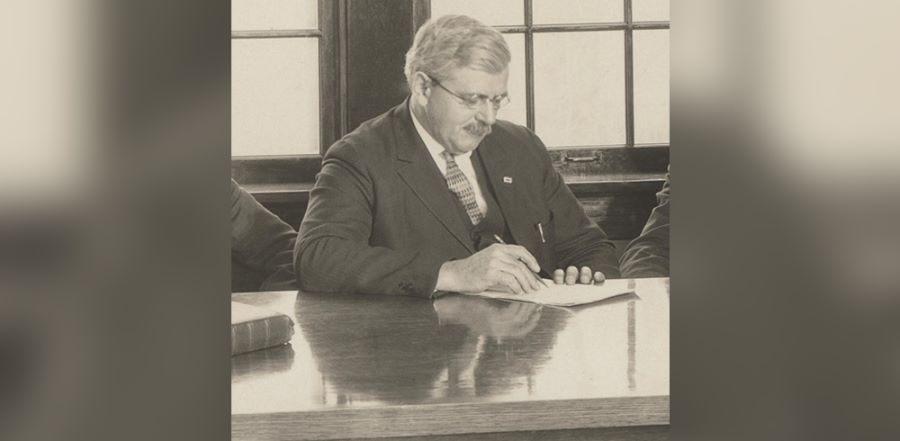 Don't miss any stories. Follow AG News!
J. R. Evans (1869-1951) served as an early Assemblies of God pastor and is best remembered for serving as general secretary of the Assemblies of God. Born in Punxsutawney, Pennsylvania, his full name was James Richards Evans. He lost his first wife early in life, and in 1913 he married Elsie Leonard, who previously had served as a missionary to India with the Christian and Missionary Alliance.
J. R. and Elsie Evans belonged to the Pentecostal Church [Assemblies of God] of Cleveland, Ohio, which was pastored by D. W. Kerr.
Feeling a call to the ministry, J. R. Evans at age 45, and Elsie at age 39, were both ordained by Kerr on March 28, 1915. Evans served the Assemblies of God as a pastor in Cleveland, Ohio; Osborne, Kansas; Broken Arrow and Pawhuska, Oklahoma; Toronto, Canada; Chicago, Illinois; Portland, Oregon; and Syracuse, New York. He also served as an evangelist in the general field. While living in Oklahoma he served as Oklahoma district superintendent (1917).
Elsie served as an assistant pastor, evangelist, and Bible teacher. She also led singing at the churches they pastored as well as at camp meetings and conventions. She passed away on May 15, 1936, at the age of 59 and was buried in Springfield, Missouri. One of her sisters was Lavada Morrison, an early AG missionary to China. Another sister was Ruth Phillips, the mother of Guy and Everett Phillips, both well-known Assemblies of God ministers.
In 1923 Evans was elected general secretary of the AG and served in that position for 12 years (general secretary from 1923-1927 and general secretary-treasurer from 1927-1935).
Cataracts formed on his eyes in 1933, and within months, he began to go blind. J. R. Evans served as an executive presbyter and general presbyter from 1936-1942.
Evans was granted a retirement allowance when he left office, and he moved back to Cleveland, Ohio, for a few years. He did some evangelistic work in various places in Ohio. In 1938 he served a short time as interim pastor of the Full Gospel Church [Assemblies of God] at Youngstown, Ohio. He then moved to Tampa, Florida, for a few years. He spent the last two years of his life in the Pinellas Park Home in Florida which was established to house retired ministers and missionaries of the Assemblies of God.
J. R. Evans passed away on July 18, 1951, at Pinellas Park, Florida, at the age of 81. He was survived by his third wife, the former H. Mary Engle, whom he married on July 3, 1941.
Read the article, "Former Executive of General Council Promoted to Glory," on page 14 of the
Aug. 12, 1951, issue
of the
Pentecostal Evangel
.
Also featured in this issue:
• "You Have One Problem—Solve It!" by U. S. Grant
• "Why a General Council?" by J. Roswell Flower
• "Wait, Examine the Facts!" by Stanley Horton
And many more!
Click here to read this issue now
.
Pentecostal Evangel
archived editions courtesy of the
Flower Pentecostal Heritage Center
.