This Week in AG History -- August 18, 1928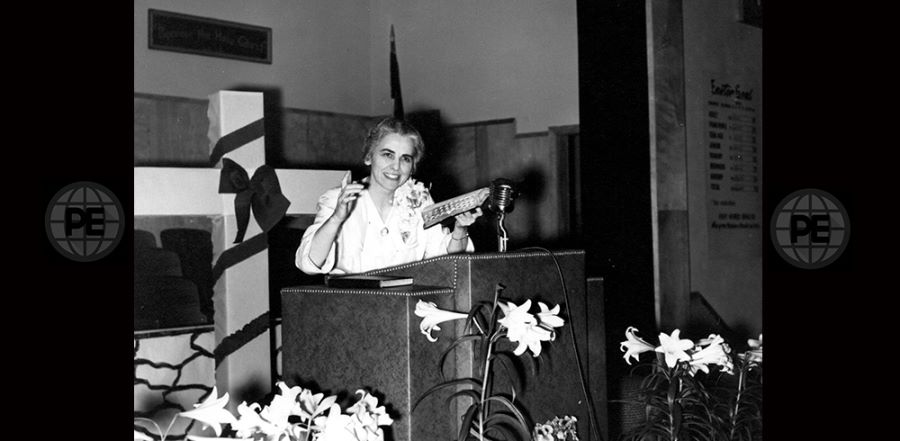 Don't miss any stories. Follow AG News!
Hattie Hammond (1907-1994) was one of the premier preachers of the early Pentecostal-holiness movement. How did she gain that reputation? It was by preaching a simple gospel message of whole-heartedly serving God.
Born and raised in Williamsport, Maryland, she was saved and baptized in the Holy Spirit in a tent meeting at age 15, conducted by John Ashcroft, the grandfather of former Attorney General John Ashcroft. Even at that young age, she boldly began witnessing to her teachers and classmates, which was the beginning of her lifelong calling as an evangelist.
She was ordained by the Assemblies of God in 1927, and soon had invitations to speak in large churches in Cleveland, Ohio; Detroit, Michigan; Los Angeles and Oakland, California; Philadelphia; New York City; Washington, DC; and other places.
She also became a popular camp meeting speaker and Bible teacher. Her simple messages prompted abandonment of worldliness and inspired walking into a "deeper life" of consecration and holiness to God.
In a sermon called "Drawing Nigh to God," published in the August 18, 1928, issue of the Pentecostal Evangel, she encourages people to develop a strong, devotional life: "As we enter into the presence of the Lord we should realize we are in the presence of a great, almighty, eternal God." She also promotes waiting on the Lord: "We should not rush into His presence with haste, nor come as though we were coming into the presence of an earthly friend. We should take time to realize that He is God and beside Him there is none else."
In this sermon she also talks about the need for God, salvation, spending time with God in prayer, and the importance of the baptism in the Holy Spirit.
She says, "The first thing necessary is that we become still, and know that the great I AM is God. Be still and know that it is God for whom we are waiting, that we are sitting in the presence of God, and that it is His great name upon which we are calling." She concludes by saying, "We need the Holy Spirit to keep us true to the Cross, and to Jesus our Lover Lord, to be real overcomers."
By the 1930s, Hattie Hammond had become one of the most powerful speakers in the Pentecostal movement. There are reports of remarkable miracles and healings which took place in her ministry.
She ministered all over the U.S. in colleges, conventions, Bible schools, churches of all denominations, and in more than 30 countries of the world.
Read Hattie Hammond's article, "Drawing Nigh to God," on pages 6-7 of the August 18, 1928, issue of the Pentecostal Evangel.
Also featured in this issue:
• "Elijah's God Still Lives Today," by Leonard G. Bolton
• "The Marks of Holy Ghost Converts," by Stephen Jeffreys
• "Pentecost in Bulgaria," by Martha Nikoloff
And many more!
Click here to read this issue now.
Pentecostal Evangel archived editions courtesy of Flower Pentecostal Heritage Center.