This Week in AG History -- August 25, 1934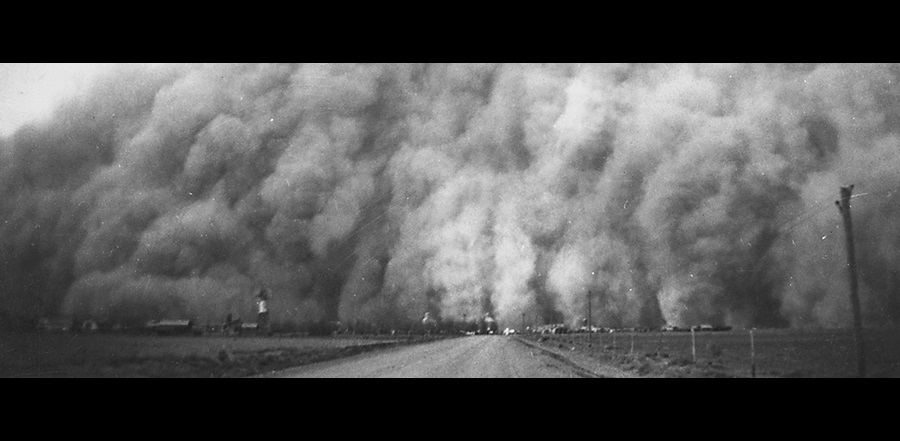 Don't miss any stories. Follow AG News!
In Luke 13:1-5, Jesus addressed the question, "Do tragic current events indicate God's judgment for sin?" Jesus was referring to both a political crisis and the natural occurrence of a deteriorating tower that toppled and crushed 18 people. In the Aug. 25, 1934, Pentecostal Evangel article, "Is It Superstition?" General Superintendent E. S. Williams addressed a similar question: "Is the Dust Bowl a sign that America is under God's judgment?"
1934 was a difficult year for much of the United States. The Great Depression was still in full swing with an unemployment rate of 21.7 percent. The new president, Franklin Roosevelt, had begun a redistribution of wealth that some feared would lead the United States to a more Communistic form of government. To top it off, 1934 saw the worst farming conditions in centuries with 71.6 percent of western North America in drought as the Dust Bowl reached its zenith. This combination of political crisis in the Great Depression and natural crisis in the Dust Bowl caused many Americans to ask, "Are we under the judgment of God for our sins?"
One particular sin that seemed to be on the mind of some was the Department of Agriculture's slaughter of 6,000,000 pigs in an attempt to control the price of pork in 1933. Secretary of Agriculture, Henry A. Wallace, made the following statement, "My attention has been called to a statement by a minister out in the Corn Belt before the district conference of his faith. Concerning the actions of the New Deal he says: '... some of them are downright sinful as the destruction of foodstuffs in the face of present want.' I have been used to statements of this sort by partisans, demagogues, politicians, and even newspaper columnists … But when a minister of the gospel makes a statement, we expect it to be the truth."
In his opening paragraph, Williams addressed this directly: "… officials of the Department of Agriculture are a bit concerned over the spread of the superstition that the disastrous drought which had gripped our land was God's way of punishing folks … (they) went on to say that this superstition started in the pulpits of Iowa."
Williams took issue with the term "superstition" defining it as "a belief founded on irrational feelings, especially of fear." He cautioned his readers that, indeed, they should "be careful … lest they reach rash and hurried conclusions" in their fear and concerns for the future of their livelihood and nation.
However, Williams also cautioned "At the same time it would be folly to blindly shut our eyes and refuse to inquire whether or not there may be back of present conditions a moral cause … Let us not be so foolish as to follow the worldly wise who know not God and for that reason may look upon wholesome fear and honest inquiry as but superstition."
Williams believed that the root cause of the current troubles went much deeper than concern over agricultural direction: "Destruction of cattle and restriction of crops may have been a blunder; but we must look far deeper than to this alone if we would get to the bottom of our troubles. Our chiefest mischief as a nation is that we have departed from dependence upon and reverence for the living God."
He bluntly asked the question of the drought, "Are these things mere accidents of an evolving nature or are they the voice of God?" Williams does not claim to know the answer to this question in its fullness on a national scale but he does counsel Evangel readers to use the current tragedy as occasion to examine their own need for repentance, encouraging them "if He shows you things which you ought to make right, make them right without delay, for, 'except ye repent, ye shall all likewise perish.'"
Read the full article "Is It Superstition?" on page 2 of the Aug. 25, 1934, issue of the Pentecostal Evangel.
Also featured in this issue:
"A Famous Entertainer Becomes a Faith Missionary," by Esther B. Harvey
"Aeneas, Jesus Christ Cures You," by Lilian Yeomans, M.D.
"Congo Women Touched By Gospel," by Mary Walker
And many more!
Click here to read this issue now.
Pentecostal Evangel archived editions courtesy of the Flower Pentecostal Heritage Center.