This Week in AG History -- May 20, 1956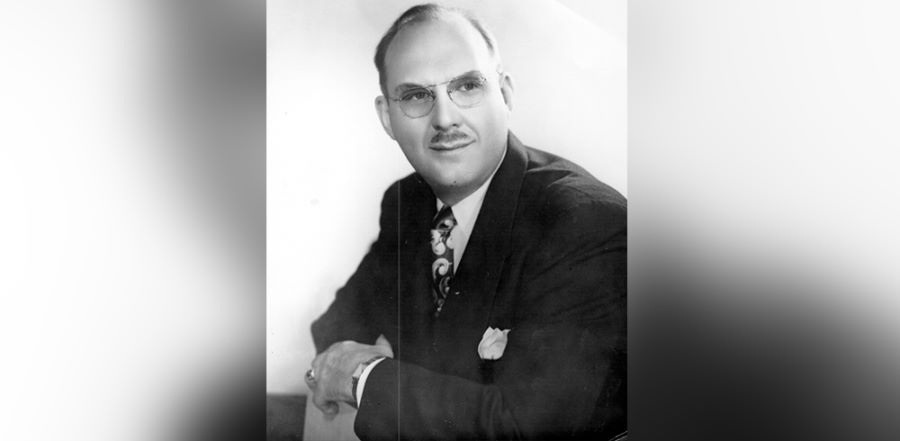 Don't miss any stories. Follow AG News!
E.T. (Ensley T.) Quanabush (1909-2001) had a broad field of ministry in the Assemblies of God. He was a pastor, evangelist, and missionary evangelist. He also spoke at many gatherings of charismatics who were interested in the Baptism and gifts of the Holy Spirit.
Quanabush was born in Belmar, New Jersey. He grew up having a great love for music, and at an early age he began playing the trombone as well as many other musical instruments. At first he thought he wanted to make a career of playing in the orchestra. However, God changed his mind. He was not a church member, but in his late teens he decided to attend an old-fashioned revival meeting at a Pentecostal church.
There he heard the gospel preached in power and conviction. He knew he needed to take a step of faith to follow God, but he was not quite ready. This started a period of soul-searching. After many sleepless nights and restless days, he returned to the church again. This time, when an altar call was given, he could resist no longer. Once he surrendered his life to Christ, a wave of peace flooded his soul, and he knew that his sins were forgiven and he was saved.
He decided to attend Central Bible Institute in Springfield, Missouri, to prepare for the ministry. There he met his wife, Katherine, who also was preparing for ministry. E.T. Quanabush later enrolled in Southern California Bible School (now
Vanguard University
) and graduated in 1931. He was ordained by the Eastern District Council in Jamaica, Long Island, New York, on April 25, 1935. At that time, he was a pastor in Trenton, New Jersey. He also served as a pastor in Lansing and Detroit, Michigan; Paterson, New Jersey; and Columbus, Ohio. But for many years he served as an evangelist and was a well sought-after speaker in many places across the U.S.
E.T. and Katherine Quanabush became a team of nationally known evangelists, holding meetings in the United States, Canada, Mexico, the Philippines, and in Europe. Before the Lord saved them, they each were engaged in radio work as musical entertainers, singing, and playing in jazz orchestras. Once they both were called into full-time ministry, they used these talents to play music, sing, and preach for the glory of God. One poster advertised, "The Quanabushes will render both vocal and instrumental selections with Italian piano accordion, Spanish guitar, Hawaiian tiple, and the slide trombone." They also hosted radio broadcasts in various places where they lived and appeared on a local TV broadcast during the time they pastored in Detroit. In addition, they were guest speakers at college and university campuses, camp meetings, minister's institutes, and district council meetings.
One pastor said, "They are great preachers and their singing and playing goes over well with the people." "Not barnstormers," he added, "but good, solid, forceful, constructive preachers. They get results." Another pastor said, "You will not be disappointed." Others made comments: "most effective crusade in this area," "a crusade that spanned the generation and communication gap," etc. In his lifetime, Quanabush held more than 300 evangelistic campaigns and crossed America over 65 times.
In 1957, the Quanabushes held a 112-day evangelistic tour through 13 European countries, with five weeks in Communist nations in Eastern Europe. That same year they held a 10-day meeting at First Assembly in Oshkosh, Wisconsin, where pastor Elmer G. Bilton invited people of all denominations to hear Quanabush, whom he called a "dynamic personality who respects all classes and religions."
During the 1970s, the Quanabushes held charismatic crusades. At a 10-day meeting in June 1972 at Brookdale Assembly in Minneapolis, the crusade included several well-known charismatics as speakers: Father Dennis Bennett, Pat Boone, Harald Bredesen, Ray Charles Jarman, and Father Robert Arrowsmith. In January 1973 he held an "Interdenominational Charismatic Clinic" at Evangel Tabernacle Assembly of God in Louisville, Kentucky. He spoke at other charismatic meetings as well.
In 1981, Quanabush was honored as Vanguard University's alumnus of the year. His wife, Katherine, passed away in 1995, and E.T. Quanabush passed away in 2001 in Irvine, California, at the age of 91. The Quanabushes left a rich legacy of playing music, singing, and preaching the gospel around the globe, ministering in churches, camp meetings, and interdenominational gatherings.
In 1956, for Pentecost Sunday, Quanabush wrote an article comparing the work of the Holy Spirit to the sign of the heavenly dove in Scriptures and to the ringing of bells on the Day of Atonement. Looking at types and shadows in the Scriptures, the dove is symbolic of the Holy Spirit. He said the coming of the Holy Spirit on the Day of Pentecost confirmed the atonement and resurrection of Christ.
Quanabush said, "Jesus lives today" is the message of the heavenly Dove and of the bells of Pentecost. He said this was the same message found in the Incarnation, the Resurrection, and on the Day of Pentecost.
Read more in "The Heavenly Dove and the Ringing Bells" on pages 8-9 of the
May 20, 1956, issue
of the
Pentecostal Evangel
.
Also featured in this issue:
• "This Is That Which Was Spoken by the Prophet," by Atwood Foster
• "How to Receive the Pentecostal Baptism," by R. M. Riggs
• "Speaking With Tongues and Prophesying," by Donald Gee
And many more!
Click here to read this issue now
.
Pentecostal Evangel
archived editions courtesy of the
Flower Pentecostal Heritage Center
.