This Week in AG History -- Sept. 8, 1928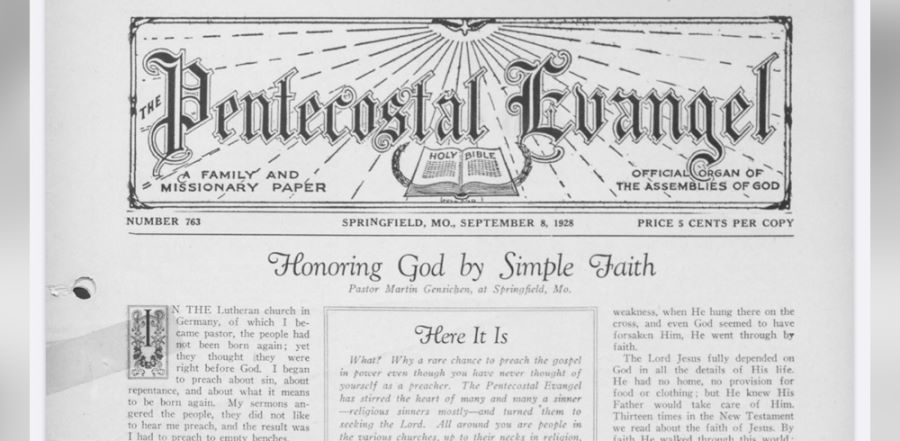 Don't miss any stories. Follow AG News!
Martin Gensichen (1879-1965), a prominent Pentecostal pioneer in Germany, encouraged Christians to preach and model humility. Gensichen came from a long line of German Lutheran ministers. For three centuries, men in his family served Lutheran pulpits in Germany. After Martin Gensichen accepted Christ in 1900 and sensed a call to the ministry, it was quite natural that he would serve in his ancestral church.

After graduation from seminary, Gensichen became pastor of a small Lutheran congregation in Germany. Gensichen was excited to be able to share what he called "simple faith." Gensichen preached about sin, repentance, and being born again.

But things did not go well for the earnest young preacher. Gensichen's parishioners became angry and stopped attending services after he preached about sin. He preached to empty benches week after week. He felt humiliated.

Gensichen was not a typical German Lutheran preacher. He had been influenced by the Holiness movement and had experienced a profound work of the Holy Spirit in his life in 1905. His father and grandfather also each had a personal encounter with God and identified with revival movements in their earlier generations. By 1908, Martin Gensichen had cast his lot with the Pentecostal church, which he deemed to be the revival movement of his generation.

Gensichen shared his testimony in an article published in the Sept. 8, 1928, issue of the Pentecostal Evangel.

In the article, Gensichen emphasized the importance of humility in the life of faith. He viewed his earlier humiliation in the Lutheran church, when the members left because he preached against sin, as a spiritual blessing.

God "wanted to break my heart," Gensichen wrote. "No one can soar into the heights of faith unless they have first had a broken and a contrite heart. Humility is the soil in which faith can grow."

When Gensichen joined the Pentecostal church, he realized that it would cost him dearly in his social circles. He recounted that in the early 20th century Pentecostals were "much despised," even by many evangelicals in Germany. Instead of resenting the fact that his faith marginalized him from broader society, he embraced his low social position. He wrote, "We must learn to rejoice when we suffer or are despised."

Humility, Gensichen believed, is not just necessary for individuals. It is necessary for nations, too. Before the outbreak of the First World War in 1914, Germany was flexing its military and economic might around the world. German leaders oversaw colonies and envisioned themselves as rivaling the British Empire. Gensichen was troubled by Germany's imperial ambitions. Gensichen's primary interest was in building God's kingdom, rather than the German Empire. Furthermore, he believed that revival would not come to Germany unless it had been humbled.

Gensichen's theology of humility caused him to reject movements that placed excessive pride in one's own nation. He wrote, "God set me free from nationalism. I am neither German, nor American, nor English — I belong to heaven."

Gensichen also applied this theology of humility to education. He identified himself as a "German theologian," noting that he had studied for 20 years to master Greek and Hebrew. While affirming the value of education, he also noted that "Our intellect is much too small to comprehend the vastness of His love."

The young Lutheran pastor who experienced humiliation because he wanted to preach "simple faith" became a prominent Pentecostal leader in Germany. He also witnessed the humiliation of his nation during two world wars, but he took joy in identifying his primarily allegiance as the Kingdom of heaven. His testimony continues to remind new generations that faith and humility go hand in hand.

Read the article by Martin Gensichen, "Honoring God by Simple Faith," on pages 1, 8, and 9 of the Sept. 8, 1928, issue of the Pentecostal Evangel.

Also featured in this issue:

• "God's Conditional Covenant to Heal His People," by John Roach Straton

• "Standing for the Pentecostal Testimony," by Jacob Miller
• "Report of Assemblies in Russia," by Ivan Voronaev

And many more!

Click here to read this issue now.

Pentecostal Evangel archived editions courtesy of the Flower Pentecostal Heritage Center.