This Week in AG History -- April 27, 1969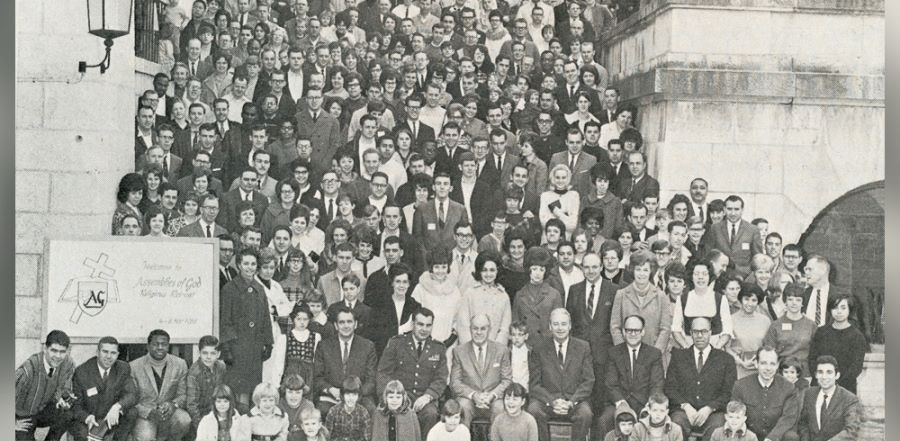 Don't miss any stories. Follow AG News!
An annual retreat for AG servicemen (and now servicewomen) in Europe has been held in Germany for the last 62 years. This yearly event has done much to encourage military personnel and their families stationed in Europe.
The first AG servicemen's retreat in Europe was held at the Chiemsee Retreat Center in Berchtesgaden in March 1957, and these retreats in the Bavarian Alps have continued to be held every year. Since 2004 the retreats have been held at Edelweiss Lodge and Resort in Garmisch, also in the mountains of Southern Bavaria.
The retreat was started so that Assemblies of God military personnel serving in Europe would have an annual retreat of their own, since they would not be able to attend a retreat in the U.S. while serving overseas. Organized by the Commission on Chaplains, the Berean Missionary Fellowship (BMF), and the Chaplain Liaison Officers, the retreat was set up to offer spiritual support to servicemen and channel funds into missions projects in Europe.
The speakers and the planning for the annual event for many years were organized by the BMF, with the assistance of chaplains who were assigned to teach classes, lead in worship, do special music, offer prayers, and participate in Communion.
At the 12th annual retreat held in 1968, as reported in an article in the
Pentecostal Evangel
, over 450 Assemblies of God servicemen and their families were in attendance, coming from various places across Europe. Missionaries and other denominational personnel currently on assignment in Europe also attended the spiritual emphasis retreat. The week was packed with recreation, inspiration, worship, challenge, and Christian fellowship.
The retreat theme, "Christ Is Lord," became the "personal testimony of many who gave their hearts to Christ before the week ended," it was reported. "Others made new consecrations, and several were filled with the Holy Spirit," the article continued.
Howard S. Bush, assistant general superintendent and chairman of the Assemblies of God Commission on Chaplains, was the speaker for each of the morning services. James E. Hamill, pastor of First Assembly in Memphis, Tennessee, spoke at the evening services. Morning devotions were conducted by Joseph Mazzu, missionary to France. Eddie and Ruth Washington were in charge of music for the retreat, and the Singing Kolenda Family also added to the spiritual tone of the retreat.
Read more in "Spiritual Tone Prevails at Servicemen's Retreat" on page 30 of the
April 27, 1969, issue
of the
Pentecostal Evangel
.
Also featured in this issue:
• "Hallmarks of Genuine Revival," by John W. Everett
• "He Is Keeping Me," by Louie Stokes
• "A Man Greatly Beloved" [Howard S. Bush, assistant general superintendent]
And many more!
Click here to read this issue now
.
Pentecostal Evangel
archived editions courtesy of the
Flower Pentecostal Heritage Center
.