Thoughts from Quarantine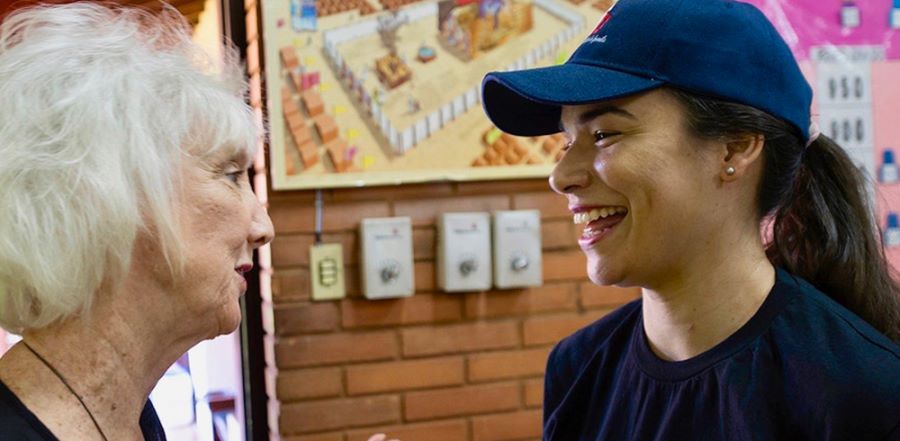 Don't miss any stories. Follow AG News!
When classes at the Bible school where I teach were cancelled due to COVID-19, I thought, In a couple weeks we will be back in the classroom. Yet one week led to another, and we have now been more than eight weeks in lockdown.
Meetings have been cancelled, conferences postponed. When lockdown began, we were just a couple days from national elections and the annual conference for the Assemblies of God in Paraguay. We continue to wait. We cannot plan ahead or schedule anything. Last week I called to schedule a doctor's appointment, and I was so happy just to write a date on the calendar.
This season has been thrust upon us without warning, leaving many to feel defenseless. But this is also the season to lean in hard to Jesus — my Stronghold, my Anchor! I am very thankful my times are in His hands! I know who holds my hand!
An old hymn comes to mind:
"In times like these, we need an Anchor. In times like these we need a Savior. Be very sure, be very sure, your anchor holds and grips the Solid Rock."
I remember my mother playing that hymn on the organ during times of prayer at the altar. The words mean so much more now.
I encourage my students to continue to trust the Lord to provide for them and continue with their studies during these uncertain times. Some have dropped out, but I have a small group that is persisting.
Reading the Word, meditating on the Word, seeking to understand as I read Paul's writings gives me insight to encourage the students as we study Ephesians. Paul was not free to come and go when he wrote this epistle. The first chapter indicates he had a revelation of heaven as he wrote about the spiritual blessings we have in Jesus. In another chapter Paul says he was a prisoner, in a lockdown that forced him to find a way to communicate with the new believers of the churches he had recently planted. If it weren't for his confinement, we might not have Ephesians, Colossians, Philippians, and other writings. What is the Holy Spirit urging us toward in these times? What accomplishment, what new area of ministry will come about because we are forced to look at creative ways to reach out?
I am so proud of how the Paraguayan church is responding to this crisis. They have organized themselves and are feeding hundreds of people in barrios and indigenous communities where there is nothing to eat. Children see them coming and run to them, just so desperately hungry.
Believers all over the country are taking the time, effort, and expense to give hot meals and warm milk, which are especially comforting as our weather is now turning cold (our seasons are the reverse of the Northern Hemisphere's). Some of the churches doing this don't have much themselves, yet they continue. In the past, many feeding programs have led to people finding Jesus and to churches being planted, so we recognize ministry to immediate physical needs as critically important.
Last year, my assistant and friend Mariela's church finished building its new auditorium. Now that beautiful building sits empty, and I know the pastor's heart is broken by all the empty chairs. It is so important for people to be in church. This is where they receive their spiritual nutrition and where they can be prayed for and be with each other. But we need to understand; the building is nice, but we the church are not a building.
Mariela says it like this, "The church has to be the church. We have to go outside our own four walls — out there."
I and the rest of the team here are so grateful for the prayers and faithful support of the Church at home. Yet churches only function because of individual commitments — I depend on the prayers and support of individuals. I am grateful.
At the same time, I understand the sacrifice and I am prepared to cinch in my belt a couple notches to get through this time. I cannot be fearful! God has proved himself faithful to provide over and over through the years. He is my Source, and each day upon awakening I praise Him for a new day and for His faithfulness to me. There is no need to fear!
While limited in my activities, I ask the Lord to show me how I can meet tangible needs of those around me — needs don't stop in quarantine. He has. I can minister to a fruit vendor at my door, to a friend whose daughter had emergency surgery, and to Bible school students who are so overwhelmed.
Even though I am not able to leave home, I can send offerings and pray for those who are distributing warm milk and bread. I can pray with and for Paraguayan missionaries serving in other countries and calling out to God for His provision. I can pray for pastors and families, believing that God is providing and sustaining families by His power. We are living miracles of His care and His grace.
Focusing outward, on needs, does not permit me to become discouraged or depressed. Praise God for the little things! God wants us to call on Him when we are in need. Even in these difficult times, Isaiah 52:10 is our prayer: "The Lord will lay bare his holy arm in the sight of all the nations, and all the ends of the earth will see the salvation of our God."
All of Paraguay will see the salvation of our God and miracles of provision. God is working, and He makes all things possible.
For more about ministry in Paraguay, please view the March 2020
WorldView
magazine, "Trustworthy Jesus, Transforming Spirit."