Three Dozen Kids Transform Lives of Strangers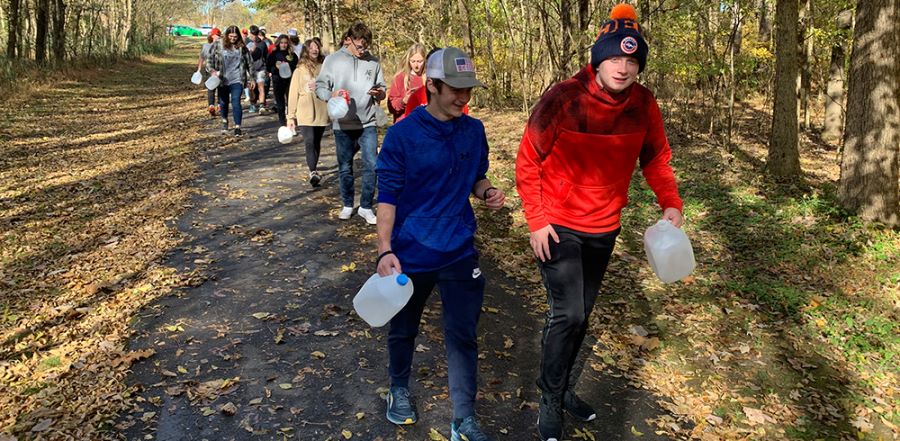 Don't miss any stories. Follow AG News!
The Element youth group at
Bethel Assembly of God
in Cape Girardeau, Missouri, typically has between 30 and 40 kids attending on Wednesday nights. But over the last three years, including 2022, those roughly three dozen kids have raised enough money for
Speed the Light
(STL) to drill three water wells next to three AG churches in Africa — literally transforming the physical futures and potentially the spiritual eternities of the lives of people they have never met and perhaps, on this side of heaven, never will.
Danny and Tanya Wilson have been leading the Element youth group for the last 20 years, but note that it was a 2018 tragedy that changed the trajectory of the group, moving the kids from passive to passionate missions givers. Giving moved from roughly $10,000 a year to $30,000, $50,000, $60,000, and more!
THE BEGINNING
When a tragic loss takes place, it is often difficult to imagine how God could use that tragedy and turn it around for His glory.
In 2018, Tammy Respondek took her husband, Lucas, to the ER on a Sunday morning because he wasn't feeling well, leaving their daughter, Moriah, then 14, and son, Seth, then 11, at home. Lucas was 44 and in good physical condition — the trip to the ER was taken "just to be safe."
So, when the doctor came out and said to her, "We couldn't revive him," the shock was incalculable.
In
their story
covered by
AG News
in 2019, Moriah and Seth each felt compelled to complete their challenges for Speed the Light, the missions program for youth that helps meet needs for missionaries' transportation and communication needs, to honor their father and bless missionaries at the same time. They raised more than $4,000 each that year.
Although this was originally just a personal honoring of their father, Moriah and Seth's efforts helped open a door of realization to the Element youth group that God could use each of them to raise not just hundreds of dollars, but thousands of dollars for missionaries, with God's help.
"It taught me that God can take a bad thing and turn it into a good thing, if we follow Him and let Him," Seth says.
MOMENTUM
"We've seen kids buying in to the idea of them being personally responsible for them giving to missions," says Danny Wilson. "Our goal is to create lifelong Christians who are lifelong missions givers . . . as they grow up, giving to missions or even going into missions is on the forefront."
Wilson explains that prior to Moriah and Seth's efforts (Moriah now does more than 2,000 cartwheels and Seth blocks 1,000 soccer balls among their STL efforts), kids were content with putting a few dollars in the weekly STL offering.
"But since then, on the first Wednesday of the year, kids do a faith promise for missions — like they do in the adult service — and make pledges as to what they're going to give to Speed the Light that year," Danny says.
Seeing how strongly Tammy supported and promoted Moriah and Seth's STL efforts, the Wilsons turned to her and, in 2020, asked her if she would be willing to become the STL Coordinator for the Element youth.
"Tammy is passionate about Speed the Light," Danny says. "She is very good at keeping the Speed the Light focus alive and in the forefront."
Tammy explains that when Lucas died, eternity became much more vivid to her.
"This gives me another way to pour into eternity — to change lives for eternity," she says. "I have a passion for Speed the Light and it was only natural for me to do this (become STL coordinator) when asked."
With Seth and Moriah being passionate about not only honoring their dad, but providing physical as well as spiritual water to people, and now Tammy becoming a "driving force" behind Speed the Light for the youth group, changes in the mindset of the youth group started to become evident.
A MOTIVATOR
Wilson says that in addition to the ongoing example and efforts by Moriah and Seth as well as Tammy's active encouragement, one of the big motivators he's seen the Element youth respond to is the social justice aspect of the water wells. He's seen students respond strongly to the water wells project, as the wells correct the injustice of other kids and families not having access to clean water or being aware of the eternal truths of the gospel.
As the youth group has come to recognize the connection between meeting a physical need and how it can lead to meeting spiritual needs in these African nations, Tammy provides them with multiple opportunities to do group fundraising efforts as well as works with the Wilsons to help individuals undertake their own fundraising ideas. She also keeps in contact with kids to make sure that they can attend Speed the Light events and to encourage them in their goals.
"We make announcements every week and put what we're doing and why we're doing it in front of the kids every week," Tammy says. "We're adding to heaven . . ., we're a group with a goal of changing lives for eternity."
Recently, the Element youth participated in Mondi Day – working a carnival-type event for a corporation, with the wages being given to the STL fund; 3K Sunday, where the youth participate in challenges in an attempt to raise $3,000 in one day for STL; and just a little over a week ago, Tammy involved the church in a chili-cookoff fundraiser for STL — these three events alone raised more than $6,000 for STL, with the current total raised so far this year now exceeding $42,000!
Wilson also gave students a taste of what women in some parts of the world have to do just to get water, dirty though it may be.
"Every day women walk as much as 10 miles round trip to get (dirty) water for domestic use," Wilson explains. "So, we walked five miles with empty jugs, filled them up in a ditch, and walked back five miles just to get an idea of what people in less developed countries have to do every day to survive . . . I think experiencing a small taste of that injustice helped motivate our students to do more for STL."
PERSONAL IMPACT
Although the church family is involved in STL through the support of the youth and their fundraising efforts, it is the youth who are the ones who regularly sacrifice their time and give their money to see water wells drilled and the gospel shared.
However, they point to God as the One who makes their goals not only happen, but shows himself more than faithful.
Warren Castleman is 14. This is his second year in the Element youth group and after prayer, he felt God led him to set a goal of $950 for STL in January of this year — a fairly steep challenge for him.
"I was a little nervous in the beginning (about being able to accomplish the goal)," Warren admits, "but I had to realize that it was in God's hands, and He always keeps His promises."
By the end of 3K Sunday, Warren – who had his hair dyed for meeting his goal, and his mom had her hair dyed when he hit $2,000 — had raised $2,800, nearly triple his goal!
Warren says the experience of seeing God work far beyond his expectations has helped create a stronger relationship between him and God.
"It is also exciting to be able to see that we have a hand in filling other's physical needs so they can have the opportunity for their spiritual needs to be met as well," Warren says.
Moriah and Seth have continued to inspire others as they have raised tens of thousands of dollars for Speed the Light since 2018. However, they both first refer to their father's passion for missions as being an ongoing inspiration to them followed by seeing people's physical and spiritual needs met as the reasons they work so hard to raise funds for STL.
To date, the siblings have combined to raise more than $100,000 for STL.
"A few years ago, if you told me that my sister and I would raise this much money, I would not believe you for a second," Seth says. "But now, I realize that God has called on our family to help spread the Word."
"When we put our hope in Jesus, He can do incredible things through us," Moriah agrees. "I believe God is calling this generation to step out. We are called and Speed the Light is a great way to get involved and use the gifts and abilities God has gifted you. He wants to use all of us."
Editor's note:
Moriah spoke at the 2022 National Youth Convention. To watch and listen to her inspirational message, click here and advance to the 1:38:00 mark.