Back to Life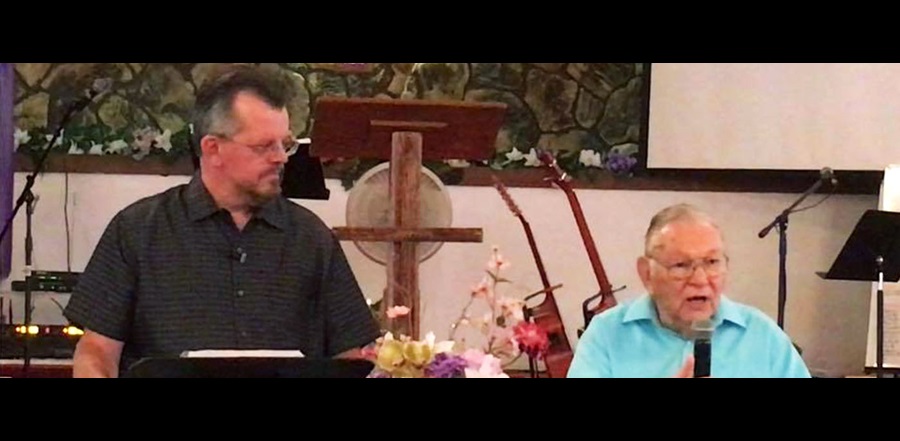 Don't miss any stories. Follow AG News!
One minute Clarence Williams was listening to Pastor Jeff McDonell preach about God's plan for people's lives and the next instant, he was in the presence of Jesus — if only for a few minutes.
On June 11, Williams, who is 80, died during the Sunday morning service at Evangel Assembly of God in Cortez, Colorado. He had suffered a massive heart attack. He stopped breathing. He turned gray and cold to the touch. And for 8 to 10 minutes, he had no discernible pulse.
Williams' wife of 63 years, Shirley, was the first to realize something was wrong as Clarence didn't respond to her gentle touch when he appeared to have fallen asleep. The touch went to a nudge and then a more urgent shaking of his shoulder — no response.
"He was sleepy," Shirley says, "but then all of a sudden he slumped and didn't respond. I felt for a pulse and there was none."
A church member seated near Clarence interrupted McDonell's message, simply saying, "Pastor, Clarence is in trouble."
As an usher was alerted to call 9-1-1, McDonell hurried from the platform toward Williams.
"When I saw him, I knew he was gone," McDonell says, who served in the U.S. Air Force and taught CPR in the military for five years. He placed his left hand over Williams' heart and near his neck, looking for a pulse, and with the other hand, he grabbed Williams' wrist, hoping to feel a pulse there. Meanwhile, the Williamses' daughter Sharon, had her hand on her father's carotid artery, also seeking a pulse.
"There was nothing. Absolutely nothing," McDonell says. "He was gone."
McDonell, who is 53, got up as three nurses from the congregation gathered around Williams and others prayed. As the sound of Sharon's desperate cries for her father ringing in the auditorium mixed with the voiced prayers and prayers in the Spirit of others, McDonell quietly dismissed the congregation, asking people to continue to pray for Clarence as they left.
While the congregation was experiencing shock, anxiety, fear, confusion, and the pain of the loss of one of their own, Clarence was experiencing something quite different — an encounter with Christ.
"I saw the Lord coming down an old, dusty road. He didn't talk to me at first, but I knew in my spirit who He was," Williams says. "He was walking toward me and I toward Him."
Williams describes being in the presence of Jesus as beautiful — with the cares of the world forgotten and an indescribable feeling of total peace in his soul. "There was this bright light, a glow about Him — you couldn't look at Him very long — it hurt your eyes," he says. "The light was in a square . . . , we see the light, like the sun, is round, but there it was square, though it wasn't like electricity."
Behind Christ, Williams saw millions of children of all ages. "There was no end to them," he says. Christ would tell him that the children he saw were children who were victims of abuse, famine, abortion, or lives in some way, cut short. Some were images of children still alive, others were children awaiting the rapture.
"The Lord grieved a long time for what's taking place all over the world [to children]," Williams says.
As Christ and Williams continued to talk and walk toward each other, suddenly Christ began to fade away, His words echoing in Williams' mind.
"The next thing I knew, I was on a gurney being lifted into an ambulance," he says.
What happened? Prayer!
After dismissing the congregation, McDonell returned to Williams. As he walked toward him, he says he felt the Holy Spirit tell him he should put his hand on Williams' chest and command him to breathe in Jesus' name, out loud. Forgetting he was still wearing his wireless mic, McDonell did as he was told as others surrounding Williams continued to pray.
McDonell had his hands on Williams' heart and wrist again; when he did as the Spirit instructed, the result was instantaneous.
"Immediately the Holy Spirit brought him back to life. His heart felt liked it jumped two inches and his pulse hit his wrist so hard it scared me," McDonell says, "It felt like a shot — like something was underneath his skin!"
Williams is well-known in the area, having earned recognition and respect in his southwest Colorado community as a police officer and longtime sheriff in the city of Delores, serving the county of Montezuma. A U.S. Air Force veteran and church member, Williams is also a former member of the church board and he and his wife, Shirley, were store owners in Cortez. As his testimony has spread, he's become even more well-known.
But God wasn't finished with His handiwork quite yet, physically or spiritually. After arriving at the hospital, the doctors would run tests on Williams and share with him the troubling news that the bottom half of his heart was dead, having suffered severe trauma due to the heart attack. They wanted to transport him to the Durango medical center for further tests and potential surgery. Williams didn't want to go, explaining that God had healed him in the hospital. The doctors pointed to the test results — they weren't buying it.
McDonell finally convinced Williams to allow the doctors to send him to Durango, as their tests would be able to confirm or refute his claims of healing. After taking a battery of tests, including a tread mill test, the results, which McDonell read for himself, concluded Williams not only had a healthy heart, but the heart of 16-year-old — something not typically found in the body of an 80-year-old man!
This wasn't a typo or a diagnosis misunderstood. Shirley says that on a follow-up exam on July 10, the cardiologist again confirmed that Clarence had the heart of a 16-year-old.
God was also at work in the church. The week before Clarence's experience, McDonell had preached on Pentecost, signs, and wonders — and in his words, nothing happened. "We had 25 college students from the University of Georgia, who attend the Wesley Bible Study on their campus, in the service," McDonell says. "Every year, they come to help us with our very large VBS outreach — they are all mostly non-Pentecostal."
That first Sunday, McDonell admits he was disappointed that the Spirit didn't demonstrate His power to the students. But the following Sunday, the students were all sitting right across the aisle from Williams. As they exited that day, they believed, as did a majority of the congregation, that they had just witnessed the end of a life.
When the students later learned of Williams' miraculous experience, they struggled to comprehend what they had witnessed and what God had done — it was a miracle they will never forget!
The church also had a surprising number of local visitors for that June 11th service — as 15 visitors had decided to come to the church that day. McDonell says all 15 have continued to come.
Since his experience with Christ, Williams has become bold in his faith. During his stay in the hospital, McDonnel says Williams was like a "pit bull with a piece of steak" in his witnessing efforts to the doctors and nurses, asking if they died today, did they know where they would spend eternity. He was even able to share the plan of salvation with one of the nurses.
Williams says that God took away his hesitancy to witness, and now he wants to tell everyone he sees about Jesus.
Two weeks after his return from death, Williams was in church, sharing his testimony. Following the service, the Lord led McDonell to have Williams pray over anyone who wanted to be prayed over. Nearly the entire church of 150 to 200 got in line. Williams prayed for hours over people, with God giving him a prophecy for nearly every person as he prayed for them.
God then used the miraculous testimony at the Central Latin District's Family Camp to bring a businessman, there to make a presentation to church leaders, to Christ. That camp also led to McDonell being prophesied over by AG evangelist Chris Clock — signs, wonders, miracles, and revival were coming to Evangel Assembly!
Some of the final words Christ imparted to Williams in their meeting seem to support the prophecy over McDonell, with the prophesied demonstration of the Spirit's power being a "sign of the times" and perhaps being the start of the Spirit's final effort to lead people to Christ.
Williams says, "He [Jesus] told me, 'There's much work to be done. The time is short. I will return.'"
Amen!