When Calling and Missions Discover One Another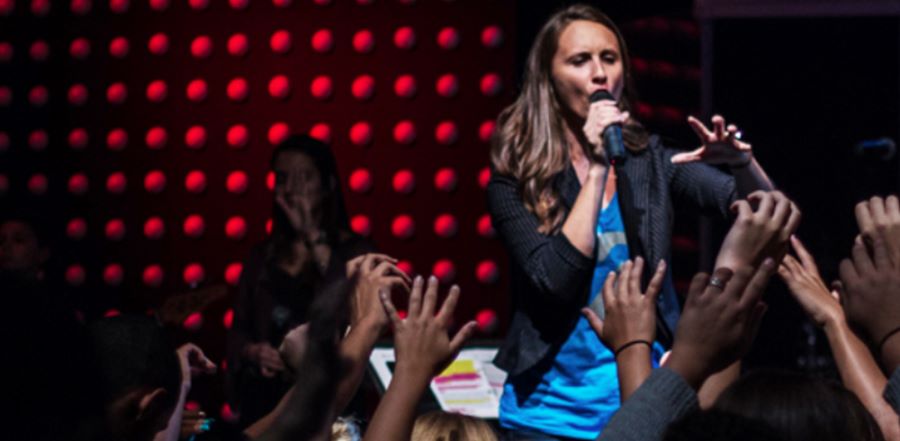 Don't miss any stories. Follow AG News!
Joe and Natalie Barnoske knew what God wanted them to do, without question. Reaching youth with the message of Jesus Christ was their consuming passion. As youth pastors, they were touching lives in their community, but their reach was limited. They decided God wanted them to step down from their church position to do school assemblies and broader youth evangelism in their home state of Florida.
The Barnoskes experienced success in their efforts. The ministry was rewarding and they were making it financially, but splitting time between evangelism and remaining fiscally responsible placed limits on just how far their ministry could extend.
But then the couple experienced a revelation!
No, it wasn't a voice from heaven, but it may very well have been a divine appointment.
A friend, Al Force, formerly the district youth director for Peninsular Florida, told them they should consider becoming Youth Alive missionaries.
Youth Alive what? The expressions on their faces said it all — they had no idea what Force was talking about.
Assemblies of God (AG) U.S. Missions has seven areas of focus, with youth being one of them. Youth Alive is a unique effort between U.S. Missions, which provides missionaries, and National Youth Ministries, which continues to minister to youth, often in cooperation with the missionaries.
The Barnoskes, even though they had AG backgrounds and experience, were speechless. This was all new to them, but also an answer to their prayers!
"I remember being in the interviews to become a missionary, and we were asked about being able to make it financially work out," Joe recalls. "I laughed. When you go from nothing to actually having support, it's a game changer!"
The Barnoskes also learned that as missionaries, they could request funding for things such as ministry resources, equipment, and transportation, through programs such as Light for the Lost (LFTL), Boys and Girls Missionary Challenge (BGMC), and Speed the Light (STL).
Indeed, this was a game changer!
Since that time, the Barnoskes have become nationally appointed Youth Alive missionaries to Peninsular Florida.
"There are about 1.5 million young people, ages 6th grade through high school, in Florida," Joe explains. "If statistics are correct, about 1.4 million of them do not attend church on a regular basis." Joe is also quick to point out that Natalie's creation of something they call Empowerment Day, combined with the support they receive through donors and funding, has seen their ministry expand beyond their hopes.
"God put that burden in our hearts to reach the next generation and empower them," Natalie says. "Young people have been silenced by the world and by not understanding the true meaning of the gospel. Empowerment Day is about understanding the Bible, empowering young people to find their voice, and using that voice to impact their world."
The Barnoskes fully launched their ministry to Florida youth in May 2015. Not long after, Natalie came up with the idea of Empowerment Day, with the basic idea being equipping students with resources and exposing them to the purpose of being filled with the Holy Spirit.
Setting up six different Empowerment Days across the state, nearly 1,000 students attended, with each one receiving a new Fire Bible and a five-week devotional POWER Me Challenge guide, which covered the topics of Prayer, Overflow, Witness, Evangelism, and Receive (the Holy Spirit). This year, more than 750 students took part in Empowerment Days.
The result of having students who are passionate about reaching their classmates for Christ has been phenomenal.
"There are so many stories from students who came to Empowerment Day," Joe says, his excitement obvious. "There's a homeschooler who reached her local school by holding a worship night after a football game and 250 people came, a student who launched a Christian club at his predominantly Muslim school and the principal's son is now one of dozens who attend, three students who are members of a Christian club held an Undefeated night with 300 students showing up and 100 accepting Christ as their Savior, another student who stands on a picnic table at his school and preaches regularly, over and over — God has been so faithful!"
"The Barnoske's," observes Kent Hulbert, national Youth Alive missionary, "epitomize what it is to be an effective Youth Alive missionary — from chasing God's dream and heart for every student, to creatively equipping and working through local churches and their district to reach every student."
Even though the Barnoskes have seen 2,800 students give their lives to Christ under their ministry, and countless others through the ministry of students on their campuses, they're quick to point to the support they receive.
"The partnership with Light for the Lost (which provided the Fire Bibles for free to Empowerment Days students) is so crucial specifically for us," Natalie says. "We are reaching young people — young people who are very Bible illiterate. But now we have hundreds of campus missionaries who have been given the tools to study those Bibles and gain an understanding of the Holy Spirit. To be able to hand a student a Bible with specific commentaries to how the Bible applies to them — I can't express to you how valuable that has been to our ministry."
"Joe and Natalie have joined a growing [Youth Alive] family who chase after the call of God to make Him known to this generation of teenagers," Hulbert says. "Perhaps the next 'Joe and Natalie' are reading this article right now and becoming a Youth Alive missionary is their answer to prayer as well!"
As the Barnoske's reach the midway point of the 5-year plan of raising up 3,000 campus missionaries, challenging those missionaries to be a part of some kind of movement on their campuses, and then launch the 7 Project in Florida, they're very optimistic that their goals will be attained, perhaps even ahead of schedule — believing that powerful ministry partners like Light for the Lost, Speed the Light, and BGMC will help get them there.
"It's awesome being a part of the missions team," says Rick Allen, national LFTL director. "Not everyone is called to be career missionaries, but I believe Joe and Natalie make it quite clear: those who feel called to support missions and missionary support programs, such as Light for the Lost, play a vital role in the success of our missionaries!"