White-Collar Addiction, Blue-Collar Solution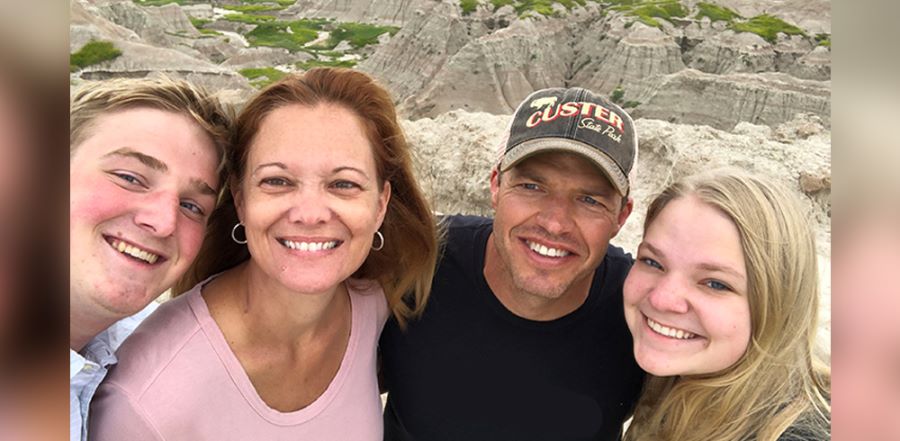 Don't miss any stories. Follow AG News!
Scott Abrams, M.D., seemingly had life by the tail. He had graduated medical school and made it through residency. He was an ER doctor with a beautiful and gifted wife and two great children. He was well-respected in their community of Willmar, Minnesota, and to top it off, they were getting ready to buy their dream home — the future couldn't have seemed brighter.

Scott, however, was a quasi-Christian, meaning he claimed to be a Christian, but his private life revolved around the god of his life — himself. Call it pride, denial, ego, selfish indulgence, or some mixture of these "me-first" characteristics, but no matter how good of a guy he appeared to be, inside he was setting himself — and the ones who loved him — up for a hard and painful fall.

IN CONTROL

His downfall started where many "white-collar" (as well as others') addictions begin – surgery.

"I was 26, in medical school, and I was diagnosed with cancer in my thyroid," Scott says. "They gave me vicodin, an opioid (which is highly addictive) for several days for the pain following surgery. I remember thinking, Wow, this is great! I loved the feeling — it was amazing."

Following medical school, Scott entered residency. He had started drinking in college and that continued, but he felt it wasn't an addiction — it was, however, simply "one more thing" he did because he could handle it . . . he was in control.

However, while in residency in 2002, he was able to gain access to tramadol — another addictive opioid — which he began taking periodically for "knee pain."

By 2008, Scott realized that over the last year, he was using the pills more days than not. He was now an ER doctor and had his own license that allowed him to obtain opioids, which he was using for "self-medication." This illegal use of his license was discovered, but he took some outpatient treatment and read a book on breaking free from addiction — problem solved. He promised his wife, Barb, that he was done with drugs.

Or so he said.

"I continued living a life that pleased me," he admits.

In 2012, Scott was again discovered taking pain medication illicitly. He returned to the outpatient program, this time sure it would never happen again — making that vow to Barb. She took him at his word, but also made it clear, that if it were to ever happen again, it would cost them their marriage — she and their two children (then ages 11 and 10) would leave him.

MY OWN GOD

With that very real warning, it seemed Scott had all the incentive anyone could need to stay clean . . . that is, if he could do something about being his own god and submitting to the God.

"I prayed to God thousands of times to take the appetite for drugs away and I blamed Him and became bitter towards Him when it didn't happen," he says. "I was looking for deliverance — for God to do all the work — but I didn't want to change the way I was living."

As in the past, the fall back into addiction was simply a series of "my-own-god" choices. He could handle a little drinking. He could handle the nicotine buzz from chewing tobacco. He could handle it all — all the way back into addiction.

"In September of 2014 I got a call from my boss – he had to talk to me," Scott recalls. "They had discovered everything. During that spring and summer, 14 times I used my medical license to get bottles of pills through a dispensing machine. I was put on immediate suspension, I was reported to the state medical board, I could no longer prescribe medication, and the hospital let me resign instead of being fired."

A FAMILY BROKEN

Barb was blindsided by the betrayal — Scott knew what this meant and still . . . . A pastor's kid, just like Scott was, Barb had grown up in church. However, unlike Scott, she was serious about her relationship with Christ. She had a journalism degree and a master's degree, and prior to having children, was a television news producer. In other words, she knew how to ask good questions and discern lies, but Scott had become a master of deception.

"In my addiction, I had become a liar about everything," Scott says. "Barb had no idea. I was enslaved to that thing. My job, my family, my faith — none of that mattered. All that mattered was getting and using those pills."

Admitting to being a little naïve about Scott's addiction, Barb was now acutely aware of the severity and control it had over his life.
"I knew I needed to set boundaries and protect my kids as much as I could," she says. "I was not going to have them raised in an environment of active addiction . . . Obviously, my sense of security was destroyed, and I really needed to rely on God more than I ever had before."

For most people, family and close friends are really the only ones who are ever fully aware when someone is dealing with drug addiction. For medical doctors, that's not the case – public humiliation is in store, which, for the Abramses, also included the Drug Enforcement Agency (DEA) showing up at their front door.

"When my license was suspended, it became public news – my name was in the paper, letting everyone know what had taken place . . . and I had to tell my kids what I had become," Scott says. "But Barb bore the brunt of the embarrassment and was hurt the worst through my addiction."

TREATMENT

When Scott went before the state board, they initially wanted him to participate in a "white collar" rehab program. But Scott knew he needed a Christ-centered program, so he requested to be sent to Teen Challenge (now known as AG U.S. Mission's Adult and Teen Challenge).

"They warned me that Teen Challenge would not be a place with my peers, but people coming from prisons, drug dealers, criminals . . . I found that the details may be different, but the addiction is still the same," Scott says. "I needed that humbling, for God to deal with my pride. Teen Challenge was what I needed and it's where I cried out to God and told Him, 'Just tell me what to do and I'll do it.'"

When Scott cried out to God, it was a lightbulb moment. He had lost his job, his marriage was headed toward divorce, he had lost his new home (as he lost the bank financing), and he had lost the respect of his community. Fair to say, Scott had been following his own desires for so long, he was lost.

"I was finally willing to follow," Scott says. "God saves us and asks us to follow Him . . . meaning every day I must make a genuine effort to follow Him . . . that realization was the beginning of recovery and transformation for me."

Although this did mark the beginning of legitimate transformation for Scott, Barb had experienced a very public, painful lesson concerning addiction and betrayal. She clung to Christ more than ever before.

"I finally understood what a 'peace that passes understanding' [Philippians 4:7] meant," she says. "There were times when everything seemed hopeless, but God would fill me with an overwhelming sense of peace, and I knew that He would get me through, no matter what happened with Scott."

After completing his required month-long stay at Teen Challenge, Scott moved back in with the family in a functional agreement: separate bedrooms, he helps with the kids, no trust or leniency given. Only God knew whether the family would ever be truly reunited again.

MOVING FORWARD

For possibly the first time in his life, Scott became dedicated to serving and following Christ, making steady progress as he dedicated himself to prayer, Bible study, and seeking God's guidance on a daily basis. He even began blogging about his experiences and the things — many quite uncomfortable things — God was revealing to him. Every day he purposefully made the decision to follow God, moving his focus from himself to God.

However, sin has consequences. Repeated betrayal may be forgiven, but it creates a wound that may never be fully forgotten. But over the next 18 months, Barb could see what seemed to be a real change in Scott, and although she had understandable fears, she slowly accepted him back into her life.

"My relationship with God never wavered, but repairing my relationship with Scott took a long time," Barb says. "It's something we are still working on, if I'm honest. Addiction never goes away, so 100% transparency about everything is extremely important in our relationship."

Scott recognizes the changes that God has made in his life, but is also deeply thankful for Barb.

"She has been a rock of stability – a committed Christian throughout all of this," Scott says. "But I also believe, that due to the addiction — not that I would ever want anyone to go through that — God has helped us both become better followers of Christ; we're working on loving God and our neighbors in ways we never have before."

USING WEAKNESS FOR MINISTRY

Over the years following his time at Teen Challenge, Scott had begun to take notice of Willmar Assembly of God and pastor Keith Kerstetter. About 18 months ago, the Abramses began attending the church.

"With all the church's involvement in the community, all the things it was doing for the community, I knew I wanted to be a part of that church," says Scott, who had already regained his full medical license by that time and was an urgent care physician.

Kerstetter, who has been ministering at Willmar AG for nearly 20 years, says prior to the Abramses coming to the church, he knew about Scott — as many people did — but had really only met him in passing.

"One day he showed up at church and asked if we could start meeting on a monthly basis and talk life," Kerstetter recalls. "I really got to know him that way. I just really enjoyed getting to know him and Barb and the kids."

However, the more that Kerstetter got to know the Abramses, the more he realized that they weren't at the church by accident. Scott had a testimony that wasn't simply about addiction to drugs, but what's going on in the heart — what got him there. His testimony wasn't just for people with addictions, it was for everyone.

"Last year I invited Scott to speak in our Father's Day service," Kerstetter says. "It was powerful. We also gave every father there a Dad's® Root Beer and every man (and anyone who wanted one) a copy of Scott's devotional book [developed from his blog] he had written – we gave away nearly 400 copies of Freedom in the Fight . . . it was probably one of the best things we've ever done as a lot of people got back to me about how much they enjoyed the book."

Although Scott admits to not being a polished speaker, much preferring to hear Kerstetter speak, he's more than willing to share what God has done in his life. He now speaks in jails, at meetings, banquets, businesses, and even did a Q and A Facebook Live with Kerstetter. And recently, he and his daughter, Maggie, spoke to the church's youth.

"Scott and his family are a real asset to the church," Kerstetter says, admitting he's now hoping to do a second Facebook Live, this time with Scott and Barb. "I also recently contacted our district office and superintendent and we're now looking for Scott to be one of the speakers at our Equip conference."

GOD'S PRESENCE ASSURES

Although the path has not been an easy one — one of extreme humbling for Scott and untold pain and countless tears for Barb — God has proven faithful. Scott is currently making a transition to using his medical skills to help others battling drug addiction. And Barb, well, she sums up what God has done in their lives by reflecting on His Word.

She says, "I love Psalm 107:28-30, 'Then they cried out to the Lord in their trouble, and he brought them out of their distress. He stilled the storm to a whisper; the waves of the sea were hushed. They were glad when it grew calm, and he guided them to their desired haven.' We won't live trouble-free lives. But He is there when we cry out. He is our security."