Worship Conference in Mozambique — Spirit First, then Technique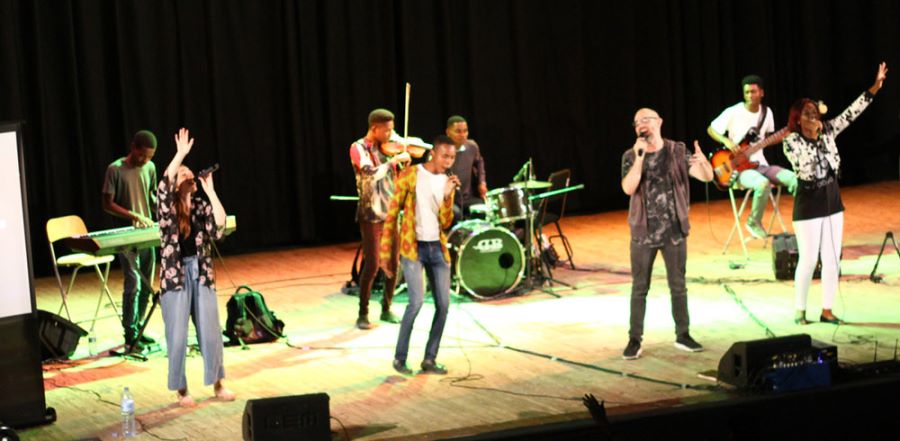 Don't miss any stories. Follow AG News!
What makes a great worship band? Good vocal harmony, mastery of instruments, and a sensitivity to the leading of the Holy Spirit are all key ingredients. But as Afonso Abranches, a 22-year-old worship leader in Maputo, Mozambique, has learned, in order to accomplish the purpose of a worship band, leaders and bands must first "make sure the song of your life matches the song that comes out of your mouth."
Recently dozens of worship leaders and worship band members from area colleges in Maputo gathered for a worship music conference hosted by AG missionaries
Matt and Andrea Marlin
. Leading the conference was
Jeff Deyo
, a Worship Arts specialist on the
North Central University
(NCU) faculty in Minneapolis — though others may know him better as the former lead vocalist of the Grammy-nominated, Dove Ward-winning group, Sonicflood, and the Jeff Deyo Band.
The Marlins have been working with students at about 30 colleges in Maputo over the last five years, using music as a ministry inroad to reach students for Christ. Last year when it was proposed that Deyo, now a teacher of college students, come teach on worship music ministry to the Marlins' key ministry leaders — college students involved in worship ministry — it was quickly recognized as a divine opportunity.
Maputo is located near South Africa in the far southern tip of Mozambique, which borders the Indian Ocean and is longer than the entire West Coast of the United States. To that destination, Deyo brought a select team of leaders and NCU students with him to lead the conference.
Although Deyo and the Marlins had never met, their ministry focus blended so well the potential for great things to happen was unquestionable. They were right. The conference exceeded all expectations.
"This was less traditional than most missions trips — such as building a church — but it was right down my alley," Deyo explains. "It was really exciting, and really just an extension of what I do at North Central."
The conference ran four days, May 14-18, with the morning focus being on spiritual growth, including things such as engaging in spiritual warfare.
"In Mozambique, spiritual warfare seems more real — it's going on right in front of your face," Deyo says. "Our goal was to help our conference attendees grasp the supernatural partnership they can have with God to destroy the enemy as they lift up the name of Jesus. It's more than just singing, it's glorifying God with the understanding that we are pushing back the darkness with our praise."
Matt Marlin says that Deyo's encouragement and insight given throughout the week gave words and direction to the what was already forming in students' hearts and minds.
"One of the greatest wins was that our students were given a framework and vehicle to carry what God was doing in their hearts and put it into worship," Matt says. "This will have a far-reaching impact as most of these students are worship leaders in many of the influential churches Maputo, which in turn impact Mozambique.
Abranches, who also attends The Superior School of Nautical Sciences, says that the conference afternoon workshops taught him some amazing techniques and keys to leading effective worship that he's already implementing. "But," he adds, "it is much more about pouring into your audience that which you are filled up with."
Marlin says he loved how Deyo balanced the event. "What made him awesome was his marriage of technical ability steeped in a really strong desire to meet with God," Marlin reflects. "His personal intimacy with God really helped lead others to a deeper intimacy with God."
On the final night of the conference, Deyo's team and students combined to hold a worship event open to the public.
Believers and seekers from many churches and communities came together to bring glory to God.
"We worshiped with singing and dancing and stillness and shouting," Deyo stated in a Facebook post. "At least 20 people gave their hearts to Christ for the first time, and we sang together in English and Portuguese!"
The Marlins and Deyo's team witnessed a transformation within the students as the week progressed.
"These students are the leaders of that nation in the years to come," Deyo says. "I felt like we were just lighting a fuse on a stick of dynamite for the Kingdom. They just needed someone to come along and encourage, affirm them, and draw them into all of these things . . . and their hearts light up and eyes light up with visions they have from the Lord."
But the conference didn't just impact the students. Deyo says his team left impressed as well.
"The joy [of the Lord] that they have, compared to us over here . . . ," Deyo says, pausing. "The joy they have is contagious and a blessing to be around."
Matt says that he hopes to make the worship music conference an annual event to train new worship leaders as well as continue to pour into the lives of leaders who have attended in past years.
"I was really impressed by the NCU team and band that came with Jeff," he says. "One of our major emphases here is multiplication through discipleship, and to see Jeff's passion for worship and God successfully reproduced inside of his students was great for our students to see."
Deyo finished the week experiencing a combination of exhilaration and exhaustion.
"It was an incredible trip," he says. "I was humbled to be a part of pouring into these students and I can't wait to see what God is going to do through them in 15, 10, even five years from now."