Youth Spend Days in Bus for Missions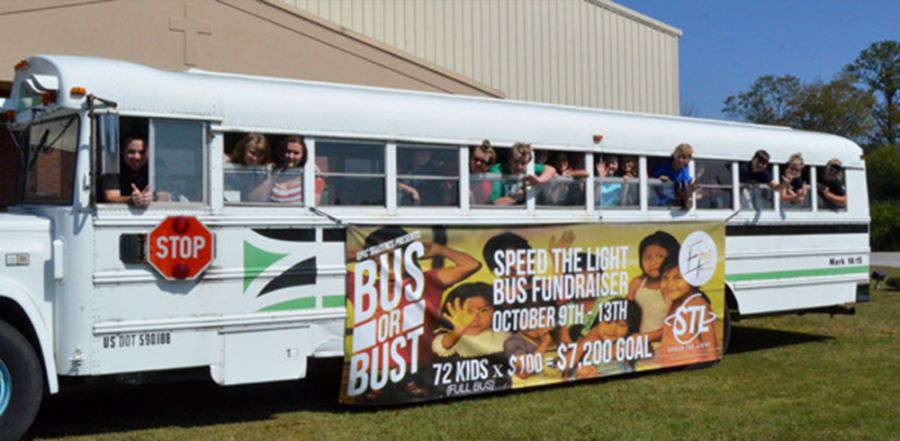 Don't miss any stories. Follow AG News!
Three consecutive 23-plus-hour days on a school bus with more than a dozen kids probably doesn't break into anyone's top 10 (or 100) bucket list. But for 15 members of the Epic Student Ministries youth group at Lomax Assembly of God in Clanton, Alabama, this endurance ride to nowhere impacted their lives and will greatly benefit the lives of dozens of kids in Ecuador.
Youth Pastor Hunter Staggs and his wife Elizabeth, who accompanied some of their students on an AIM (Ambassadors in Mission) trip to Ecuador earlier this year, explain that while working with AG world missionaries Joil and Leah Marbut and their ministry, Hope House, they became aware of a true need.
"Hope House is a ministry that brings in girls from the jungle villages who have nowhere to go," Hunter Staggs says. "They bring them in, educate, feed, and clothe them and introduce them to Christ. Currently they're working with 44 Shuar girls, ages 11-20, but in order to bring them in for school or church, they have to send out eight or nine taxis and pickup trucks. They really need a bus to transport these girls -- so that's what we decided to make our Speed the Light project this year and set a goal to raise $7,200 -- $100 for each of the 72 kids a bus can seat."
Speed the Light (STL) is an AG teen discipleship program that focuses on raising money for AG missionaries' transportation and communication needs. And what better way for the group to demonstrate their efforts to raise funds for a STL bus than by being on a bus -- even if that bus remained parked on the church grounds?
Staggs explains that the event was more like a really long lock-in bundled with a discipleship camp and fundraiser.
"Kids who wanted to participate had to commit to raise $100 each and earn their right, like buying a ticket, to stay on the bus," Stagg says. "The reason for that is I wanted them to understand that it's difficult to raise money -- it can be really hard asking people for money. In our first devotional on the bus, we all agreed that raising money isn't easy, and it's not easy for missionaries either. I tried to emphasize to them that, as it does now, their continued giving to missions as adults matters too."
"I honestly thought many of us wouldn't last," admits 15-year-old Tanner. "It's not very often that a bunch of teenagers are willing to spend the night on a bus, let alone live in it for a few days. However, I felt that it was well worth it. Not only was it a blessing to be able to raise so much money for Speed the Light, but it also brought together the youth group! I was extremely happy with how things went . . . I would even do it again!" 
Staggs says that through the three days, which ran from 6 p.m. Friday, Oct. 9, to 6 p.m. Monday, Oct. 12, teens were encouraged to use their phones and mobile devices to let their friends and families know what they were doing. "Social media is very powerful," he says. "When we got on the bus, the students had raised more than $3,000, the rest of it we raised after we got on the bus." Staggs says that that through the effort, including church offerings and waving STL giving envelopes from the bus windows at members as they arrived on Sunday morning, they exceeded their goal of $7,200, and funds are still coming in.
"Each day we had two devotional times and each evening we watched a Christian movie, such as End of the Spear, Passion of the Christ, and God's Not Dead, as we challenged students with what they needed to have on their minds as they fell asleep each night," Staggs says. Of course, Staggs admits with a laugh, school buses aren't known for their sleeping comfort and a few of the nights were pretty cold (52 degrees), so "sleeping" had a broad definition.
"This project was very difficult at times, but it was also a very fun and very humbling experience," says Brittney, 16, daughter of Senior Pastor Jeff Calhoun. "It was a blessing to be a part of something so much bigger than just myself and it's so exciting to think of all of the impact that has been made as a result of the faithfulness and giving of our church and our community."
Although the "Bus or Bust" event offered multiple discipleship and teaching opportunities, Staggs says that on Sunday evening the Holy Spirit was truly at work on the bus. "We have our youth meetings on Sunday nights, so we invited all the youth onto the bus for the service," he says. "It was pretty tight as seven visitors also came. But two of the visitors got saved after the service on the bus!"
Staggs says that students were served their meals on the bus and they were allowed to use the bathroom when necessary and take a daily shower. "We reminded them not to lag and to do their best not to be off the bus more than one hour each day -- most students were well under that."
Although there were fun movies to watch during the day, games, devotions, social media interaction, visitors, and other distractions, three days on a bus still provided for a few challenging moments resulting from fatigue, boredom, and maybe even a little claustrophobia. 
"Yet, as I spoke with students after the event, and in light of the focus of our devotions on sacrifice, many came off the bus different than when they stepped into it," Staggs says. "They have a changed perspective on their lives and what it means to be a Christian. They talked about how this event stretched them, but how much tougher missionaries have it and what Jesus sacrificed for us."
"The challenges we think are big, really aren't," observes 18-year-old Christian. "Seventy-two hours on a bus is nothing for the amount of hours -- years -- this bus will spend transporting, saving, and spreading the light [of Christ]."
For a video recap of the "Bus or Bust" effort, see: https://vimeo.com/142429330.