AIM Outreach Events Successful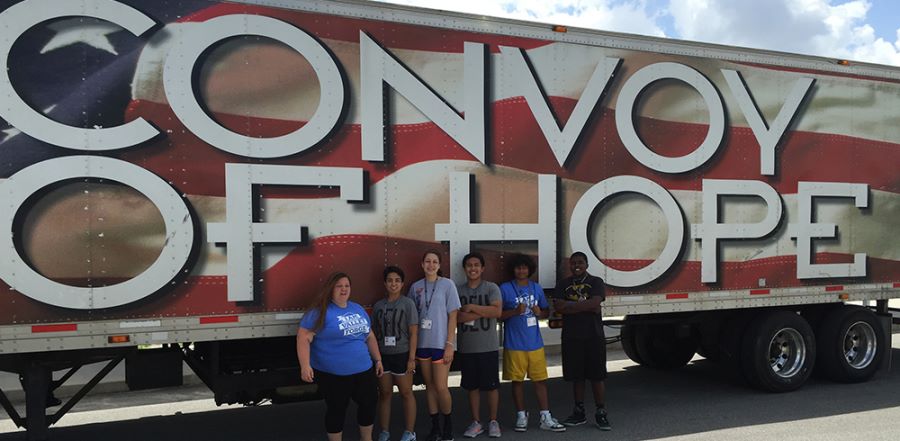 Don't miss any stories. Follow AG News!
This year at General Council 2015, AIM (Ambassadors in Missions) partnered with Convoy of Hope and the Church Multiplication Network to conduct local outreach events. AIM, a division of Assemblies of God National Youth Ministries, facilitates youth mission trips and outreach opportunities across the U.S. and around the world. 
During General Council week, fourteen AIM teams partnered with seven local churches within the Peninsular Florida and Florida Multicultural Districts as host sites for daily outreaches.  
"The AIM teams served these churches by providing added laborers to accomplish desired ministry opportunities that otherwise they could not have attempted without these added hands and feet," said Jayme Montera, national youth evangelist and AIM coordinator.  
On Friday, August 7, AIM and Convoy of Hope hosted a large community outreach at Westridge Middle School in Orlando. Five local churches and 176 students participated.  
More than 1,200 guests from the community attended the event, and 1,866 meals were served. Throughout the day, AIM participants prayed with 720 attendees.  
In addition to meals and prayer, more than 5,000 bags of groceries were given away and 1,111 pairs of shoes were distributed to children. One AIM volunteer took the shoes from her own feet and gave them away to an attendee that arrived late.  
More than 200 family portraits were printed and given away, and 85 community members received free haircuts.  
"The importance of AIM is found in equipping AIM teams with the understanding that missions is not a week, but a lifestyle," said Montera.
Click through the gallery below to view photos from the event.