Accolades for AG Resources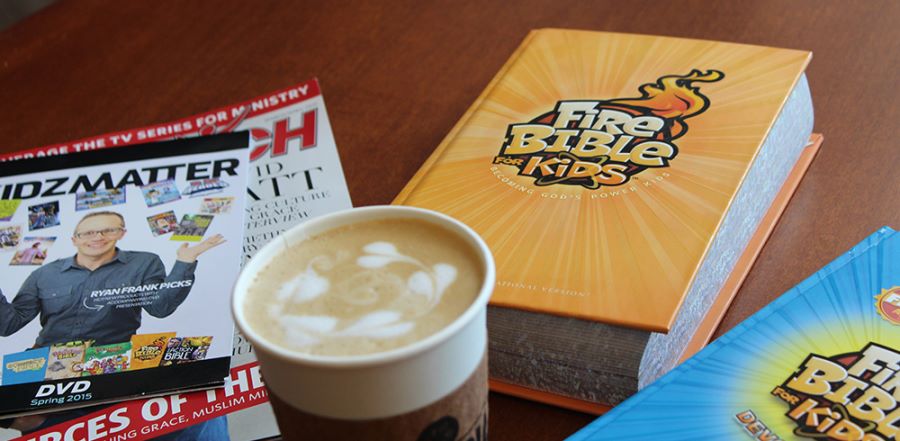 Don't miss any stories. Follow AG News!
Several ministry tools for children produced by My Healthy Church along with an Influence Resources title have received high praise from KidzMatter and Outreach magazines. Both publications highlighted the brands produced by the Assemblies of God to resource the Fellowship and the larger Spirit-empowered community in their March/April issues.
KidzMatter named Fire Bible for Kids and its free companion app, the Kid Bible Heroes app, and Kingstone Comics to its top 20 children's ministry resources for 2015. Meanwhile, the Fire Bible for Kids Devotional was selected by Outreach as a children's resource of the year. The publication also recommended Earth and Sky: A Beautiful Collision of Grace and Grief by Guy Delcambre in its counseling category.
"Our strategy for building a stronger discipleship model for children is getting noticed in the wider marketplace," says Sol Arledge Jr., AG chief operating officer.
Making the selections for KidzMatter was Ryan Frank, who serves as executive publisher of the magazine along with his wife, Beth. Frank is also vice president of innovation for Awana, a global ministry to children and youth in 30,000 churches around the world.
"There is an emphasis on recognizing the power of the Holy Spirit from cover to cover," Frank wrote about the Fire Bible for Kids . He then added, referencing the Bible's app, "The first time I saw it demonstrated, I thought my eyes would pop out of my head. It is amazing to watch the illustrations come to 3-D life!"
Frank, who has provided an adult Fire Bible to every member of the study group he leads in Marion, Indiana, also was impressed by the Kid Bible Heroes apps, noting, "We absolutely love the idea of having these interactive stories available at any time. Where was this app when I was a kid?"
Regarding Kingstone's Bible series Frank said, "I've got this great mental picture of kids, especially boys, curled up on their beds absorbed in these comics. As I went from page to page, I was struck by how each character was so distinct and portrayed a much different picture than flannelgraphs or cartoons."
On the accompanying DVD to the current KidzMatter issue, Frank included MEGA Sports Camp from My Healthy Church as a bonus item to his list of 20 "Hot New Products."
In nominating the Fire Bible for Kids Devotional on behalf of Outreach magazine, Steve Adams called it "a long-awaited answer for today's progressive child. This devotional offers a multilevel interaction that will capture their attention. The content and well-written daily readings are solid, with something that kids of all ages can apply to their lives. This book offers a full calendar year of Bible verses, short messages, and application activities to grow spiritually healthy kids.
"Hands down, the best devotional book I've seen in years," concluded Adams, who is the children's pastor at Saddleback Church in Lake Forest, California. For both 2013 and 2014, Adams chose MEGA Sports Camp as the Outreach children's resource of the year
Delcambre wrote Earth and Sky: A Beautiful Collision of Grace and Grief , following the unexpected passing of his 35-year-old wife, Marianne. The book was recommended to Outreach readers by Brad Hoefs, the founder of Fresh Hope and senior pastor at Community of Grace Lutheran Church in Elkhorn, Nebraska.
Through Earth and Sky , Delcambre shares his journey from happy husband, to grieving widower, to single dad of three young daughters and victorious Christian with a refreshing frankness and raw emotion.
"This is a very compelling, touching true story of one man's journey of experiencing grace as it collides with grief following the death of his wife. A great resource for those who are grieving," Hoefs wrote in his review of Earth and Sky .
"l love the fact the both Outreach magazine and KidzMatter have recognized resources from My Healthy Church as being some of the best available for the church and home today," says Mark Entzminger, senior director of AG Children's Ministries. "We didn't set out to make it to the top of the list - we are simply driven to help children know Jesus and make Him known."