Harold Lee Presented General Superintendent's Medal of Honor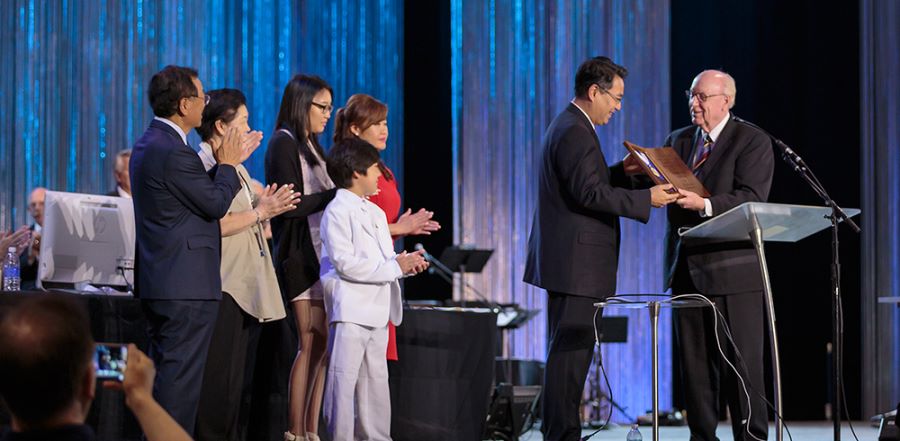 Don't miss any stories. Follow AG News!
Harold Lee, the founder of Promise Treasures performance group and producer of His Life -- The Musical, which has ministered to millions around the world, was awarded the General Superintendent's Medal of Honor during the Thursday afternoon business session at the 56th General Council in Orlando. The prestigious award is the highest honor the General Council awards to a lay person.
In 1991 Heather Lee was hired to be the church pianist at Promise Ministries International (PMI) and with her came her husband, Harold, who became a member of the church's choir -- it ended up being a nice package deal.
In 1995, Pastor Marc Choi took Harold out of choir practice and sat him in a room and said, "Harold, you're going to translate the service today…" He is still serving in that capacity 20 years later. Simply said, Lee stays true to his title of Ordained Deacon (appointed 2009) or literally in Latin "Diaconus" or servant, and has served PMI, the local and global community, and truly exemplifies what the General Superintendent's Medal of Honor represents.
In 2001, Lee started work with an independent group called Yekko (shortened in Korean for "Children of Jesus"), a children-based performance, TV, and media group where he served as the missions/performance director for 6 years.
In 2004, Lee started Promise Treasures at PMI as a children's missionary performance praise and worship/hip-hop team. He converted unused open space at the church into a performing arts center. The area now being utilized by multiple groups within our church and our community outreach programs like Powerhouse -- a free Saturday school program for children ages 4 to 14 -- where teams practice, teach, and are able to perfect their skills.
In March of 2005, His Life -- The Musical was first presented at PMI with Harold casted as Caiaphas. The musical soon became a part of PMI's mission vehicles for the 4/14 Movement (which is reaching children between the ages of 4 and 14 for Christ) and where Lee is now the principal driver and the director for the musical. He currently overseas the complete production and has been able to bring this spectacle to an estimated 500,000 people globally, including in El Salvador, Colombia, Ethiopia, Tanzania, Malaysia, South Korea, China, and across the U.S. with notable performances at the Apollo Theater in New York and at Chong Yi church in Hangzhou, China.
Senior Pastor of Promise Ministries International and Executive Presbyter Nam Soo Kim states: "Harold Lee and his wife have selflessly dedicated their passion, time, and talent into the 'His Life' musical. Not only him, but his entire family have been involved with 'His Life' and 'Promise Treasures' for a decade. Everywhere 'His Life' has been, Harold has gone also as the producer, leading all of the staff and actors and actresses."
Promise Treasures is very active in the local and global community with countless performances yearly. They have been partnered with the musical "His Life" and travel with them, opening all performances with their dynamic praise and worship. They have independently performed before more than one million people in countries such as Paraguay, Argentina, Brazil, Colombia, El Salvador, Germany, Switzerland, Ethiopia, Tanzania, China, South Korea, and Malaysia as well as across the U.S. with notable performances at Disney World, Apollo Theater, Radio City Music Hall, and the New York Mets' Citi Field.
With his work in the performing arts and media, Lee had been able to touch the lives of countless people globally -- and the number continues to grow. He has just returned from taking the musical "His Life" and Promise Treasures to Singapore this summer, and he is continuously working to bring the musical and Promise Treasures to other countries and venues.
Pastor Kim says, "[Harold] has been presented as an ambassador of the Assemblies of God through the world tours of the musical. He has proudly represented the Assemblies of God with the blood of Jesus' cross to all of the viewers."
Some of Lee's other services through the years to the church include:
• Director of Strategic Missions
• Director of Performing Arts
• Director of Technology Infrastructure
• Advisor for Conference and Event Planning
• Advisor for Powerhouse
• Advisor to the Head Pastor
• Advisor to the Head of 4/14 Global Missions
• Cell Group Leader
• Sunday School Teacher
• Spiritual Leader
Lee's personal life and in his profession on Wall Street also reflect Christ. Working on a trading desk of a major firm, Lee has instituted what he calls "Gospel Fridays." Christian music is played all day, and because of this, people have openly proclaimed their faith in Christ and have deepened their relationship with Him because of this "open" proclamation of faith in a secular environment. Lee continuously strives to break the boundaries in boldly proclaiming his faith and in spreading the love of Christ.
Dr. George O. Wood, general superintendent of the Assemblies of God, presented Lee the award, stating, "For his tireless dedication in bringing glory to God and this Fellowship, it gives me great honor to confer upon Harold Lee the church's highest award for lay persons, the General Superintendent's Medal of Honor."