Hillcrest Residents Heading to Fine Arts Nationals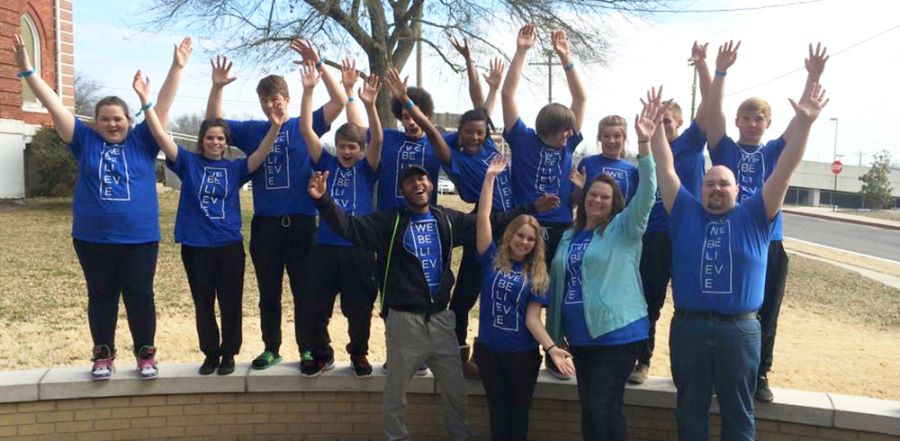 Don't miss any stories. Follow AG News!
Hot Springs (Arkansas) First Assembly of God recently had its 10-member, large human video group chosen as a national Fine Arts Festival qualifier. Being selected to represent their church and district at the national event in Orlando this August during General Council and the National Youth Convention, the group's excitement knew no bounds. But the significance of the accomplishment for this particular group of teens goes far deeper than it may first appear.
For most of the performers, the journey to where they are from where they were comes close to the miraculous. Six of the 10 teens are from Hillcrest Children's Home, an Assemblies of God agency, licensed by the State of Arkansas Division of Health and Human Services to accept children.
What does that mean?
According to Hillcrest Program Manager Jill Huntington, it's not pretty.
"All six of these kids have experienced substantial neglect or abuse," Huntington explains. "Due to the extremity of this neglect or abuse, most of their parents have had all their parental rights terminated by the court. The kids all have 'fractures' to varying degrees -- they have hurt on a continuum."
Richelle Wingo, projects and publication coordinator for COMPACT Family Services, which includes Hillcrest, says even trying out for the human video team was a huge step for these teens.
"It's hard for most people to fully understand the type of hurt and rejection these kids have experienced," Wingo says. "In most cases, they keep people and activities at arm's length and don't participate or get involved as there is a deep-seated fear of rejection."
Participating in Fine Arts Festivals is not a common occurrence for Hillcrest teens. However, Huntington and Wingo say over the last few years, two or three kids took the step and in essence, paved the way for this group -- setting an example to follow.
Janell*, a 17-year-old member of the human video group and Hillcrest resident, explains that when her best friend performed in Fine Arts, it helped give her the courage to attempt it. "I never really had the nerve to go out and show everybody what I could do," she says. "Around people I know, I'm not shy, but expressing emotion in front of people I don't know . . . "
However, since trying out for and being selected to be part of the human video, Janell has made several discoveries.
"In a human video, there's more than one thing going on, there are a lot of different talents that are all combined together to make the video a realistic story," Janell says. "Also, I've found that being around people I never met or never talked to before is something I really enjoy -- I really like meeting new people and making friendships!"
"When children come to Hillcrest, they are introduced to God as many times anything about God is unknown to them," Huntington says. "The children aren't 'force fed' God, but they do have living models before them in staff and house parents, and they almost always choose to become a Christian. Then the Holy Spirit can move and take root in their heart to help them overcome the trauma they've experienced." 
However, Wingo says that even though Hillcrest does its best to make experiences as "normal" as possible, the fact is, laws that are designed to protect such children sometimes hinder normalcy.
"For most teens, right now they're sending out letters to family members, friends, and even community businesses and leaders to help them raise money to get to nationals," Wingo says. "The Hillcrest kids can't turn to their parents or family for help and child welfare regulation prohibits them from asking for funds, no matter what the purpose. In fact, they can't even use their real names as their identities have to be protected."
Wingo says that in addition to the financial challenges, each child has to receive special written permission by the state to even leave Arkansas and cross a state border, every state border, between Arkansas and Florida. Staff accompanying the teens has to be vetted and approved, and every aspect of the trip detailed for the state to review and approve.
Even though there are multiple issues that are impacting the teens from Hillcrest, Janell says that their "We Believe" human video, which is about the second coming of Christ, has so impacted her life that her focus is to perform in a way that impacts the lives of others.
"I'm a Christian, but this experience has really helped me understand the Second Coming and has brought me closer to God -- I can now answer questions about the rapture if friends ask me about it," Janell says. "And when we perform, it's not about being on stage. We want our performance to be an eye-opener to the audience, that through the human video people will want to personally have a relationship with Christ, so that when the Second Coming takes place, they're prepared."
"We're going to have to raise about $6,000 to send the kids and two staff members to nationals," Wingo says. "The church is going to do its best to help us raise money, but I believe God has given these young men and women a gift and He is going to make this incredible experience possible!"
*Pen name