Standing on Principle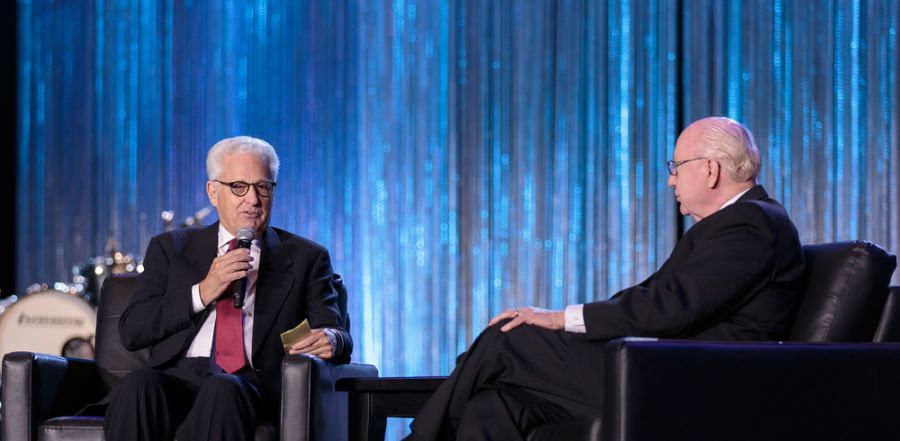 Don't miss any stories. Follow AG News!
David Green, the Hobby Lobby founder thrust into the national limelight last year when his family successfully defended the company's decision to refuse offering government-mandated health care that included contraceptives inducing abortion, spoke about how God has guided business decisions Thursday morning at the General Council meeting in Orlando, Florida. 
In a question-and-answer session with Assemblies of God General Superintendent George O. Wood, Green recounted how he and his wife Barbara started Hobby Lobby in the family garage in 1970. By the end of this year, the Oklahoma City, Oklahoma-based company is expected to have 700 stores and 30,000 employees nationwide. With $4.1 billion in annual sales, it is the largest privately owned arts and crafts retailer in the world.
Green, 73, noted his parents were Pentecostal pastors and all five of his siblings are involved in ministry. But Green, who attends an Assemblies of God church, figured he could serve the Lord commercially.
"We can be in God's calling wherever we are and whatever we do," Green said.
Difficulties came in the early years, Green said, when he battled pride, faced threatened foreclosure, and chose to open stores on Sunday to compete with an industry revival. The permanent turnaround to success started when Green determined Hobby Lobby would tithe from profits, close all stores on Sundays, and truly recognize that God owns the business.
"It is only God who brought us to where we are," Green said. "We give him all the glory for all the success that we have."
David and Barbara operate the company with the help of their three children and their spouses as well as their grandchildren who are 16 years or older. The family believes they are simply caretakers of what belongs to God.
"We can't be both stewards and owners," Green said. "We don't have to worry about the 'what ifs' when God owns it."
Green said the family receives 300 requests for charitable help a month. The primary decision on whether to help finance a cause is if it will bring people to Christ, he said. In its most ambitious undertaking, the Green family has committed more than $400 million to opening the Museum of the Bible in Washington, D.C., in 2017. The 400,000-square-foot facility is expected to contain more than 45,000 artifacts.
"If there is only one museum in the world it ought to be for God's Word and it should be well done," Green said.
Wood commended Green for his faithful devotion to Jesus and for standing on principle in the health care case.
Green recalled how the family had been prepared to close all its stores rather than consent to a government order to pay for abortion-inducing contraceptives. In the interim before the case reached the Supreme Court, Hobby Lobby obtained a federal district court injunction only one day before having to start paying a daily fine of $1.3 million. The 5-4 ruling in the company's favor eliminated any threat of forced health care or fines.
"We knew we had no other choice than to sue the government," Green said. "We were not going to pay money to take lives."
The crowd gave Green a lengthy standing ovation for his stance.