Tailwinds: Opportunities are Before Us!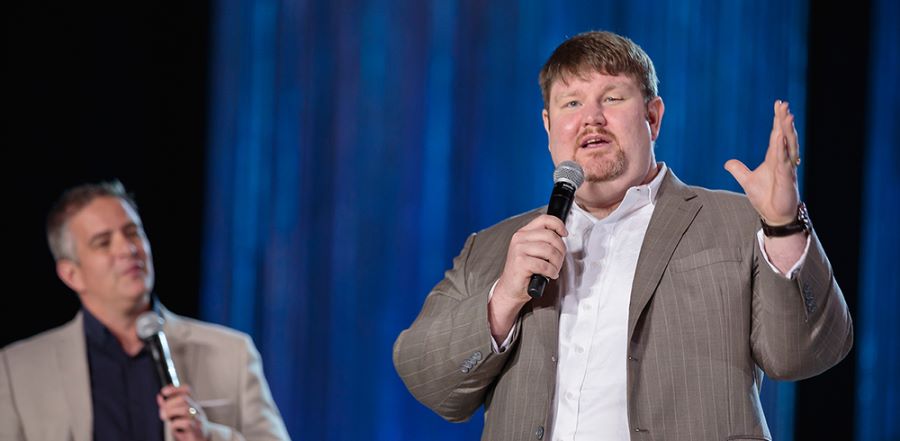 Don't miss any stories. Follow AG News!
Citing impressive statistics connected to new Assemblies of God church plants in the last eight years, Chris Railey opened the "Tailwinds" or opportunities portion of the Thursday morning's special General Council business session.
Railey, the senior director of Leadership and Church Development, shared how since 2009 AGTrust had given $7 million to starting new churches, with those new churches having already replenished $4 million of that amount and given an additional $5 million to missions.
"In the last eight years, more than 2,300 new AG churches planted," Railey said. "Of those, 400 have gone through the CMN Matching Fund and have a 95 percent success rate. In addition, they have had 1 million documented conversations with pre-Christians and 25,000 have been won to Christ!"
Railey urged ministers to embrace the Transform America initiative, where there are 20,000 communities in America without an AG church. "We need to see a spirit-empowered healthy church in every community in the country," he said. "We need to take Acts 1:8 literally!"
Following Railey, Greg Surratt, the founding pastor of Seacoast Church, provided a revealing overview of how America became an overwhelmingly Christian nation -- and what has led to the demise of the church.
Surratt explains that in 1776, only 17 percent of the population attended church in America. By the early 1800s, that number has nearly doubled to 33 percent and by the early 1900s, it was up to 50 percent. He believes the deregulation of the church, separating it from government control, energized churches to evangelize.
However, since the 1930s, the ratio of churches to people has been declining. Where there once was one church for every 430 people, today it's one for every 950. 
"Why is the church declining? Territorialism," Surratt stated. "Ministers began saying, we don't need more churches in our town. Territorialism always kills church planting movements."  
Recognizing that the net gain in church plants to church closings is not keeping up with the population growth, Surratt said there was one way out -- planting thousands of new life-giving churches.
"New churches are made up of one-third to two-thirds unchurched people and they bring in six to eight times more new believers than existing churches," he said. "I believe we have to affirm existing churches, but keep church planting in the forefront in order to make a dent in the unchurched population."
As he drew to a close, Surratt said there are two keys to apply: first, prioritize resources and budget funds specifically directed to church planting; and secondly, change the metric to measuring success from how many people attend "my church" to how many people in "my community" attend a church.
Jeff Leake, pastor of Allison Park Church in Pittsburgh, Pennsylvania, and Brian Bolt, pastor of CityReach Church, also in Pittsburgh, teamed to present an energetic message on church planting and the synergy of cluster church plantings.
Leake explained how his church had started planting a church a year, which by most standards, is an admirable accomplishment. But he shared how God put it on his heart to plant 100 churches in 10 years. When he brought the idea to Bolt, whose church was planted by Allison Park, Bolt was stunned, but then sold out to the vision.
As the men followed God's lead, Bolt said he discovered the power of collaboration -- partnering with districts and ministries such as Reach Northeast,  Convoy of Hope,  Association of Related Churches, and others in order to see new churches launched throughout the East Coast.
The men also found an unexpected excitement that came with the opening of several churches on the same day. "It created a lot of buzz and energy," Leake says. That energy only grew when the next year they opened six churches on the same day, then 13. "We expect to plant our 100th church next year -- 100 churches in five years, half the time we had planned."
"This September we'll be launching 20 churches in one day, and 10 of them being in the Northern New England District," Bolt said. "We're better together, working together, to reach lost people and we don't care who gets the credit as long as God gets the glory!"
Railey returned briefly, urging church leaders to join a church planting conversation by texting EVERYCOMMUNITY to 95577.
"Join the conversation and we'll send you the celebration of what's happening through Reach Northeast, CityReach, and all the celebrations that we have," Railey said. "We'll share best practices and research with you. We also want to harvest what you're learning in your churches and districts and create an ongoing conversation on multiplication."
In an abbreviated message, Assistant General Superintendent Alton Garrison spoke specifically about the Acts 2 Journey and Church Transformation Initiative.
Sharing about his experience as an evangelist-turned-pastor, he emphasized the importance of having both a message to give and a Pentecostal process to disciple. Using the keys of Connect, Go, Serve, Grow all being a part of Worship, he urged ministers to take his message to heart.
"Studies have revealed that Christians are not acting much different than non-Christians," Garrison stated, adding that discipleship must be a higher priority in churches. Then he dropped a stunning statistic: "We had a study conducted, and 93 percent of AG ministers are not satisfied with the discipleship product in their church."
Garrison then challenged pastors with the question: "What system are you using to engage your people in a systematic study of the Scriptures, scope and sequence -- small groups and one-on-one are vital."
In addressing Church Transformation, Garrison said that there are 8,400 AG churches that have plateaued or are decreasing. Using an example of a small-town church in Arkansas that has made missions its focus -- and has since given $1 million to missions in 10 years and seen strong growth -- Garrison said that part of the key to seeing revitalization is a focus on mission.
He added that the 10 largest cities in America without an AG church have been identified, and an anonymous donor has already donated $150,000 -- half the $300,000 needed to allow the 10 churches full Matching Funds.
The Headwinds/Tailwinds session concluded with an emotional message from AG Evangelist Dave Roever. Roever, who has taken his disfiguring injuries suffered in the Vietnam war and used them for God's glory in taking the gospel message around the world, shared a sobering message of sacrifice and suffering that has led to the freedoms currently experienced in the United States.
His message urged ministers and leaders not to take for granted the freedoms or the sacrifices required in order to have those freedoms, laying out before them in sobering detail just one aspect of the sacrifices required by individuals and families. He also warned that suffering for the cause of Christ will come to America.
As he brought his message to a close, Roever quoted Abraham Lincoln's letter to a mother who had lost five sons in battle, which said in part, "The solemn pride that must be yours to lay such a sacrifice upon the altar of freedom." Then he reflected, "Oh God, what solemn pride must be yours to lay so costly a price on the cross of Calvary."
As Roever closed the morning's session in prayer, he stated, "I want our Pentecostal experience back -- where we are not ashamed of who we are!"