Camp GC: Fly Higher, Get Closer, Think Bigger!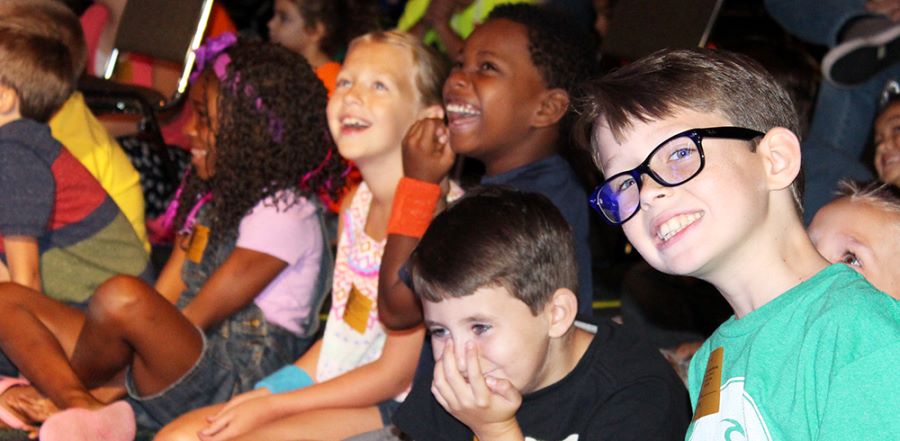 Don't miss any stories. Follow AG News!
Have you ever considered that when kids rave about Camp GC, the General Council daily event for kids ages 3 to 12, it's something quite significant?
According to Patti Chapman, longtime director of the biennial Camp GC, the significance is within the audience itself.
"Camp GC is not your regular children's church ministry — it can't be," she says. "The kids we're ministering to are pastors' kids, deacons' kids, church leaders' kids, missionary kids, Junior Bible Quiz kids — kids who have, for the most part, been in church all their lives. They have seen it all and done it all. Often first-timers come anticipating being bored!"
But much like the adults come away from General Council evening services with a blessing that they can't wait to share, Chapman says Camp GC has had the same type of gripping and life-changing impact on kids' lives.
"We understand that the kids we're ministering to in Camp GC are highly likely to make up a significant portion of who is running the Church — as a pastor, missionary, or layleader — in the future," Chapman says. "So Camp GC is geared to help these kids fly higher, get closer, and think bigger about what God has for them."
The 2017 General Council in Anaheim, California, begins with registration on Monday, Aug. 7, and the start of the Influence Conference. That evening, Camp GC also begins.
Kids will enjoy classroom events and being on teams competing against other teams in a variety of games and challenges. During the day portion of the camp, kids will take part in a wide variety of activities including a ministry and worship time in the auditorium led by the Camp GC Flight Crew. Afternoons feature multiple electives for children to choose from while evenings, following team time, features Justyn Smith, children's pastor of the multiple-location River Valley Church (pastor Rob Ketterling) and his team.
"I'm really excited about River Valley Church being a part of Camp GC," Chapman says. "Their vision for their ministry is to 'raise children to be world changers in their backyard, their school, and beyond' — exactly what Camp GC is all about!"
"Camp GC is a significant opportunity to invest in children," states Mark Entzminger, Camp GC pastor and senior director of AG Children's Ministries. "We truly believe that God wants to meet with each of the children who attend. All of the planning, fun activities, games, and service elements are master-planned to lead children to a place where they can clearly hear the voice of the Holy Spirit."
Camp GC will be divided by preschool and elementary ages, with the two groups having separate but similar activity and ministry experiences. Security will also be a top priority, as every worker will have had a background check and the camp itself will be "locked down."
"We are also offering a special needs room where we'll have one trained volunteer for every child with a special need," Chapman says. "With the 1:1 ratio, this allows children with special needs to join in the fun and learning of their age level, but if needed, they can take a break anytime to go and enjoy the comfort and safety of the special needs room."
Camp GC opening and closing times coincides with the beginning and ending of General Council morning, afternoon, and evening services. The camp starts accepting children 30 minutes prior to the beginning of each service or business session and closes 30 minutes following the conclusion of those services, with children joining their parents/guardians for meals. An additional "Late Night Glow Party" ($35) for elementary-age children will be held from 9-11:59 p.m. Wednesday evening to allow parents and guardians to enjoy the evening's after-service receptions.
"In recent years, I've seen kids coming out of Camp GC with a spark in their eye, knowing that God could use them to do something big," Chapman says. "If you're coming to General Council, Camp GC will be an awesome experience for your kids."
Registration for Camp GC is now open. Cost for the full week is $165, with lower costs for just day or evening camp. However, all costs increase 20 percent on June 1.