FAF Presentations, Mayo Talk Bring General Council to Close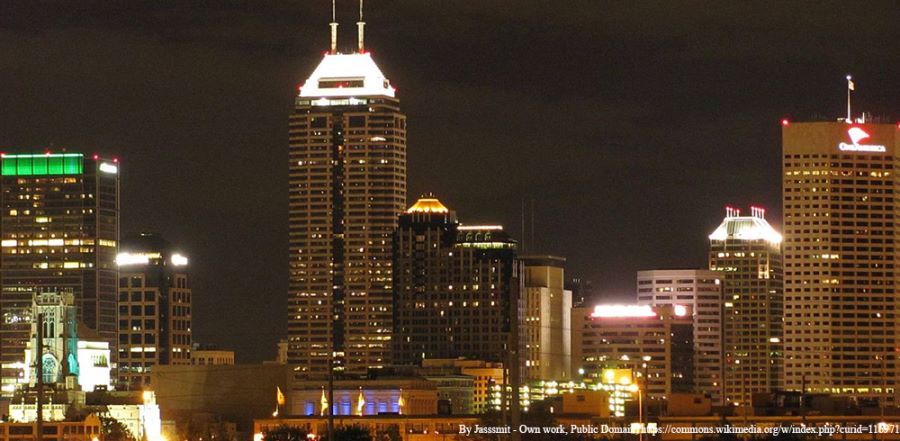 Don't miss any stories. Follow AG News!
For the first time in the history of the Assemblies of God, the national youth's Fine Arts Festival Celebration was a part of the combined youth-adult service, which brought to a close the 52nd General Council on Saturday, August 11, in Indianapolis.
Distribution of youth awards and performances by the winners took up the first half of the three-hour service attended by approximately 15,000 people in the RCA Dome.
In another first, General Superintendent Thomas E. Trask and Assistant Superintendent Charles T. Crabtree distributed the honors to the students. Newly chosen and re-elected national officials—George O. Wood, Alton Garrison, John Bueno and James Bridges—announced many of the recipients to the crowd. Bueno also exclaimed that the youth had raised a record Speed the Light offering of $47,000.
The Australian band Planetshakers led a rousing and worshipful set of music as a bridge to the speaker of the evening, Jeanne Mayo. In closing the 52nd General Council, Mayo, director of Oxygen Youth and Youth Adult Outreach in Atlanta, deftly mixed video clips and biblical truths to reach an emerging generation and their parents.
Mayo, an Indianapolis native, has thrown her heart and passion into youth ministry for nearly four decades, repeatedly starting with student groups of a handful and growing them into multiple hundreds. Currently, Mayo and her pastor husband, Sam, are based in Atlanta. Through Youth Source, the high-energy Mayo is now focusing on leaving a legacy for youth pastors and youth leaders of this generation.
Mayo, 58, likened Jesus' ministry model of love and sacrifice to the 2000 movie Pay It Forward.
While that may seem simplistic on the surface, Mayo said Jesus actually had a powerful and profound theological strategy. Mayo, blending self-deprecating humor and pathos, related how her life as a nationally recognized youth leader is the result of others investing in her life, of people repeatedly paying it forward, starting when she learned about Jesus at an Indianapolis Assemblies of God church at the age of 6. She told how as a 16-year-old girl the Lord became her Master after a missionary spoke at the church. Mayo doesn't even remember the name of the missionary who preached that night, but she became a youth leader largely because of his obedience to his calling. Mayo thanked the missionaries in the dome for their pay it forward ministry, especially when they don't see results.
She called Calvary the "ultimate pay it forward" ministry moment, when Jesus looked into the future and agreed to be a Redeemer when He didn't have to do it.
Mayo has a long history with the Assemblies of God youth ministry movement. She related being named Miss Christ Ambassador USA 40 years ago. She commended all the participants in this year's Fine Arts Festival, but told them not to dwell on the results.
"In a little while nobody will remember the trophies and awards you hold," Mayo said. "But no one will forget if you choose to be an honest pay it forward person with Christ inside you."
Mayo paid homage to her "spiritual mom," Denzil Totman, who is now 92 and hospitalized. Mayo said Totman's consistent Bible reading and prayer habits influenced her as a young girl.
"These were moments when she allowed the Lord to imprint her, so she could in turn imprint countless people like me," Mayo said. "Thank you for reading the Word of God when you didn't feel like it. Thank you for praying when you didn't feel like it. All those moments have fashioned who I am today. My story is different because of you."
Mayo encouraged parents to not lose touch with their children who are part of the emerging youth culture, even if they don't understand or agree with some of the students' beliefs and behavior.
And Mayo encouraged senior pastors to be more than a boss to their youth leaders by offering affirmation. "They need to hear from you more than when they do something wrong or when you want attendance numbers," she said.
Mayo challenged the teen and college-age males to be pure in their dealings with the opposite sex. "The girls in your church and youth ministry don't want to feel like part of your personal 'meat market.' They get that in the world," Mayo said. "They want to be protected by spiritual big brothers, not hormonally driven Internet addicts!"
Likewise, Mayo, whose latest book Uncensored covers the subject, told teen and college-age females not to send mixed sexuality signals to males. "If what you're showing isn't on the menu, then keep it covered!"
In closing, Mayo reminded the audience that they have the opportunity to be pay it forward people for eternity.
Fine Arts Festival recipients announced at the service included:
Large human video ensemble award of merit recipient, "A
Video with Humans in It," of Trinity Church of the
Assemblies of God, Cedar Hill, Texas, were among other
award of merit recipients who performed in the final service
at General Council.
Youth choir merit award: Grand Rapids First Assembly of God, First Assembly of God, Grand Rapids, Michigan
Human video solo merit award: Tyler Brodess, Flower Mound, Texas
Rap solo merit award: Nika Harper, Dallas, Texas
Web design solo merit award: Nathan Ward, Enid, Oklahoma
Book chapter exhibition honorable mention: Ashley Williams, Des Moines, Iowa
Large human video ensemble: A Video with Humans in It, Trinity Church of the Assemblies of God, Cedar Hill, Texas
Poetry writing merit award: Bailey Steel, Toledo, Ohio
Guitar solo merit award: Joshua Plaisance, Marrero, Louisiana
Small vocal ensemble merit award: 4runners, Calvary Assembly of God, Decatur, Alabama
Male vocal solo merit award: Clifton Gilliland, Chesterfield, Missouri
Group puppetry merit award: S.W.A.T., Iglesia Cristiana Misericordia, Laredo, Texas
String solo merit award: Stephen Tavani, Bristow, Virginia
Wind-brass solo merit award: Dorothy Lason, Mesa, Arizona
Sign language group merit award: Signen 4 Him, Abundant Life Church, Indianapolis, Indiana
Worship team merit award: Face Down, Glad Tidings Assembly of God, Reading, Pennsylvania
Instrumental ensemble merit award: Claremore First, First Assembly of God, Claremore, Oklahoma
Video production solo merit award: Karissa Merritt, St. Joseph, Missouri
Large drama ensemble merit award: Father Abraham Remix, Newport-Mesa Church, Costa Mesa, California
Exhibition sermon: Preston Reedy, Colleyville, Texas
Small group children's lesson exhibition: The Ultimate Stand, Brooksville, Florida
Christian band merit award: Downhill Giants, Evangel Temple, Fort Smith, Arkansas
Drama solo merit award: Branden Scott, Dallas, Texas
Songwriting solo merit award: Suzi Land, Sallisaw, Oklahoma
Short sermon merit award: Miguel Guerreiro, Springfield, Missouri
Graphic design merit award: Lemuel Calpito, San Diego, California
Rap group merit award: Naptown Boyz, Calvary Temple Assembly of God, Indianapolis, Indiana
Collaborated songwriting merit award: Crossroads Assembly of God, Anchorage, Alaska
Original instrumental composition solo exhibition: Laura Stanifer, Greentown, Indiana
Original instumental composition collaborated honorable mention: Tavani and Bridgewood, Bristow, Virginia
Small drama ensemble merit award: 3 Guys, Grace Community Assembly of God, Flower Mound, Texas
Spanish male vocal merit award: JonCarlos Velez, Oak Creek, Wisconsin
Spanish short sermon merit award: Veronica Martinez, Orlando, Florida
Spanish female vocal solo merit award: Margarita Castillo, Rio Piedras, Puerto Rico
Small ensemble human video merit award: Spring First Church, Spring, Texas
Large ensemble group vocal merit award: BSA, Blue Springs, Missouri, Assembly of God
Sign language solo merit award: Jason Manning, Ellicott City, Maryland
Visual art merit award: Alina Bruder, Northville, Michigan
Keyboard solo merit award: Chanelle Arneson, Brooks, Oregon
Digital photography merit award: Thomas Dant, Silver Spring, Maryland
Percussion solo merit award: Andrew Young, Reading, Pennsylvania
Traditional photography merit award: Amanda Meyer, Oklahoma City, Oklahoma
Puppetry solo merit award: Kyle Welch, Wamego, Kansas
Sketch writing solo merit award: Emily Ferris, Kensington, Connecticut
Exhibition children's literature solo honorable mention: Lisa Williams, Fall City, Washington
Exhibition collaborated children's literature honorable mention: The Lost Sheep, Faith Assembly of God, Lacey, Washington
Collaborative video production merit award: The Bell Brothers, Glad Tidings Assembly of God, Austin, Texas
T-shirt design merit award: Daniel Mason, Beaumont, California
Short story merit award: Naomi Susman, Peckville, Pennsylvania
Percussion ensemble merit award: Convina AB5, Covina Assembly of God, Covina, California
First person essay merit award: Joshua Davenport, Orlando, Florida
Female vocal solo merit award: Brittany Geigan, Baltimore, Maryland
Spanish poetry merit award: Leann Hernandez, Harlingen, Texas
A full list of the top 10 recipients in each category is available at www.indy07.ag.org/.