100-Mile Run Raises More than $50,000 for STL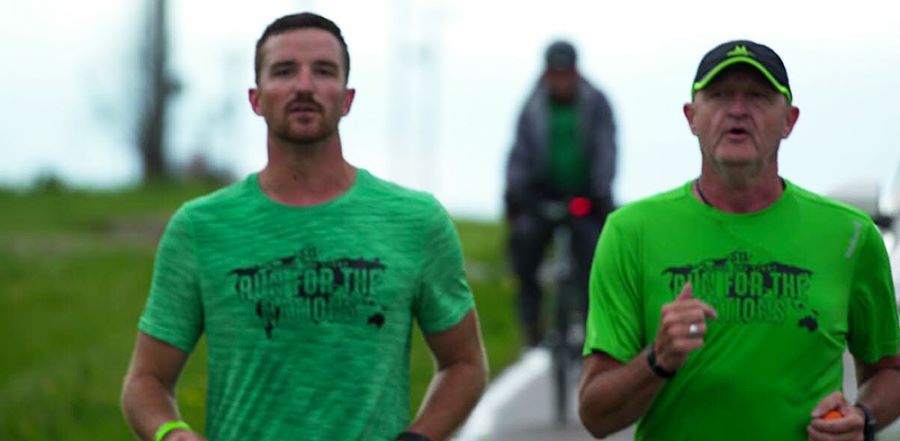 Don't miss any stories. Follow AG News!
When Ryan Hoover and Dale Wiggins woke up on Friday morning, April 21, the sound of pouring rain and hail hitting their rooftops greeted them. Undaunted — well, maybe a little daunted — the two men put on their running gear, laced up their shoes, slapped hats on, and soon were off on a three-day, 100-mile run for missions.
Hoover, 29, is the student pastor at New Hope Assembly of God in Muskogee, Oklahoma, where Wiggins, 52, serves as a deacon.
The idea to run 100 miles for Speed the Light, the AG youth ministry effort that provides essential transportation and creative communication to AG missionaries worldwide, began about three years ago as a fleeting thought.
As Hoover and his wife Amanda were transitioning from youth volunteers at Springdale (Arkansas) First Assembly to youth pastors at New Hope, they noted on their commutes it was 100 miles between the two cities.
"At first I just thought it was cool that it was exactly 100 miles," Ryan Hoover says, "but then, when I would be praying, the thought kept coming back to me that I needed to 'do something' with that mileage."
From that thought, Hoover's 100-mile "Run for the Nations" effort eventually came to life.
Through the support of donors, made up of individuals, groups, online giving, and churches in various districts, before the men even began to run, more than $40,000 had been pledged toward their effort.
The men decided to begin at Springdale First Assembly and run a 40-40-20 mileage division on their way to New Hope AG, knowing that by the third day, 20 miles would be more than enough of a challenge.
Hoover worked with his wife and others to set up multiple "encouragement" stations along the route involving multiple youth groups and churches, recruit supporters, get the word out about the run through social media, and acquire proper permission from communities and officials to do the run along their proposed route.
"This is a great example," observes Heath Adamson, senior director of AG Youth Ministries, "of what can happen when generations partner together, through Speed the Light, to ensure this generation of students are supported and encouraged to share the gospel around the world."
But after months of preparation, when the day finally arrived, it was soon clear that the run was not going to be all sunshine and roses . . . though few 100-mile runs are.
"It was a monsoon," Hoover laughs, recalling the first 40 miles. "It was absolutely insane on Friday."
"It was torrential rains all day on Friday," Wiggins confirms. "It was a very large challenge, but I just prayed, 'Lord, I want to finish with dignity because this is all about You.'"
Wiggins miraculously finished the day and eventually, all 100 miles. It was a miraculous effort as due to a series of obstacles, he had only been able to train 30 to 40 miles a week, with his longest run being 15 miles!
"When I kept having problems getting time to train, I finally asked God if He wanted me to back out — I wasn't too proud to do that if that's what He wanted me to do," Wiggins recalls. "But then the devotion for that day was about how God will give you strength for the day — that was my answer, and He did!"
Hoover, on the other hand, trained like an ultra-marathoner, working his mileage up to around 120 miles per week. Yet neither man had ever run significant miles in an extended deluge like they faced on the first day, which literally made each step heavier as their shoes and running gear were dripping — streaming — wet.
But things would get better!
"Chi Alpha at the University of Arkansas threw us a huge party Friday night at El Centro Cristiano Hispano (Pastors Fred and Ana Garcia) of the South Central Hispanic District in Siloam Springs (Arkansas)," Hoover says. "They had lots of food, games, and a worship team there. We had invited every youth ministry in the area to come party with us and celebrate what God was doing through Speed the Light."
On Saturday, despite a cold snap that had the men trying to warm up their muscles in windchills that flirted with the 30s, the miles melted away as they were joined by other runners and youth groups, urging them on.
"The kids from the church, running with us, helped a lot," Wiggins says. "They really gave us a morale boost."
Over the course of the three days, students joined the pair in their running, some running as many as 25, 35, and even 40 miles. Hoover explains that the students ran the extra miles for Speed the Light as someone had pledged $1 for every mile run, no matter how many people ran or how far they ran. "With many students running, even if just a mile, the effort immediately became much bigger and so much greater," says Hoover, who has about 85 mostly unchurched students attending service on Wednesday nights.
Throughout the run, Hoover and Wiggins were trailed by three cars, while a "camera car" led them to form a hedge of protection and video the effort. "Four people drove 100 miles at 5 miles per hour," Hoover says in some amazement. "They're probably the real heroes here!"
And for 75 of the 100 miles, Ronnie Hoover, 56, Ryan's father, who is a nationally appointed U.S. missionary to the University of Arkansas with Chi Alpha, accompanied the runners on his bicycle, which was equipped with a flashing light to help alert drivers of their presence.
"I wanted to be out there to support my son," Ronnie Hoover says, who spent up to 10 grueling hours a day "in the saddle" of his bike. "I also wanted to support Speed the Light — in fact, I'm driving a Speed the Light truck now."
When the runners finally made it to Muskogee County on Sunday morning, their arrival signaled the start of a 10K race to the church, which was an additional fundraiser for STL. Then, about 1.5 miles from the finish, nearly the entire New Hope congregation — about 150 people — met the pair and ushered them to the end, where a celebration party ensued.
The weekend's events have raised more than $53,000 for STL. With support coming from multiple districts, Hoover explains that whatever district the support came from, that district received the giving credit.
Adamson expressed his deep appreciation for the effort made by all to make the Run for the Nations a success, stating, "Jesus is not the preferred way nor is He is the best way. Let us be clear: Jesus is the only way and the world must hear the gospel. I am grateful for leaders who prioritize missions in their youth ministries through Speed the Light."
Hoover and Wiggins both give credit to God for helping them complete the run, with Hoover using the event and its required sacrifices to teach his students about God's sacrifices and persecution in other parts of the world.
But there's a telling "addendum" to this adventure. After nearly everyone had left the Sunday celebration, Wiggins was in the church's kitchen, where a nurse was giving him an IV due to dehydration, while Hoover sat on the floor. The men were comparing notes, when suddenly it dawned on them both — they were two miles short!
Ryan leaned over and asked his dad for his shoes, while Dale asked for his IV to be removed so they could finish.
"Now, that's integrity," Ronnie Hoover says with admiration. "You don't see that much anymore. As I watched those two take off running, by themselves — with no one else around — it was by far the most moving moment in the whole weekend."