A Brazilian Influx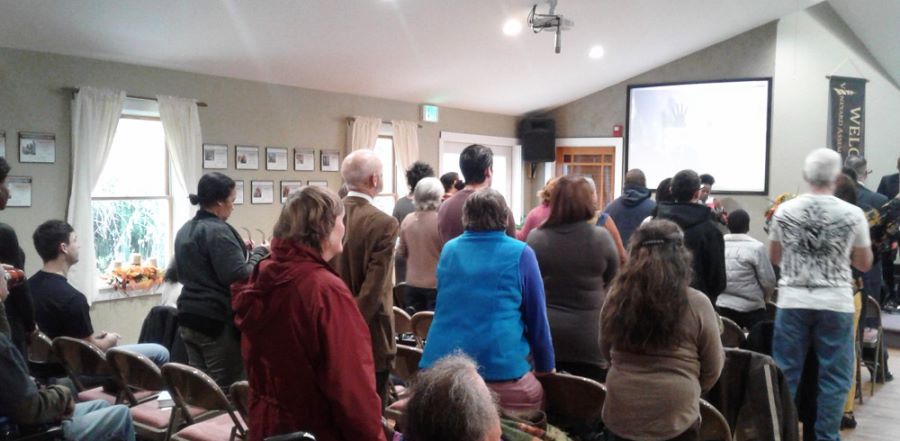 Don't miss any stories. Follow AG News!
Martha's Vineyard conjures up a likely image as an isolated Cape Cod island playground of presidents, stately summer vacation estates of the uber-rich offering breathtaking views of the Atlantic Ocean, and sandy beaches stretching for miles.
Matthew Splittgerber, pastor of the Massachusetts island's Vineyard Assembly of God, appreciates the stunning scenery. But it is not well-heeled absentee landowners and vacationers who have brought rapid growth to the congregation; it is an influx of industrious, committed Pentecostal Christian immigrants from Brazil who pack Sunday services beyond the sanctuary's intended capacity.
The sanctuary legally holds 100, but additional seats are set up in the foyer and in the basement, where speakers have been added. Splittgerber moved to the island in December 2016 from upstate New York with wife Elizabeth, his ministry partner and mother of their three children.
In recent years, the once predominantly Anglo congregation of 70 has swollen to 135. Today, 40 percent of the parishioners are Brazilians, often recruited to fill jobs in the tourist industry; another 10 percent of Vineyard Assembly's new worshippers hail from Jamaica. In all, about 3,500 of the island's 17,000 year-round residents are Brazilian.
"These immigrants are unbelievably hardworking people," Splittgerber says. "During summers, a lot of our regular attenders pick up a second or even third job. But if they are not working, they are at church."
Consequently, Vineyard AG had developed into a multiethnic congregation that is becoming bilingual, with Portuguese incorporated into services.
Older, English-speaking adherents have welcomed the growth, along with the fresh family-oriented, cultural influences and the more energetic, gifts-of-the-Spirit focused zeal for worship that the newcomers bring with them.
Any differences, Splittgerber says, seem to fade over time with shared faith, church activities, and new friendships bridging distinctions of geographical origin.
A key catalyst for that is Robert Ribeiro, a Brazilian immigrant who runs a small maintenance and property care business on the island and attends Vineyard Assembly with his wife, Nilma, and two children.
"After we came that first time, we felt touched by the Holy Spirit and just kept coming back," recalls Ribeiro, who translates sermons. As with Splittgerber, Ribeiro, too, sees Vineyard Assembly as a diverse success story in the making.
"We all get along pretty well, and we have people from over the world united in praising the Lord," Ribeiro says. "We try to learn from and understand each other."
Which brings Vineyard Assembly back to its most urgent objective: expanding seating. Splittgerber says the goal — taking capacity up to 190 seats in 2020 — may seem modest, but in Martha's Vineyard it will be expensive.
Accessible only by boat or by air, the cost of living on the 20.5-mile-long island is a whopping 60 percent higher than the national average. During summer, Martha's Vineyard's population of 17,000 year-round residents soars to more than 100,000. Summer accommodations are exorbitant: up to $15,000 a week for a summer rental house on the beach, and $600 a night for a decent motel room.
More specific to Vineyard Assembly's expansion dreams, the island's isolation and transportation challenges (all construction materials, equipment, and other supplies will have to come in by ferry) make even the limited work planned into a big-ticket item.
No wonder, then, that the church's fundraising campaign for the work has been dubbed the Million-Dollar Miracle.
"We're certainly not looking at building a megachurch, but just what will meet our needs on the island," explains Splittgerber, who is no stranger to church restoration projects. "We're at capacity and we don't want to reach a point where our growth plateaus due to limited facilities. This is our chance to carry out our vision of being a spiritual lighthouse to this island."
The official "vision Scripture" for the project is Isaiah 42:12, which reads: "Let them give glory to the Lord and proclaim his praise in the islands."
What will happen after Vineyard Assembly expands and, if growth continues at its current pace, once more finds itself running out of room for worshippers?
Splittgerber is counting on the interim period to allow time for recruiting and training workers and staff from among the newcomers to allow something unattainable now: offer multiple services on Sundays.
"We know we will fill up again fairly quickly," the pastor says. "We'd like to see that happen."