A Bridge to Winter Haven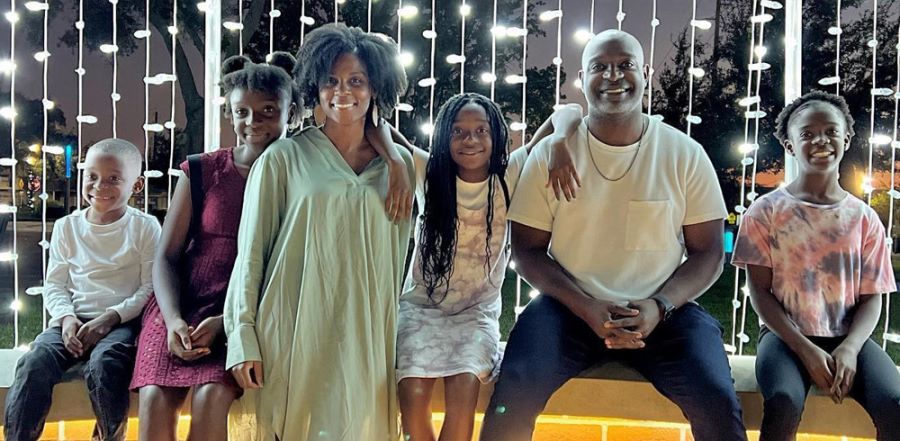 Don't miss any stories. Follow AG News!
Demetric D. Phillips began contemplating church planting in January 2020 while serving as worship leader at King's Cathedral in Honolulu.

"God woke me up at 3 in the morning when I heard the word bridge," recalls Phillips, 39. "I heard the voice again and I thought someone was in my house."

Phillips says he came to realize the Lord wanted him to start a church that would be a bridge: to community residents, to business leaders, to government officials. He just didn't know where yet. After he fasted, he says the Lord made the location clear.

"I saw the words Winter Haven like a branding iron on my heart," Phillips says. "But I didn't know where Winter Haven was." Winter Haven is located midway between Orlando and Tampa in Florida. Phillips is originally from Orlando.

Winter Haven is one of the fastest-growing cities in the U.S. this century, nearly doubling in size to 49,219 residents by the 2020 census.

After a little research, Phillips discovered Winter Haven is a hub for athletes and the arts community. For instance, water skiing took off as a recreational sport in America largely because of its popularity in the Florida city, which has 50 lakes inside its corporate limits.

Phillips knows a thing or two about sports. He holds the career football rushing record at Evangel University with 4,229 yards. He also gained the most all-purpose yards for any Evangel team with 4,892 and became a two-time All-American. A 2006 graduate with a bachelor's in business management and marketing, Phillips ranks second in touchdowns at the Assemblies of God school in Springfield, Missouri, which started its football program in 1977. He had designs of playing in the National Football League and had a workout with the Cincinnati Bengals, but dislocating his shoulder ended such aspirations.

After he moved back to Florida in December 2020, Phillips took a job delivering packages for Amazon 12 hours a day to support his family, wife Latisha and their four children: Myah, 13; Kylah, 11; Nia, 10; and Jeremiah, 8.

Phillips says he initially grew frustrated not having time to meet local residents who might become part of the church. But then he says the Holy Spirit impressed upon him the idea of waking up three hours earlier each day to engage people in a gym and at coffeehouses in conversation.

LIFEHOUSE TO THE RESCUE
He also wondered how he could start a church with limited funds. The answer came in a roundabout way from Patrick D. Grach, pastor of Lifehouse Church in Hagerstown, Maryland. Grach leads Lifehouse Network, which has a history of investing financially and resourcing church startups in practical ways. Those efforts include Palms Church in Virginia Beach pastored by Brandon C. Shank — the Evangel University roommate of Phillips. Shank recommended to Grach that Lighthouse partner with Phillips.

Grach then invited Phillips to come visit him.

"Lifehouse has a heart to get behind church planters whose values and vision resonate with ours," says Grach, 45. "When I interviewed Demetric, I quickly saw he had clear vision, experience to implement his dream, and stick-to-itiveness to be faithful for the long haul."

Grach believed in the goals Phillips articulated about reaching the unsaved and focusing on city transformation in Winter Haven.

"I was impressed that Demetric had been faithful to the kingdom of God, the ministry, and his family through some uncomfortable seasons," Grach says. "He is in it for the long haul and wants to see the Church flourish."

Lifehouse Network doesn't take financial commitments lightly. The church currently has parent-affiliated relationships with five additional congregations in Virginia, West Virginia, and Florida. Nevertheless, Grach believed in Phillips and in May 2021 Lifehouse Network began paying his salary for the next year.

"Church planters need to have somebody believe in them when very few people do," Grach says.

Bryan W. Briggs, pastor of Destination Church in Hopewell, Virginia, blessed Phillips with a $25,000 gift from the church. Briggs is part of the AG's Church Multiplication Network (CMN) lead team. Stan C. Grant, pastor of Clover Hill Assembly of God in Midlothian, Virginia, likewise donated $25,000 to Phillips on behalf of the congregation he leads.

Bridge Church opened in September 2021, with 46 people on the launch team. The church received additional assistance from CMN's Matching Funds.
In January, Phillips served as a CMN coach at a Launch training event for the first time.

Bridge Church — which has an average attendance of 120 — meets in the historic Ritz Theatre, one of two performing arts theaters in Winter Haven with weekly plays or concerts.

"We're called to reach young athletes and artists because they shape culture," says Phillips. He has written his own worship album "Expressions," and has had a hand in writing songs for four church-related albums plus the AG's centennial project in 2014.

One of his roles at Bridge is teaching at-risk youth how to write and produce music.

"I want to show kids how to express themselves through positive songs," says Phillips, a pianist. "Leadership has to be visual. They must see me using my gifts."

Phillips also has found an open door to train public high school athletes in Winter Haven. He has been invited to deliver pregame motivational talks to athletes as well as to conduct agility and speed training.

Latisha, who met Demetric at Evangel, is wrapping up an online master's degree in marriage and family counseling. She also serves as children's director at the church.