A Career in Orbit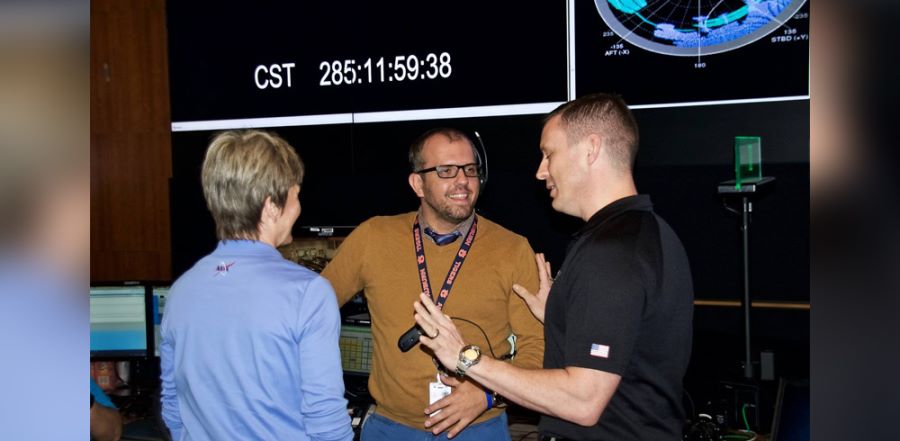 Don't miss any stories. Follow AG News!
Southeastern University alumnus Johnny A. Berry worked as a high school science teacher when he received an unexpected LinkedIn message from a former classmate who worked for the National Aeronautics and Space Administration.

"Send me your résumé," the message read. "NASA is hiring and I think you'd be great for this job."

Thinking it a joke, Berry ignored the request, until the friend persisted.

Within weeks, Berry had an interview, then a job with NASA, helping astronauts work through meticulously planned science experiments on the International Space Station.

"I'm only here because this is where I felt God led me," says Berry, who is a NASA payload operations integration specialist. "I do and see things I never thought I'd be able to do and see."

Berry, 37, works at NASA's Marshall Space Flight Center in Huntsville, Alabama, where all science experiments for the space station are conducted. Specifically, his job is to help coordinate what takes place in the "veggie facility," the part of the space station where astronauts grow small leafy greens and flowers for the purpose of improving long-duration space missions, to the moon and potentially Mars. NASA wants to find ways to grow fresh leafy greens from seeds for astronauts to eat.

"It cuts down a lot on weight if you can grow them, and it's healthy for the astronauts because most of the stuff in their diets is like MREs (meals ready to eat)," Berry says. "Getting fresh vegetables is a big deal for them."

In the veggie facility, LEDs mimic UV light from the sun and run on a day-night cycle. Astronauts inject water into a "plant pillow," a 3-inch-by-3-inch square of soil-type material. Berry and the orbiting crew recently finished a 60-day veggie grow-out with two different greens, one a mustard, the other a bok choy. The crew studies how plants grow in micro-gravity, and if factors such as taste and size change.

Berry manages the highly specific schedule for an astronaut from the day of work he or she is in, to four days out from that day of work. Berry writes detailed, step-by-step procedures which the astronaut follows for experiments, and makes sure he or she is trained to carry out each task.

Yet orbit of any kind seemed a long way off during Berry's freshman year in college, when Southeastern suspended him for academic reasons. The disruption became part of his larger transition from a desired career in ministry to an actual one in science, as he grappled with his calling.

"I thought God had called me into full-time ministry, and I was all about it," he remembers.

Berry had grown up attending Auburn First Assembly of God and New Hope AG in Opelika, Alabama. He experienced spiritual renewal as a teenager under the positive influence of his youth pastor, Daniel K. Chaplik.

"I firmly believe one of the primary reasons I was called to that community was to connect with Johnny," says Chaplik, 45. "Watching him grow and develop into the man he has become today is very rewarding. Johnny was hungry for knowledge and self-improvement, and he desired to make a difference with his life. I still see these qualities in him today."

But at Southeastern, Berry felt vastly better-equipped for science than for ministry.

"I love the sciences, and some of my greatest friendships came out of those classes at Southeastern," Berry says. "SEU was a really good experience for me, an amazing opportunity to see these people who were deep thinkers, and how much they pursued God through their pursuit of academics."

After graduating in 2008 with a major in biology and a minor in Bible, he launched into a teaching career. He taught advanced placement physics, earth, and environmental science in Charlotte, North Carolina, when a friend suggested he apply for an opening at her employer, NASA. Berry, although convinced he would never be hired, nonetheless applied. In spite of what he calls "the worst interview I've ever done," NASA offered him the job.

Today, he works in a control room similar to the one in Houston, with big video screens fronting a wide wall, showing the space station astronauts in real time, plus plenty of data about what's happening on the station.

Berry works with scientists from conception to execution of each experiment, helping the experiments to be as effective and efficient as possible. Every minute of an astronaut's day on the station is scheduled, and every minute costs $15,000, Berry says. Most of their time is spent performing science experiments, maintenance, or personal exercise. A whole team in Huntsville is dedicated to scheduling everything astronauts do.

"It's a high-stress, high-pace environment that requires us to constantly figure things out and think ahead," Berry says. "I could get a call at 2 a.m. saying, 'Your payload has gone haywire. We need you to get on console.' I don't have a normal 9-to-5 job. It can get exhausting because my brain is always on."

For example, the crew might not see exactly what Berry anticipated they would, because they are in micro-gravity and the object could be floating sideways. Or perhaps they can't pull something out because they need to something to push against.

In addition to specialized hardware, the space station crew also uses mundane items like duct tape, reusable zipper storage bags, and transparent plastic bubbles for packing.

"Anything you'd use in your own house to fix things, they pretty much have it on station," he says.

Berry's relationship with the Lord drives what he does — and gives peace in hectic times. One time he wrote detailed procedures for 32 hours of work for a crew member. The maintenance task, which involved switching parts, carried a low probability of success, he says, but, "God whispered into my spirit at one point, This is going to work."

Indeed, it worked better than anyone thought it would, and now the NASA team is more confident about switching parts on the station.

"My faith is an integral part of what I do every day," Berry says. "Everything I do and have is only because this is where God wants my influence. I'm able to have great conversations with some people about God and hear their thoughts and ideas. I tell them about my experience, about what God's done for me."

Chaplik, now a credit union lending analytics manager, says Berry "has come into his own as a man who is caring, loving, compassionate, relatable, and real."

Berry is particularly excited to be presently working on a cold atom lab experiment from the Jet Propulsion Lab in La Cañada Flintridge, California. The team is trapping "Bose Einstein condensates" and super-cooling the particles with lasers to stop as much motion as they can, to study them. It's a high-dollar, challenging experiment.

Recently, in the veggie facility, NASA allowed the space station crew to grow plants without oversight and for longer than the typical 28-day experiment duration. The crew tended plants for 60 days, and brought them to the flowering stage where the plants attempted to pollinate and seed themselves. On the ground, a NASA crew runs identical experiments simultaneous with the crew in the space station, to use as the control and for comparison of results.
Photo: Johnny Berry (middle) converses with U.S. astronaut Peggy A. Whitson (left) and Col. Jack D. Fischer.