A Corporate Call to Prisoners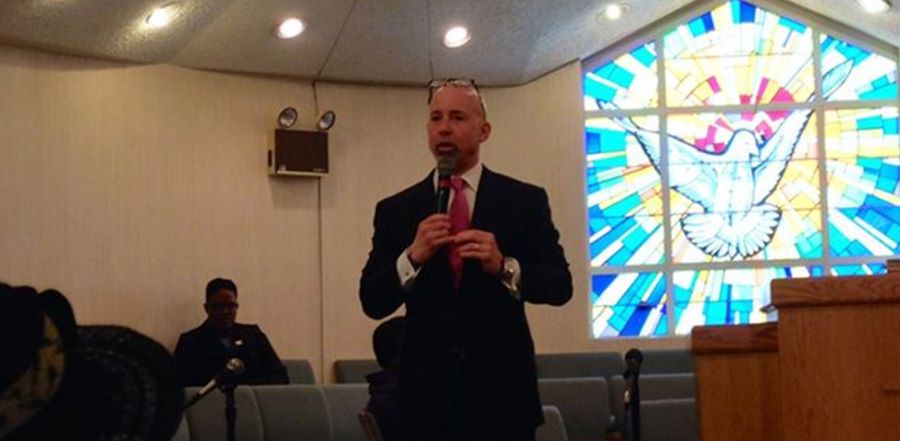 Don't miss any stories. Follow AG News!
The first time
Michael R. Luciano
went to the New York municipal jail, he did so only because a pastor's wife had asked him to visit a former member of the church's youth group. Luciano's main concern: how to get through the day without looking too scared.
"In Manhattan it's known as 'The Tombs,'" the business executive and longtime AG member says of the
Manhattan Detention Complex
. "I touched the jail door and my life changed because I followed God's plan for my life. I was exactly where He wanted me to be."
Luciano, 55, returned regularly to visit the young man and got to know two other inmates. When one wound up at
Rikers Island
— one of the world's largest correctional institutions with nearly 10,000 beds — Luciano knew he had to go there, too.
Soon after visiting Rikers, Luciano met Lula Ward-Brewer, president of
Reach Out and Touch Prison Ministry
(ROTPM), which she founded in 1995. Ward-Brewer was close friends with Luciano's secretary at
DWS
, where he is chief operating officer for the alternatives investment group.
Their 2010 meeting touched off deeper involvement with prison ministry. Today, Luciano is ROTPM's director of outreach. He has mentored inmates, taught them Scripture, and reached out to their families. Many call Ward-Brewer's office after their release, wanting to talk with Luciano.
To help him prepare more fully for ministry, in 2012 Luciano obtained AG ministerial credentials. Often called on to speak at meetings and churches about prison ministry, the ordained Luciano also has substituted occasionally for vacationing pastors.
"God called me into ministry in a very abrupt way, by asking me to go visit someone in prison," Luciano says of his marketplace-based mission. "It was something I resisted with every part of my being. But He wasn't calling me to leave business. There are plenty of pastors, but we need faithful men in the marketplace, too."
That Luciano, who attends
Bethlehem Assembly of God
in Valley Stream, does all this as a busy executive is impressive, according to Ward-Brewer, who because of his influence felt led to create an ongoing Bible study series for inmates.
She calls Luciano a tremendous resource, bringing his business skills into ministry, writing financial appeal letters, and working to establish a grant-writing initiative to create greater funding opportunities. Thanks to his ability to communicate with high-ranking officials, Ward-Brewer relies on Luciano to handle contacts with the department of corrections at local and state levels.
Luciano is low-key too, she says, never talking about his personal life or letting inmates know that he wears a suit and tie to work every day in a high-profile corporate environment.
"He just presents himself as a person concerned about their welfare, their future, and their families," Ward-Brewer says. "He goes in as a minister of the gospel. He's loved by them.
Six years ago, Luciano became involved with a second prison outreach after meeting Julio E. Medina, 59, the founder and CEO of
Exodus Transitional Community
. Based in East Harlem, Exodus helps inmates re-enter society through innovative programming, job training, employment referrals, and substance abuse treatment.
Luciano presently serves as chairman of the board for Exodus and facilitates Project Build, a series of weekly classes at a maximum security prison. During his monthly visits, Luciano teaches budgeting, time management, and other life skills. Designed to help men prepare for life after parole, the program has a near-zero recidivism rate.
"I saw things in him you don't see in too many places," says Medina of the reason he asked Luciano to join the Exodus board. "This is a guy who goes into a tough jail. Not too many people want to go to Rikers and spend two to three hours at a time."
Lest anyone think he is perfect, Luciano recalls an experience in 2014 when a fellow employee asked how Luciano could be so great helping inmates and such a jerk in the office. The comment rattled Luciano, who says he realized he needed to treat others with more respect and represent the gospel at all times.
"Peoples' lives are touched more by the way we act than our words," says Luciano. "I changed the way that I am and that resonates with people more than what I say."
While he may be human, Medina calls Luciano one of a kind.
"I've been in this work for 20 years and people like Michael are rare," Medina says. "He has commitment. He's willing to be that light."