A Genuine Place at the Table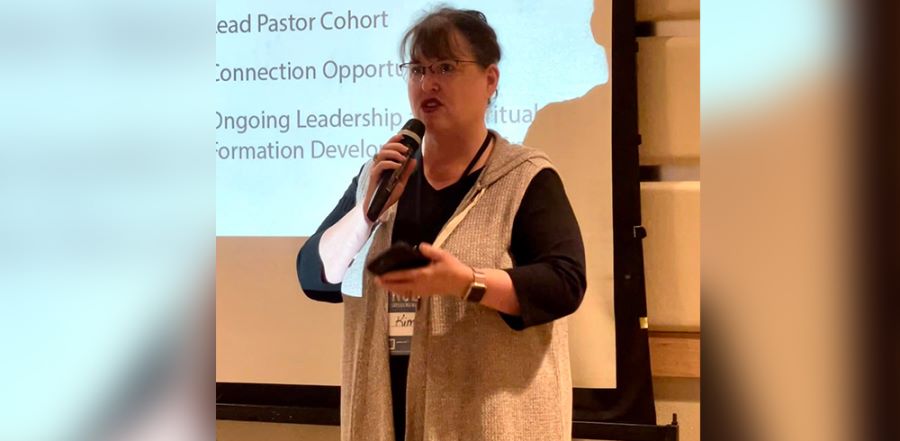 Don't miss any stories. Follow AG News!
When Kim K. Martinez attended pastoral ministry classes at Northwest University in the early 1980s, she often represented the only female in the room.

"When I came through, women couldn't serve Communion in most churches and some women weren't even allowed to read Scripture for Communion," recalls Martinez, 57.

These days, it's a different story. Martinez is in her third year of supervising a monthly Zoom meeting cohort for 20 female ministers in the Northwest Ministry Network, which encompasses Washington state and northern Idaho. Superintendent Don Ross supports the gatherings and is present himself. Martinez, along with Di Beals, serves as a Northwest Ministry Network executive presbyter. In part because of measures instigated by Ross, there also are five women presbyters in the network.

After graduation, Martinez worked a couple of youth pastoring jobs before settling in on the team at Calvary Christian Assembly in Seattle. She says then-pastor John C. Martin championed women, both as paid staff and volunteer board members. Martinez became the first female on staff in 70 years. Martin is now assistant superintendent at the AG's SoCal Network.

"I quickly learned women and men don't speak the same language; we communicate differently," Martinez says. Early on, few ministry doors opened for women. When the economic downturn hit in 2008, jobs for women in ministry grew even scarcer. Martinez found herself downsized.

While some of her female colleagues complained about a lack of opportunities, Martinez determined to do something about it. She deliberately began coaching other women about gaining speaking skills to launch them on a trajectory toward full-time ministry.

"Women learn by talking," Martinez maintains. "If you just put women in a room and give them information, they can't apply it. Women need skills not just to lead, but to speak boldly." Martinez found an advocate in Beth Backes, then in the Northwest Ministry Network office, but now lead pastor of The Table Church in Federal Way, Washington. Backes now also is helping other women church planters thrive.

Although women lead pastors are no longer unique, they don't have the abundant networking opportunities males do.

"Once a woman is in a lead position, there aren't a lot of female peers she can have good conversations with," says Martinez, who earned a doctor of ministry in leadership from Assemblies of God Theological Seminary. "We all want to have a friend who will hear us, but won't judge our church."

Ross asked Martinez, who is an adjunct professor at Northwest University, to develop the cohort to equip women, not just existing lead pastors but anyone who aspired to such a position. In the first year, the meetings often consisted of women lead pastors telling their stories and then letting others seek more information.

"As they asked questions, they started to see with new eyes," Martinez says. "When women see other women in leadership roles, they start to believe in what might be possible for them."

These days, Martinez is bivocational, working as operations manager at a public policy nonprofit as well as serving as groups pastor at Shoreline Community Church — where the majority of staff pastors are female.

Martinez, who has four children, says God can build leadership skills in women, even as they spend years busily caring for offspring or elderly parents.

"Afterward, women are able to make a path — sometimes a leap — forward," Martinez says. "If God calls women to ministry, He will open doors — if they don't get bitter." She can be involved in ministry in part because Wesley, her husband of 35 years, supports the family financially working at Boeing.

UNEXPECTED PASTORATE
Christi Villarias started participating in the cohorts soon after they started, as she prepared to take over as lead pastor of Centro de Vida Familiar in Tacoma in 2021. Her father, Roberto Tejada, founded the bilingual church, which now has 600 regular attendees, in 1996. Christi's sister, Andrea Karina Torres, is executive pastor.

Roberto's Peruvian father had been murdered in a drug deal shooting in Colombia. Subsequently, an angry and depressed 28-year-old Roberto, who had helped his father mobilize drugs, contemplated suicide. Yet at a juice stand he read a news article about a soccer star who had given his life to Christ. Roberto demanded the juice stand worker tell him how he could meet Jesus, and the man invited him to the Assembly of God church he attended in a garage. At the age of 48, after 18 years of full-time ministry, Tejad moved with his wife, Elsa, and their two daughters to Seattle from their native Peru when Christi was 13. He knew Hispanics in the Northwest U.S. represented an unreached people group. Christi had a difficult time fitting in at public school after the transition, but at church she felt God's love and grace. Others saw the potential in her that she didn't see in herself.

Christi served wherever the church had a need, becoming youth pastor in 2005. Having experienced the harsh realities of immigration as a teenager, she wanted to make sure young people didn't lose their faith while pursuing the American dream. Around two-thirds of the congregation are first-generation immigrants.

"A call is not lost because you are in a different country," says Villarias, who has two preschool-age children with her husband, Brian. "I want to make sure everyone has a voice and recognizes their giftings."

Villarias later became associate pastor, and her father informed her that the Lord had revealed that she would succeed him.

"I didn't even know it was possible for me to be a lead pastor," Villarias recalls. "I didn't know of any women pastors at the time. But I knew my father wouldn't speak something not from the Lord."

Normally reserved, Villarias says she approached the cohort Zoom sessions with trepidation because she didn't know any of the other participants. But she says the experience has been transformational.

"I've felt encouraged, empowered, and affirmed by these mentors who held a ladder for me," says Villarias, 40. "After hearing the stories of others, I felt safe to talk about the struggles and challenges of being a woman in leadership."

The practical tools of classes and reading material connected to the cohort also have been beneficial. Villarias says her fellow women pastors have become friends, and she is at ease texting or phoning them for prayer.

LASTING LEGACY
Kathy S. Jingling says she's never been a crusader for women as lead pastors, although she calls such appointments biblically correct. A longtime ordained Assemblies of God Latin America world missionary, Jingling in 2019, at the age of 63, became a lead pastor for the first time, at Quincy First Assembly of God.

"I just want to serve God and be available," Jingling says. "If a woman is credentialed, has a call from God, and there is a church opening, why shouldn't she be hired?"

Jingling is a Northwest Ministry Network presbyter, and an unusual one at that: single, female, and older.

"Some may say I had three strikes against me, but Don Ross is an incredible superintendent," Jingling says. "He is pro-women in ministry."

Jingling is grateful that times have changed since she became a credentialed minister in 1984. She remembers in the early days on a church staff being barred from attending pastor discussions, ordered to sit with pastors' wives instead.

"When I started in ministry, there weren't women in executive leadership, there weren't women on church boards, there weren't women pastors — certainly not lead pastors," Jingling says. "But the church world is beginning to understand gender is not the issue; the call is the issue. I love getting to mentor younger women who are just starting."
LOWER PHOTO: At her installation service, Christi Villarias (with shepherd's crook) had the prayer support of (from left) her father Roberto Tejada, husband Brian Villarias, and Northwest Ministry Network Superintendent Don Ross.