A Healing Journey for Many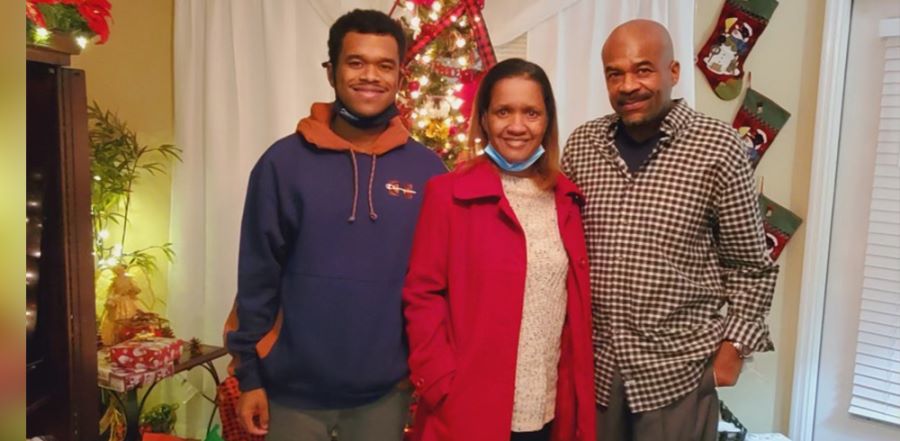 Don't miss any stories. Follow AG News!
Michael G. Abraham's 2021 began with his mom, Gisela I. Abraham, pressing him to get time off work for the family's vacation. They planned to travel from Spring Lake, North Carolina, to visit relatives in Tennessee and Alabama before heading to a Florida beach.

In fact, nagging wouldn't be too strong a word. Gisela pestered her son for months about freeing up May 5.

Such adamancy wasn't his mother's way. But Gisela, 56, had been suffering with headaches, small strokes, and a seizure her doctors couldn't fully explain. She looked forward to the road trip with her husband, Alvin, a retired Air Force aircraft engineer, and Michael, their only child who plays lead guitar where the family attends church, Living Water Assembly of God.

So, Michael accompanied his parents on the vacation. Two days later in Alabama, his family rose early to hit the road for Tampa.

But around 5 a.m., Gisela tried to speak but couldn't. She drifted in and out of consciousness.

"I knew it was something serious," says Michael, 26. "I didn't know it was a massive stroke."

Doctors in Huntsville told Alvin that the severity of the stroke meant his wife would need nursing home care for the rest of her life, and be unable to speak, walk, or use her arms.

Michael and Alvin called Living Water for prayer.

"Living Water is very much a church that prays and believes in miracles," says lead pastor Steven N. Morris. "The church just bombarded heaven with prayers for her."

Adherents also called relatives in Gisela's native Panama, where in 1993 she survived another close call. While talking in a Panama City public phone booth, someone yanked open the booth, covered her face, forced her into a car, and sped away. The man stuck a gun in her torso and warned her against jumping out.

Immediately, she opened the door and leaped from the fast-moving vehicle, breaking both legs and an arm, which required surgery plus months of therapy to learn to walk and use her arm again.

"Her faith is stronger, more amazing than almost anyone I can think of," her son says. "Before the stroke, she'd always tell me to read Psalm 91: A thousand will fall to your right and left, but you'll be OK.'"

Gisela's husband and son stood by her in intensive care as she reclined in a long chair, her body connected to an astonishing array of medical devices that beeped and flashed. She couldn't move.

The men laid hands on her, read Scripture, and prayed that God will bring a complete healing, Michael says.

After praying five minutes, Michael felt his mom's arm shake a little, then a little more. She made a grunting noise. As their prayer continued, Michael noticed a monitor revealing a faster heart rate. Gisela continued to grunt.

As a nurse stood in the doorway, Alvin asked his wife if she wanted to get up. Michael sensed his mom answering yes, though she couldn't speak and had barely moved. Doctors had clearly said she'd never walk again.

But Alvin and Michael gave Gisela a small push on her back. With that, Gisela stood.

The nurse dropped her clipboard.

"I knew God was there," Michael says. "This was not supposed to happen. She didn't have the power, but at that moment, she did."

From then, day by day Gisela improved. "It wasn't like one day everything was fixed," Michael says. "We went through this dark time, but that wasn't where it was going to end."

Throughout Gisela's monthlong hospital stay in Huntsville, Michael and Alvin called Living Water and relatives in several states as well as Panama with prayer requests. The father and son remained in the home of Gisela's Panamanian cousin Gina Miranda, who had helped her recover following the 1993 abduction. Each day, Miranda kept the men focused on the Lord through encouragement, counsel, and Scripture.

"She really taught us and helped us believe in God's power more," Michael says of Miranda. "Our faith and understanding of Jesus grew a lot during this time."

Another breakthrough occurred when a Huntsville physician pinpointed the roots of Gisela's stroke and other health issues that had stumped North Carolina doctors: Moyamoya disease, a rare condition that blocks blood flow through a main brain artery.

Michael believes the Holy Spirit impressed on his mom the importance of leaving for vacation on May 5 so that they would be in Alabama, where the doctors diagnosed her condition. "God's plan is so perfect," he says.

Gisela underwent bypass surgery to repair her brain artery. Today she's fully cognizant. Her recent aphasia diagnosis explains why she sometimes mixes words and her left arm remains weak.

Doctors have chosen her for a clinical trial of physical therapy combined with an experimental drug that has shown promise in strengthening her arm. She walks in her neighborhood without a cane or other assistance.

"She's still praying and reads the Bible daily," Michael says. "She's strong, feeling blessed, and in good spirits."

In September, Gisela stood at the front of the church and shared her testimony with her husband translating from Spanish, her dominant language.

"Her healing is nothing short of miraculous," pastor Morris says. "The church has rallied around the Abraham family and still is praying. We're believing God to fulfill the entire miracle."

What is Gisela's greatest takeaway from her journey toward healing?

"Patience," she says in Spanish. "I have faith, great faith, in God."
PHOTO: The recovery of Gisela Abraham (center) has built the faith of son Michael (left) and husband Alvin.