A Heart for Harlem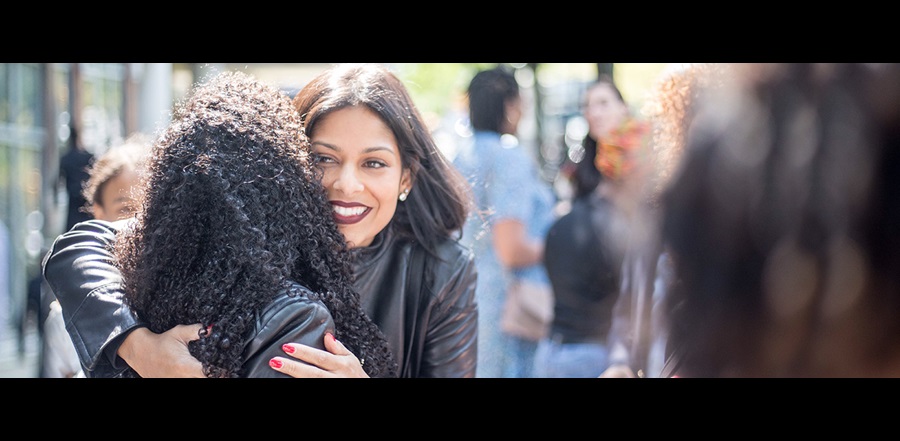 Don't miss any stories. Follow AG News!
The get-acquainted gathering could have been a downer for church planters in the borough of Manhattan's Harlem neighborhood. Just eight people sat in a circle on folding chairs next to the New York bar in the former Zip Code nightclub, previously owned by world heavyweight boxing champion Mike Tyson. By February 2015, the notoriously violent club had fallen into disrepair.
The new plant, Trinity Church Harlem (TCH), is actually a relaunch and new name for Glad Tidings Tabernacle, once a flagship Assemblies of God church in midtown that met with tough times and sold to make room for a hotel.
Taylor and Kristen Wilkerson, signed on as lead pastors of TCH, with Taylor still a student at Princeton Theological Seminary in 2014. He graduated in 2016.
At the 2015 get-acquainted gathering, the Wilkersons shared their vision for Harlem with six former members of Glad Tidings.
"We told the folks that our goal was to be faithful to honor the legacy of Glad Tidings, and to stand on their shoulders to reap a harvest of souls not seen for decades," Taylor Wilkerson says. "We asked them to stay with us on our journey as we grow."
Gaining support from the Glad Tiding's members, Wilkerson steered a social media blitz seeking help to launch the new church.
Wilkerson stressed TCH's strategic location across from St. Nicholas Houses, one of Manhattan's largest public housing projects. It covers 13 buildings that are 14 stories tall, encompassing 1,523 apartments representing 36,000 residents.
The next month, 40 strangers jammed the Wilkersons' apartment, followed by regular monthly meetings to build a launch team that eventually doubled.
"God spoke to so many people to step into the role of servant leaders," says the 27-year-old first-time pastor. "And most people on the team never played a significant role in another church."
Monthly worship gatherings and novel outreaches took place before the official opening in April 2016 when 380 people attended.
TCH stresses forging relationships in the community. The church gives boxes of food to St. Nicholas Houses and sponsors block parties, where small appliances such as microwave ovens are distributed. Last year, needy families received 500 turkeys for Thanksgiving. On Christmas, the church celebrated with five online services.
Harlem has experienced a renaissance of new buildings and gentrification, yet almost 30 percent of its residents live below the poverty line.
Twice annually the church invests in 21 days of prayer at 7 a.m. The results include healing from cancer, new jobs, and restored marriages.
TCH echoes Harlem's rich multiethnic community. African-Americans represent two-thirds of Harlem's population, Hispanics 17 percent, Caucasians 15 percent, and Asians 3 percent. A year and a half after launching, Sunday services now attract upward of 400 worshippers from various ethnic backgrounds, Wall Street bankers, techies, actors, and blue-collar workers.
Digging into Harlem's demographics, Wilkerson discovered one of the highest abortion rates in the U.S. Troubled by this statistic, he helped secure a $1.4 million three-year grant from the Administration for Children and Families in 2016 for a sexual risk avoidance education program in Harlem high schools. The program is taught by six full-time educators — who all attend TCH.
In the AG's New York Ministry Network, TCH is a parent-affiliated church of Trinity Church Miami. That Florida congregation is co-pastored by Wilkerson's parents, Rich and Robyn Wilkerson. Rich also serves as senior pastor of Trinity Harlem.
Rich Wilkerson is a member of the Church Multiplication Network lead team. Taylor and Kristen Wilkerson received the CMN urban church planting award at General Council 2017 in August.