A Heart for the Homeless and Addicts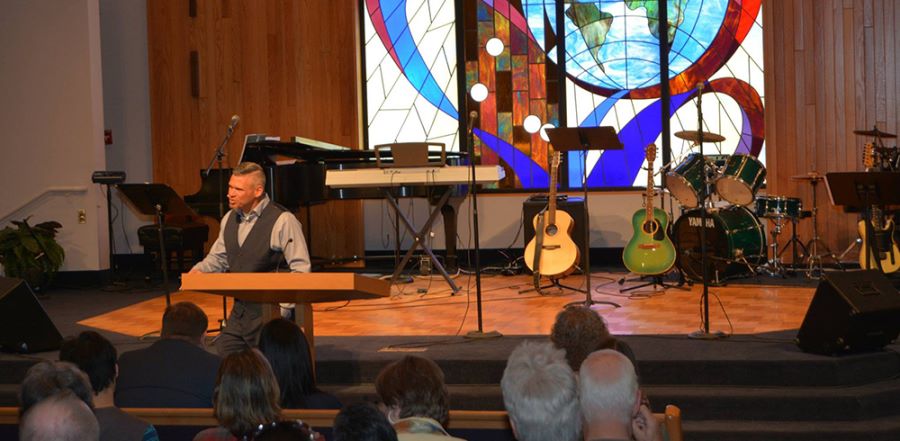 Don't miss any stories. Follow AG News!
John Alarid planted CityReach Springfield in March with a vision to connect with those far away from God. Having preached in jails and prisons throughout southwest Missouri since 2011, Alarid has firsthand experience reaching out to people in places of spiritual darkness. As one who himself has spent time in prison and solitary confinement, Alarid says he knows the light of Christ can penetrate even the loneliest prison cell.
Alarid became addicted to cocaine and heroin in his 20s and continued to use drugs until he found a Victory Outreach men's home in Phoenix, while on the run from authorities after he stabbed a man in New Mexico.
During his time at the men's Christian recovery center, Alarid accepted Jesus as his Savior and found new purpose for his life. Within three years, he completed Victory Outreach's School of Ministry in downtown Los Angeles and represented the organization as a missionary in the Philippines.
Despite his rapid turnaround, Alarid realized he could not flee his unsavory legal past forever.
After helping to start four recovery homes in Manila, Alarid returned to the U.S. and was taken into custody on the attempted murder charge.
The stress and frustration of fighting the charge during the next year drove him back to using heroin.
"I became self-righteous because I had gone through addiction and come out on the other side," Alarid says.
While serving his sentence in the New Mexico state penitentiary, Alarid says he had a dramatic encounter with God in which his dark cell filled with light. Alarid recommitted his life to Christ and became inmate pastor shortly after returning from three months in solitary confinement. Alarid also began taking classes through Global University's Berean School of the Bible.
When Alarid was released from prison in 2010 after serving less than half of his sentence, he moved to Springfield to continue his education at Central Bible College.
Alarid began sharing his story in local prisons and jails, seeing a need for a church that could reach the homeless and addicts in Springfield. Through assistance from the Church Multiplication Network (CMN), Alarid linked with Brian Bolt, founder of CityReach Network and fellow product of a Victory Outreach recovery home. In 2013, Alarid became an endorsed Assemblies of God U.S. Missions chaplain.
Months after their initial meeting, Bolt attended the initial service for CityReach Springfield, which launched with the help of CMN and funds from AGTrust. Initial services are taking place in the chapel of Assemblies of God Theological Seminary, where Alarid recently completed his Master of Divinity in Intercultural Studies.
Alarid spoke at his graduation ceremony on May 7, beginning his talk wearing an orange prison jumpsuit. He recounted how his encounter with Jesus in solitary confinement transformed him.
"From that day forward I haven't stuck a needle in my arm, I stopped carrying guns, stopped gang-banging, and my life completely turned around," Alarid said.
Midway through Alarid's graduation speech, AGTS President Mark A. Hausfeld covered the former inmate's jumpsuit with a black robe worn by fellow graduates, signifying Alarid's picture of redemption.
In order to disciple new Christians struggling with addiction, Alarid and other leaders at CityReach Springfield accepted the first applicants to a men's Hope Home in April, with plans to begin a women's Hope Home in the fall. Those at the home attend classes, learn life skills, and spend time developing spiritual disciplines alongside staff mentors.
Bolt says CityReach Network had no plans to start congregations in Missouri — until Alarid came along.
"Springfield wasn't even on our radar to plant a church," Bolt says. "But now CityReach Network has partnered with the Southern Missouri AG District to plant 10 new churches in both Kansas City and St. Louis that are similar to the great work John has helped start in Springfield."
Alarid says his vision for CityReach Springfield is to create a place where everyone feels welcome and has access to the message of the gospel. But he realizes the local body has a unique perspective.
"While some churches might struggle to incorporate people with histories of addiction, we have to be intentional about welcoming the people who come in with the thought, 'I feel like people are judging me because I've never shot dope.'"
Alarid says his personal experiences with the depths of addiction and the false heights of self-righteousness have taught him to fully depend on God as the church reaches people regardless of their past. He also says he is accountable to a variety of mentors, coaches, and overseers.